Omori Diamonds inc. specializes in sourcing the finest diamonds and crafting exceptional engagement rings in Winnipeg Manitoba. We also specialize in a large variety of rare sapphires, and colored diamonds. In today's article we will be showing you 5 unique engagement rings we have created for our clients, featuring a variety of fine diamonds and gems.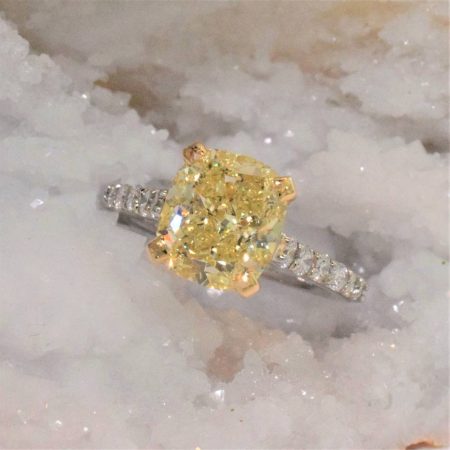 1. Natural Yellow Diamond and Platinum Engagement Ring
First on our list is the absolutely stunning natural, canary yellow diamond which has been set in a wonderful platinum and diamond band. Natural yellow diamonds are incredibly rare and hard to come by, thanks to our great relationships with some of the worlds largest and most prestigious diamond sources we were able to find this perfect stone. Stay tuned for more pictures to come of this true beauty.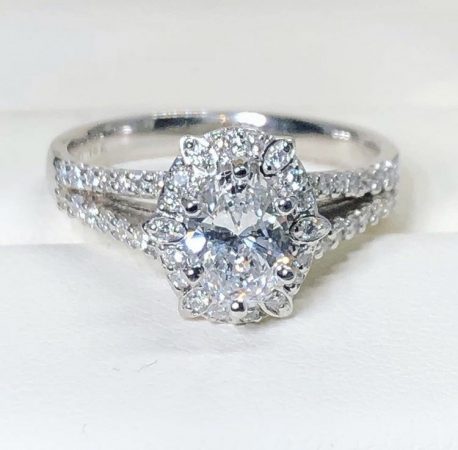 2. Oval Diamond Vintage Engagement Ring
Next on our list of unique engagement rings in Winnipeg, Manitoba is this beautiful oval diamond vintage engagement ring. This ring features a classic diamond halo with the added twist of marquise shaped settings around 6 of the diamonds in the halo, creating an almost art deco look. This particular design looks great with a large variety of diamond shapes.
Do you love large and perfectly cut diamonds? Check out Vogue's article on the top celebrity engagement rings.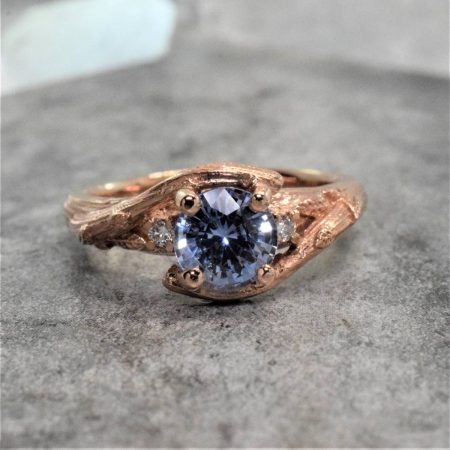 3. Nature Inspired Sapphire Engagement Ring
Next up on the list is this beautiful nature inspire engagement ring which has been crafted in rose gold and features a beautiful blue sapphire. Nature inspired engagement rings are a wonderful option when it comes to creating a unique custom ring and often feature such things as bark or wood like textures, as well as vine and leafs on the band. These styles look great with a variety of sapphires, diamonds and rubies.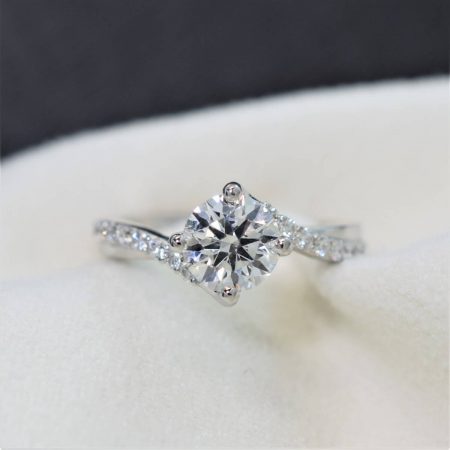 Perfectly Cut Diamonds set in Platinum
This design features an absolutely perfectly cut center diamond showing some of the best hearts and arrows available. This diamond has been cut with a level of symmetry which puts it above most out there. The ring has been crafted in platinum and features beautiful side diamonds creating a band of sparkle around the finger.
5. Oval Diamond Rose Gold Engagement Ring
This design features a large and brilliant oval cut diamond set in a unique, vintage style band. This style has been a favorite on our social media and goes well in all shades of gold. The band of the ring features milled edging on the diamond settings which creates a vintage look to the ring.
Thanks very much for checking out this article on unique engagement rings in Winnipeg Manitoba. We hope you found these designs inspiring! For further style inspiration, please check out our other articles and custom jewellery galleries.
Are you ready to create your own unique engagement ring in Winnipeg Manitoba?
Contact Omori Diamonds inc. to book your free design appointment now!