We specialize in exceptional sapphire and diamond rings, including unique engagement rings in Winnipeg, Manitoba. Our unique process allows our clients to work on a custom jewellery design together with our experts and choose the perfect diamond or stone. In today's article, we will be showing you some beautiful nature inspired engagement rings we have created for our clients. Read on to learn more!
Textured rose gold and sapphire engagement ring
This unique engagement ring features a beautiful blue sapphire which has been set in an overlapping, wood textured design. To accentuate the center stone we have also set a beautiful round diamond on either side of the center, for a little bit of extra sparkle. This design has been one of our most popular engagement rings on instagram.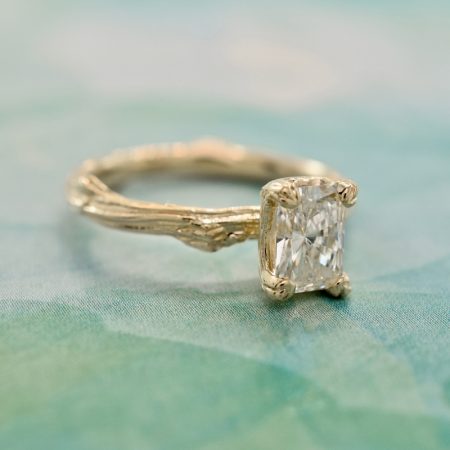 Twig and wood inspired engagement ring
Next on our list of nature engagement rings, created in Winnipeg by Omori Diamonds inc., is this spectacular, nature inspired solitaire engagement ring which has been created in yellow gold with a very unique texture. This design features an absolutely brilliant, radiant cut center diamond and creates a wonderful contrast between the diamond's brilliance and the bands rough texture. Interesting textures such as this are great options to consider when planning your custom engagement ring design.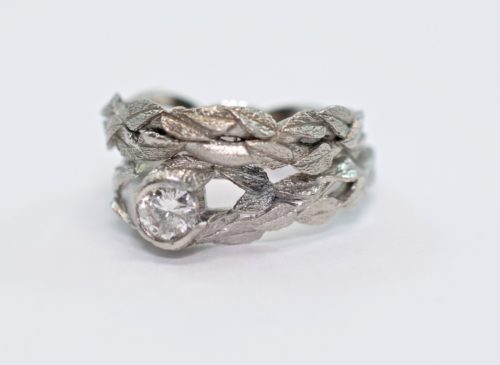 Leaf engagement ring and wedding ring
Here is a very interesting design we worked on a while back. This is a custom leaf inspired engagement ring and wedding ring which have been crafted by our expert team and goldsmith so that they interlock and sit as one piece on the hand. This design features a beautiful center diamonds and a matte texture which was created with the aid of CAD or computer design.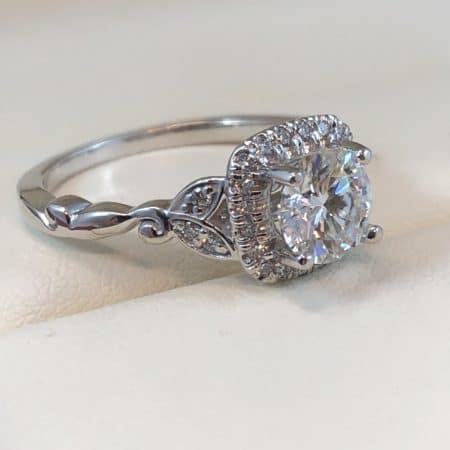 Vintage style engagement ring with leaves on the side
This engagement ring has been crafted in a vintage style but also features a leaf and vine like pattern on the side. This ring also features a brilliant center stone which as been surrounded by an antique style cushion diamond halo. Cushion halo's mixed with round center diamonds complement each other perfectly and we receive many requests for this design feature. Just a little something to keep in mind for your next custom ring design!
Thank you for checking out this latest blog on nature engagement rings featuring diamonds and sapphires. We hope you loved looking at these designs as much as we did making them! Feel free to get in touch when the time has come for you to create your perfect custom diamond ring and stay in touch through our various social media platforms of  facebook, twitter or instagram.
Are you ready to create your own sapphire or diamond engagement ring in Winnipeg Manitoba?
Contact Omori Diamonds inc. to book your free design appointment now!