At Omori Diamonds inc. we specialize in creating all styles of fine custom rings including pavé engagement rings in Winnipeg. These can be set with variety of fine sapphires as well as natural and lab created diamonds. In today's article we will be showing you some wonderful pavé engagement rings that we have created for our clients which feature loads of sparkle to brighten up your day.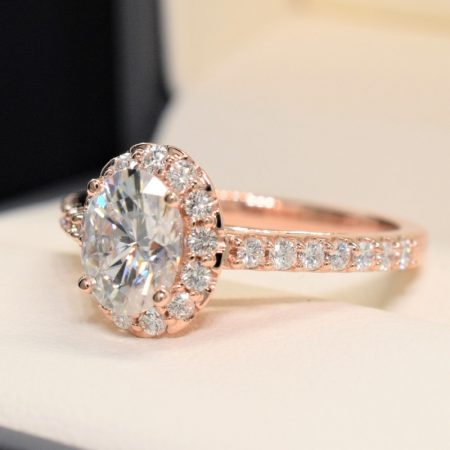 Although solitaire engagement rings as well as three stone rings have been currently dominating in popularity this year, sometimes more sparkle is the answer! In this case, look no farther than the pavé engagement ring style. Coming from the french word for "paved" pavé engagement rings are crafted in such a way as to create the look that they are literally paved in diamonds and sparkle. This is accomplished through the use of a micro setting technique which is done by a master goldsmith. Using this technique, the goldsmith will place the diamonds as closely together as safely possible so that it can create the appearance of a continuous band or halo of sparkle.
Pavé Halo Engagement Rings 
In the case of the above oval engagement ring, both the band and the halo are set with many smaller diamonds, creating the impression of non stop brilliance both around and beside the center stone. This style can also look incredibly beautiful when made in white gold as well.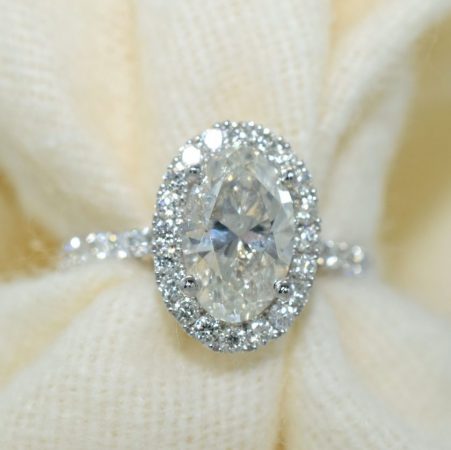 The above oval diamond pavé engagement rings features a large center stone and the classic halo and side stone band.
Endless options with pavé bands
When it comes to the band, the goal is often to help draw attention to the brilliant center stone. This can be accomplished many ways when it comes to pavé engagement rings from a single straight side stone band, to a split band and even a criss cross infinity diamond band.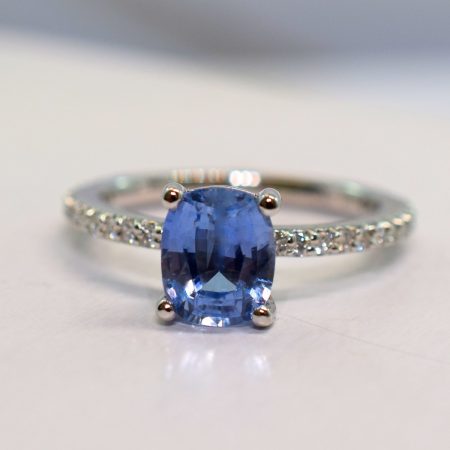 This wonderful sapphire engagement ring features the classic single diamond band which keeps the ring simple and elegant, drawing attention to the wonderful cushion shaped Ceylon sapphire in the center.
With regards to this special pear halo engagement ring, this design was crafted with a split band which meets the halo on either side. This helps to create a streamlined look to the ring and enhances the sparkle around the finger. Many pear shaped stones also look particularly stunning with the added halo to enhance the brilliance and size of the center stone.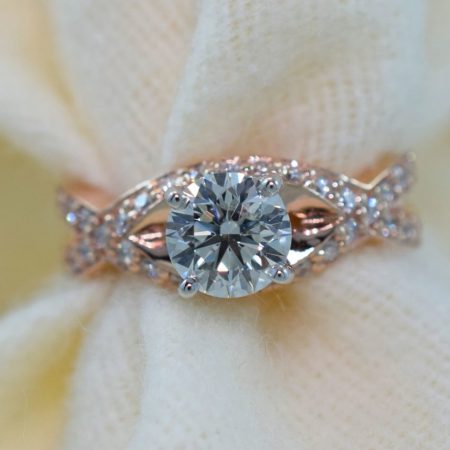 For a unique twist which combines the best of all of the styles we have shown so far, this rose gold engagement ring features a diamond encrusted pavé band which has been made in the classic infinity shape and wraps around the diamond creating an elegant partial halo as well. This style helps to create the impression of a larger band of sparkle around the finder and perfectly contours around the shape of the round center stone.
The Hidden Halo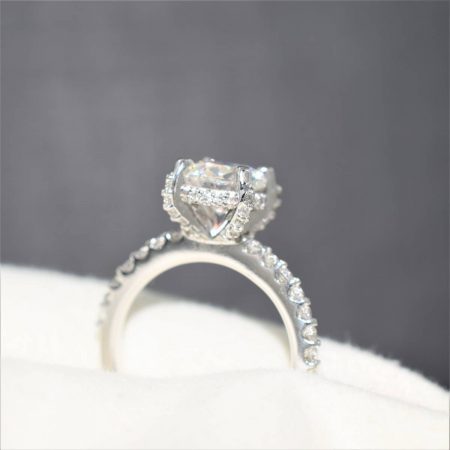 One newer trend that we have been seeing a lot of lately is that of the hidden halo or diamond collar. This style of pavé engagement ring takes the desire for extra sparkle even further by placing diamonds under the center stone both on the claws and on a smaller halo which is slightly hidden under the center stone. Be sure to check out our instagram and social media accounts as we are sure to be creating more and more of these designs within the next short while.
Thanks very much for checking out this article on Pavé engagement rings in Winnipeg. We hope you have gotten some style inspiration from viewing these special designs that we have enjoyed creating.
Be sure to stay in touch through our facebook, twitter or instagram accounts.
Are you ready to create your own custom Pavé engagement ring in Winnipeg?
Contact Omori Diamonds inc. to book your free design appointment now!