We design and create fine custom jewellery including engagement rings and three stone diamond engagement rings in Winnipeg. Today we will be showing you some exceptional three stone engagement rings we have made, which feature a wonderful variety of the finest diamonds – natural and lab created, sapphires, moissanite and more.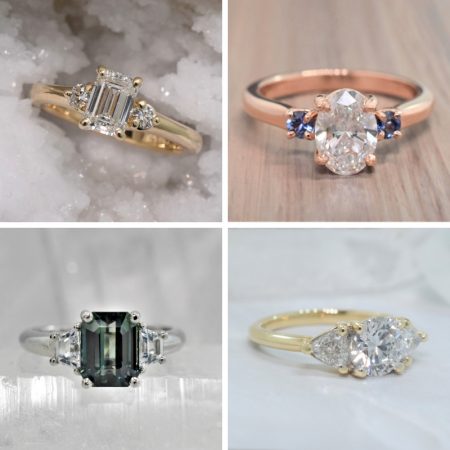 Three stone engagement rings have been one of the top engagement ring trends for 2020 so far. It seems that couples in Winnipeg and across the world are loving the modern sleekness and simplicity of the three stone ring. Known for symbolizing the past, present and future, the three stone engagement ring is a wonderful and romantic symbol of everlasting love. Let's have a look at some of our latest designs.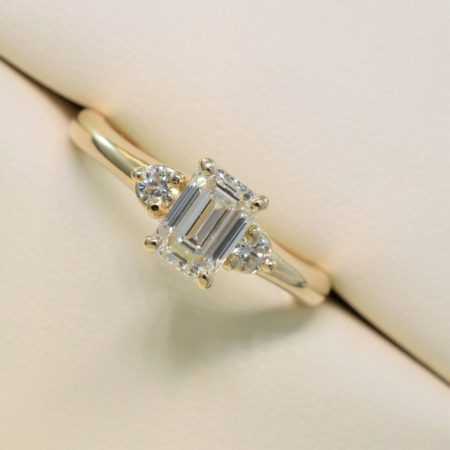 Yellow Gold Radiant Cut Three Stone Engagement Ring
This wonderful design features a brilliant rectangular radiant cut diamond which has been cut to perfection. On either side, set in its yellow gold band, are two round brilliant cut diamonds creating a trio of excellent sparkle. This design has been one of our favorites on instagram and social media.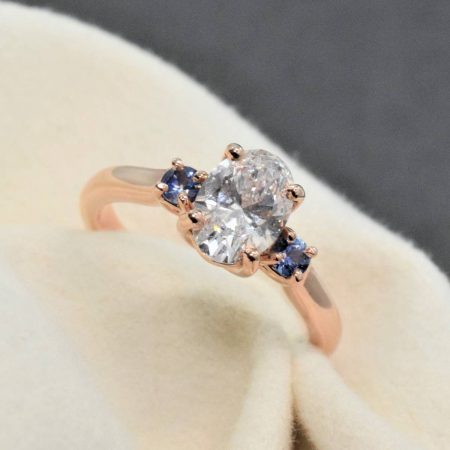 Rose Gold, Three Stone Engagement Ring featuring Blue Sapphires
This wonderful design was crafted in rose gold and features two blue sapphires on either side of the center diamond. Oval cut diamonds are one of the most popular shapes and show no sign of slowing down in popularity. They are the perfect diamond cut for those who love the brilliance and sparkle of round diamonds but also desire the elongated and unique shape.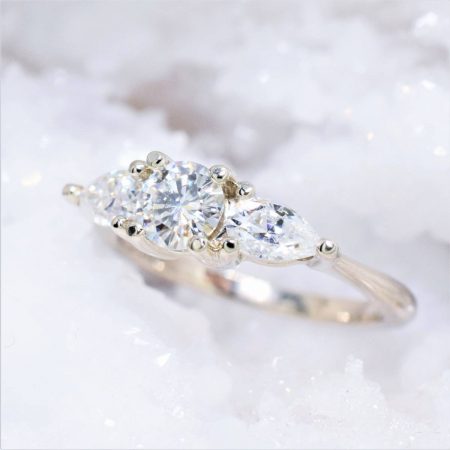 Three Stone Moissanite Engagement Ring
This custom ring features a brilliant moissanite stone which is a wonderful lab created diamond alternative that is both eco friendly and very similar to a diamond in it's hardness and brilliance. This ring is crafted in white gold and features a beautiful center stone with a pear shaped stone on either side. Another favorite on all of our social media pages!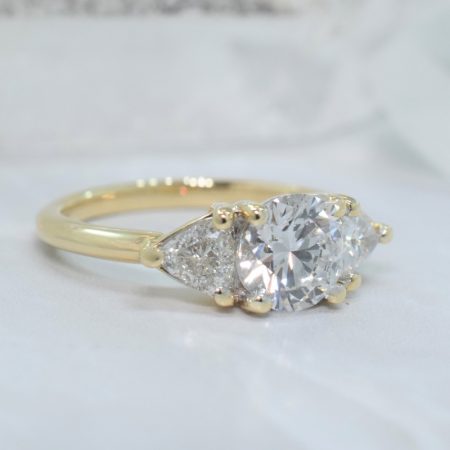 Three Stone Diamond Engagement Ring With Trilliant cut diamonds
This exceptional masterpiece was recently given during a wonderful Lake Minnewanka engagement by a special couple whom we helped create this ring for. This design features a magnificent round diamond in the center as well as two triangular trilliant cut diamonds creating a fantastic tapered band of sparkle. Special care must always be taken by our designers when positioning the side stones (especially for fancy cut diamonds) to make sure that they are positioned for maximum sparkle and brilliance.
Thanks very much for checking out this article on three stone diamond engagement rings in Winnipeg. We hope you have enjoyed checking out these wonderful designs and please don't hesitate to get in touch when the time comes to create your very own masterpiece and don't forget to connect with us on  facebook, twitter or instagram.
Ready to create your own three stone diamond engagement ring in Winnipeg?
Contact Omori Diamonds inc. to book your free design consultation now!