Today we will be showing you our client's wonderful Lake Minnewanka engagement story with their custom Omori Diamonds inc. engagement ring.

Lake Minnewanka is one of the most beautiful tourist destinations in Banff as it is situated right in between the most breath taking mountains and wilderness. Due to it's striking beauty it is also a top spot for engagement photos as well.
Now without further delay, let's show you the story behind their unique Omori Design.
How the design began
Our client approached us with some photos of rings that she loved and together we came up with some ideas for her custom engagement ring. This design would feature a large, round brilliant cut diamond in the center with a trilliant diamond on either side.
We began the process by creating some rough sketches of her engagement ring and then creating some CAD (computer aided design) drawings. This stage allows us to see if we have interpreted the client's ideas correctly and also allows them to make suggestions along the way, as we are able to make changes to the drawing itself.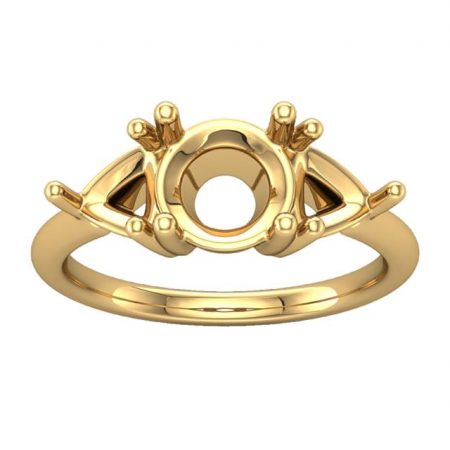 Once the images were approved we then went on to have the design 3D printed in a wax resin so that the design could be further approved. This is often an exciting step for our clients as it allows them to literally see their design coming to life before their eyes. Once the wax was approved we then went on to have the ring cast in gold and our master goldsmith set the diamonds!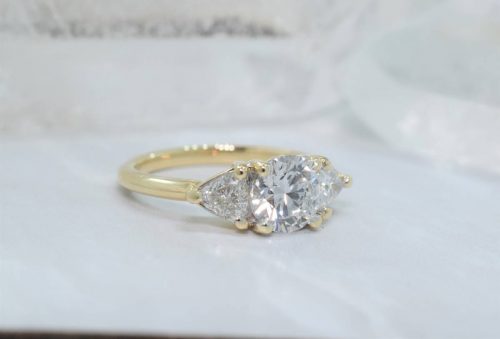 As you can see, the design turned out absolutely amazing with all three diamonds looking exceptionally bright. This design has also turned out to be one of our most popular engagement rings on instagram.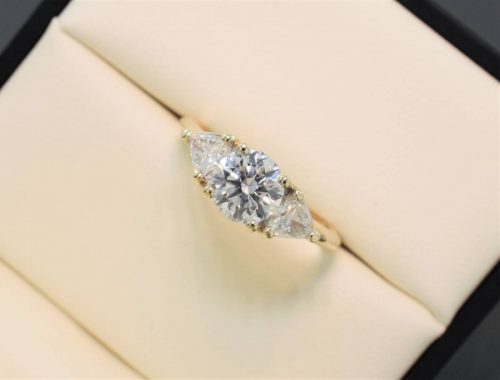 Now for the Lake Minewanka Proposal
After our client approved the wax resin, she then decided to leave the rest to her boyfriend (now fiancé). So, after our goldsmith was finished crafting the ring, we then called him to pick up his custom Omori design! He was very excited to see the ring in person and told us that they would be leaving shortly for Banff for a holiday.
Shortly after we were very happy to see that he proposed when they were skating on the wonderful Lake Minnewanka and received these excellent shots!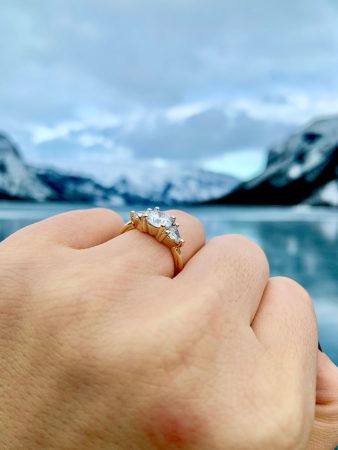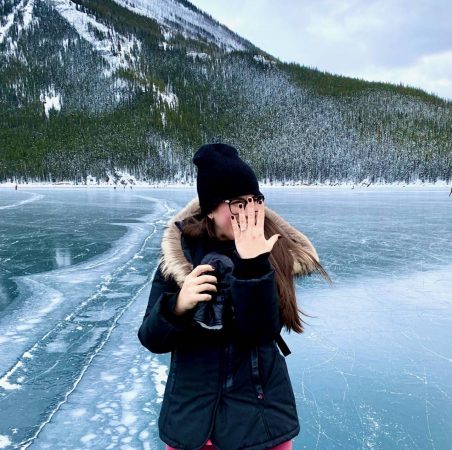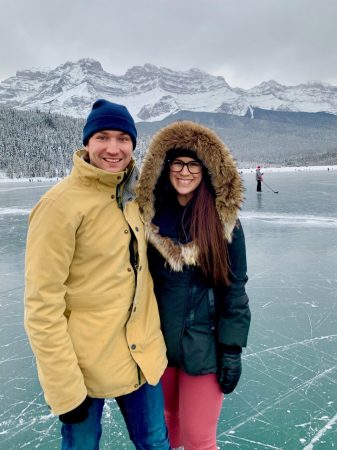 Stories like this are such a pleasure for us as it is so wonderful to see that our designs are able to play a role in such an important moment in our client's lives. These stories remind us of why we do what we do and give us motivation to continue to innovate in our custom design and provide boundary pushing quality in crafting the finest engagement rings in Winnipeg and across Canada.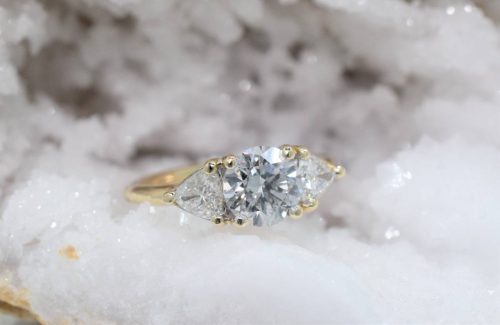 Thanks very much for checking out this wonderful Lake Minnewanka engagement story. We hope you have enjoyed hearing about one of the many great engagement stories that we have been able to play a small role in over the years.  Feel free to get in touch when the time comes to create your dream ring and don't forget to connect with us on  facebook, twitter or instagram.