Welcome to the Omori Diamonds inc. 2020 engagement ring style guide. As a premier designer of diamond jewellery and engagement rings in Winnipeg, we specialize in all styles of rings including halo, vintage, solitaire, three stone and more. Let's have a look at some of the top style considerations to keep in mind when looking to create your perfect engagement ring design!
Solitaire or multi-diamond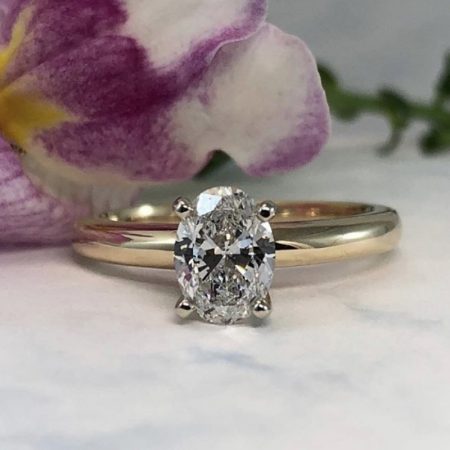 When it comes to narrowing the right style for your engagement ring, we would like to begin this engagement ring style guide with showing you a beautiful yellow gold oval diamond solitaire engagement ring. The solitaire is the perfect design for those who love elegant simplicity. It allows the diamond to steal the show and usually a simple or tapered band does the trick perfectly.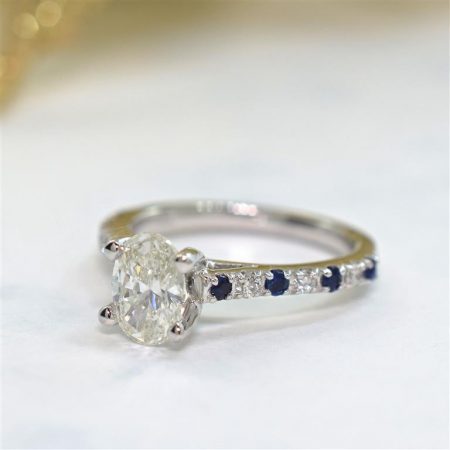 Sometimes however, more sparkle is the right answer! In this case we have a similar design with an oval diamond except with added diamonds and sapphires on the band. This creates the look of a continuous band of sparkle around the finger. As for which one to choose, that is up to you! However one consideration is that if you decide to go for the solitaire we would recommend a slightly larger stone to be sure that there is an amount of sparkle and shine that you will love.
A halo fit for an angel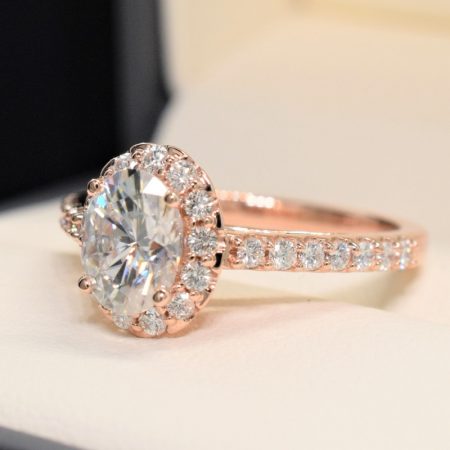 So you love the added sparkle of the side stone designs but want to have even more brightness around the center stone? Then a halo engagement ring is probably the right choice for you. The above design is a delicate rose gold halo engagement ring which features a ring of diamonds around the center stone. This not only enhances the sparkle and pop of the center stone but also helps it to appear larger!
Vintage and Art Deco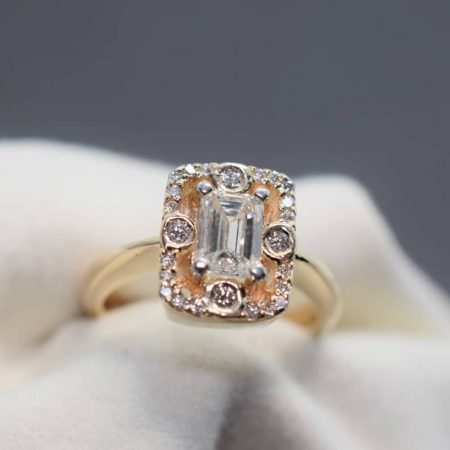 Perhaps modern is not quite your thing and you would like something a little more timeless? You are in luck because vintage styling is one of our specialties. Vintage engagement rings are distinguished by their often complex engraving and geometric patterns. These can be smooth and leaf like (classic antique) or more geometric and rectangular (art deco). The above design as been crafted in an art deco style and features a brilliant VVS center stone and has been a favorite on our instagram page.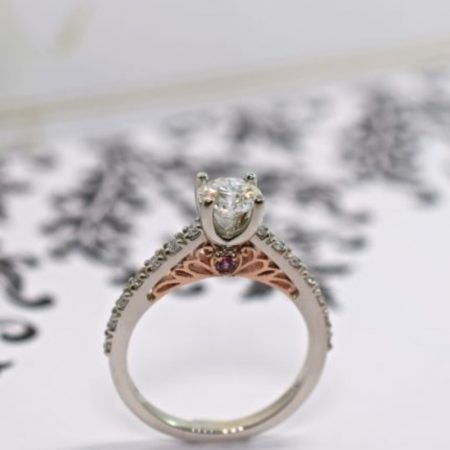 Here is another engagement ring crafted in the vintage style which features the classic detailed engraving and piercing on the bridge. In this case, this ring has been created in both white and rose gold creating a timeless color pallet.
Three stone engagement rings symbolizing past present and future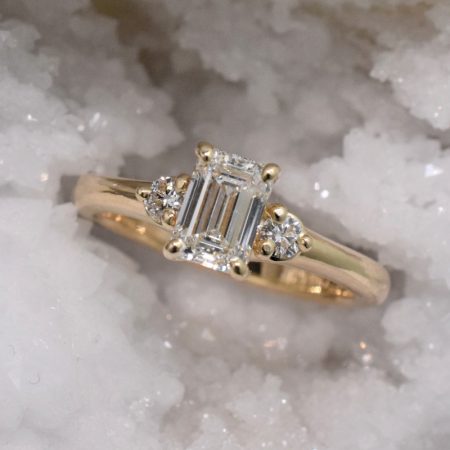 Another style which is currently one of the most popular engagement ring trends of 2020 is the three stone engagement ring. These rings feature a larger center stone surrounded by two smaller stones creating a tapered look. These stones can be diamonds as well as colored gems such as sapphires. Be sure to check out our engagement rings page to view some of our latest designs where you are sure to find many new three stone rings in the mix.
Choose your perfect stone.
When it comes to picking the perfect stone, the options are endless, not only in terms of shape but also the kind of stone you would like. We specialize in a variety of natural , GIA graded diamonds as well as Ceylon sapphires and rubies. Aside from this we also source a large variety of both lab created diamonds and other created stones such as moissanite which are also excellent options.
To learn more visit our diamond education page as well as our loose diamonds page to see what else we have to offer.
Thanks very much for checking out the Omori Diamonds inc. 2020 engagement ring style guide. We hope you have found this article useful and perhaps some of the designs have sparked your imagination about what is possible when it comes to custom jewellery design. Don't hesitate to get in touch when the time comes to create your own dream ring, and in the mean time don't forget to connect with us on  facebook, twitter or instagram.
Are you ready to create your perfect engagement ring in Winnipeg?
Contact Omori Diamonds inc. now to book your free design and diamond consultation.