At Omori Diamonds inc. we specialize in exceptional diamond jewellery and engagement rings in Winnipeg, Manitoba. Today we will be showing you the top engagement ring trends of 2020 which we have seen building over the past while. From unique sapphire engagement rings to wonderful three stone rings and solitaires, this year is looking like it will be a great year for unique and striking custom designs. 
1. Unique colored sapphire engagement rings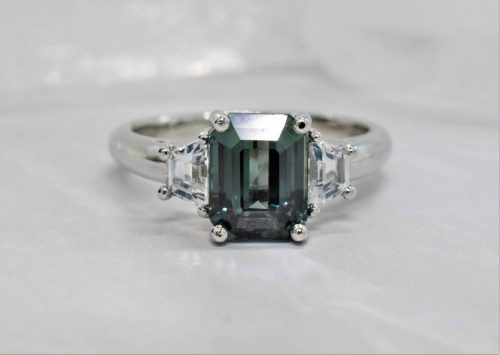 One trend which has become very popular due to the sharing of pics of engagement rings on instagra, is rings featuring unique colored sapphires. For example, the above ring was created for our clients and features a unique teal colored sapphire from Madagascar. This sort of interesting color pallet as well as a variety of pastel colored sapphires from Montana, have become very popular as of late and we look forward to this being one of the top engagement ring trends of 2020.
2. Three stone engagement rings
Another engagement ring trend that has been exceptionally popular lately has been the three stone ring. These are often created to symbolize the past, present and future of your relationship and are an excellent choice for both an engagement ring or anniversary ring. These rings also have endless combinations of stone shapes and sizes. The above design features a center emerald cut diamond with a round diamond on either side. These rings can also look great with ovals, rounds and princess cut diamonds in the center and or baguette shaped diamonds on the side.
3. Delicate Halo Engagement Rings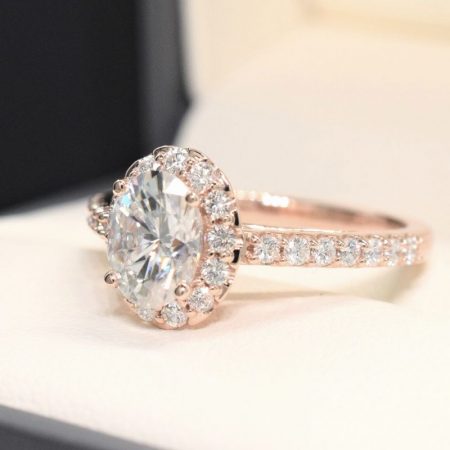 Halo engagement rings continue to be more popular than ever, however it seems that clients are loving rings which are on the delicate side. This particular design has been crafted in rose gold giving it a warm and romantic hue. This ring also features some interesting vintage inspired design work by Chris Omori on the bridge with a fantastic floral design.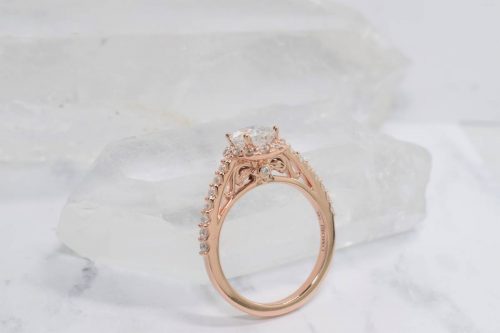 Here is another version of a delicate halo engagement ring crafted in white and yellow gold.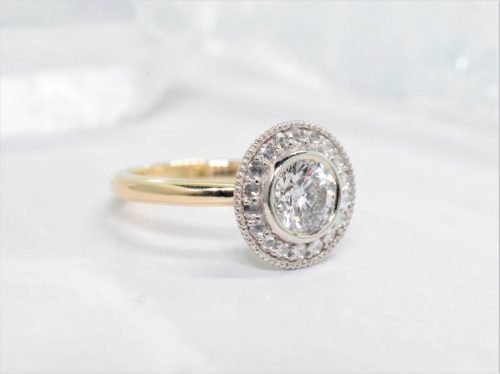 4. Solitaire engagement rings with hidden details
We have also noticed a number of design requests which place great emphasis on the hidden details of the ring. In the case of this ring, the center stone is set in a unique basket over top of an interlocking band of diamonds. This was a great favorite of our design team and was crafted using advanced 3D printing techniques.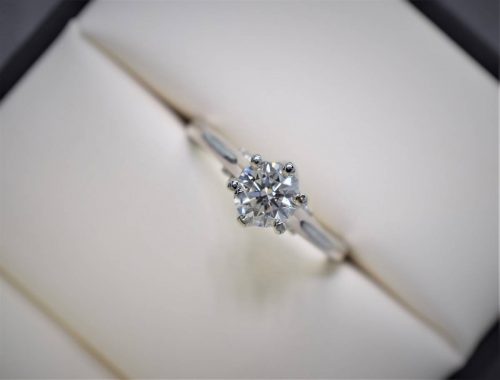 Thanks very much for checking out this article on the top engagement ring trends of 2020. We wish you a happy new year whether you are in Winnipeg or elsewhere across Canada and the world! We hope you have gotten some great design inspiration from these designs and we are sure that there will be more awesome trends to come in the new year.
Feel free to get in touch when the time comes to create your dream ring and don't forget to connect with us on  facebook, twitter or instagram.
Looking for something exciting to do on New Year's eve in Winnipeg?
Check out these lists on to do Canada and eventbrite!