Today we will be showing you 5 wonderful Winnipeg engagement ring designs created by our skilled custom jewelry design team at Omori Diamonds inc.. These feature exceptional diamonds as well as beautiful sapphires. These designs can be used as inspiration for your own unique engagement ring design and remember, as specialists in custom design, we can source a large variety of stones from natural diamonds, lab created diamonds and of course fine colored gems to suit your budget and tastes. 
Well without any further delay, lets get on to our list of 5 excellent Winnipeg engagement ring designs.
1. Yellow gold, antique inspired engagement ring & wedding band set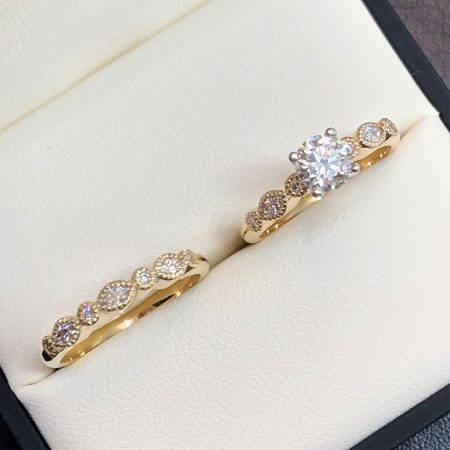 As with many of our custom design engagement rings, this has been inspired by vintage and antique styling, as a matter of fact we probably are the most prolific creator of vintage engagement rings in Winnipeg. It seems many couples of all ages love the timeless appeal of the detailed engraving and geometric shapes of vintage rings. This set features a unique engagement ring with an exceptional round diamond as well as a matching wedding ring which perfectly complements the engagement ring.
2. Art Deco Emerald Cut Engagement Ring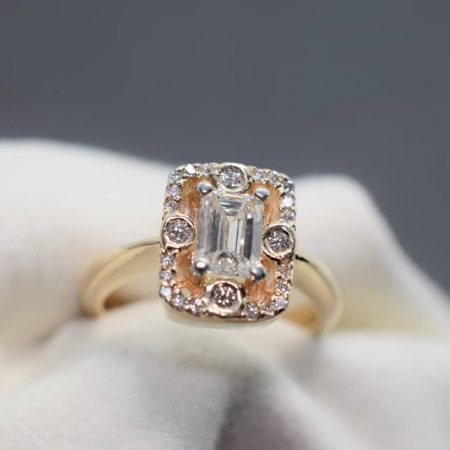 This art deco inspired design features a brilliant VVS emerald cut diamond. This diamond cut creates a spectacular optical effect which is quite striking and different from other cuts, as it is known as a step cut with elongated facets along the sides. This particular design is in keeping with the trend we have seen with regards to the popularity of vintage rings over the past while with out clients in Winnipeg and across Canada. For more information on emerald cut diamonds, check out this article at the GIA on The Emerald Cut Engagement Ring.
3. Twig and Nature Inspired Engagement Ring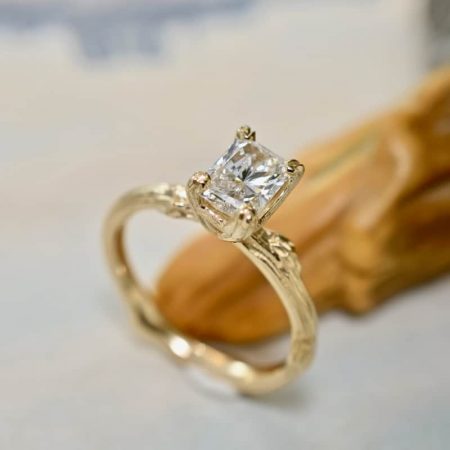 Along side vintage styling, nature inspired engagement rings are another wonderful trend we have noticed over the past number of years. This ring features a beautiful radiant cut diamonds and is set in a twig style band creating a very unique and striking texture in the yellow gold.
4. Rose Gold Sapphire Engagement Ring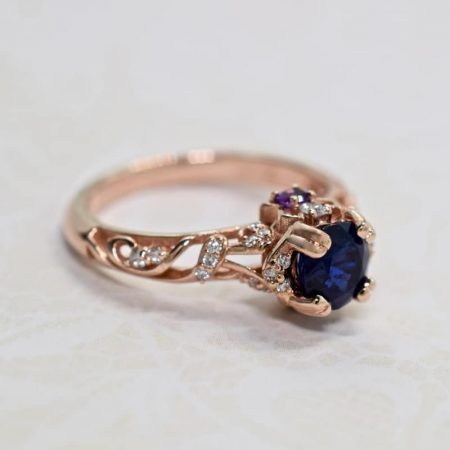 Next on our list of top Winnipeg engagement ring designs is this wonderful sapphire engagement ring which has been created in rose gold. Like, the first engagement ring designs, this ring has been crafted using vintage styling as inspiration. The detailed piercing and engraving on the side was a great challenge for our design team and was accomplished using computer aided design (CAD).
5. Oval Diamond Engagement Ring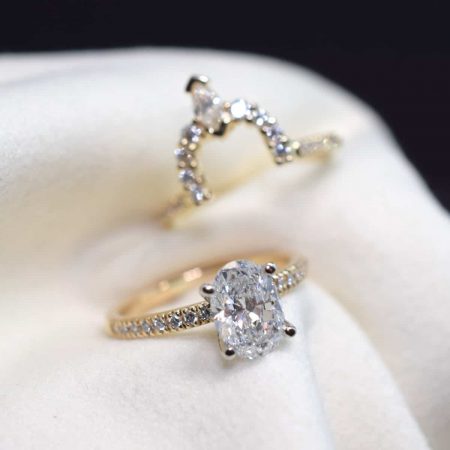 Last but not least on this list of Winnipeg engagement ring designs is this exceptional oval engagement ring which features a magnificent center diamond. The diamond is set in a modern and elegant side stone band which has been crafted in yellow gold. This ring has been a favorite on our instagram and social media pages.
Thank you very much for checking out this article on 5 excellent Winnipeg engagement ring designs, we hopw you have found some great design inspiration from these rings. Feel free to check out our custom galleries on our site and get in touch when the time comes to create your own dream ring.