We create fine custom jewellery and engagement rings including three stone rings in Winnipeg, Manitoba Canada. In today's article we will be showing you some of the most popular styles of three stone engagement rings. Read on to learn more!
The three stone ring has been trending enormously for the past while, not only with our clients but all across instagram and social media. It seems that many couples are loving the tapered and sleek look of this wonderful design, especially those using different diamond shapes such as oval and trillion diamond cuts. This style of ring symbolizes the past, present and future and so it is often thought of as a wonderful gesture during an engagement or anniversary. Let's take a look at a few of our most popular styles.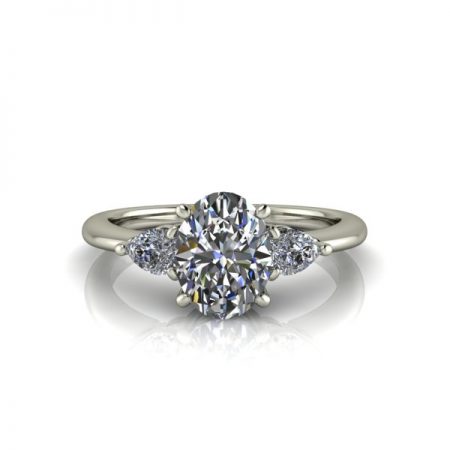 Oval diamond three stone ring with pear cut diamonds on the side
This wonderful design features not only a beautiful and large oval diamond as the center stone, but also two exceptional pear cut diamonds along the side. This helps to create that sleek and tapered look which has been so popular in 2019. As you probably already know, oval diamonds are perhaps the most popular diamond shape this year and as many bloggers have noticed, they are the feature in many of the best celebrity engagement rings.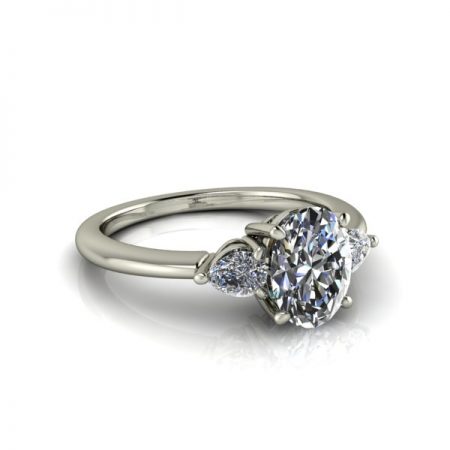 By tilting the side diamonds slightly outwards, we are able to create the perfect angle to increase the level of brilliance and sparkle so that this ring looks absolutely magnificent from all angles. This style can also look beautiful in platinum as well as yellow gold and rose gold.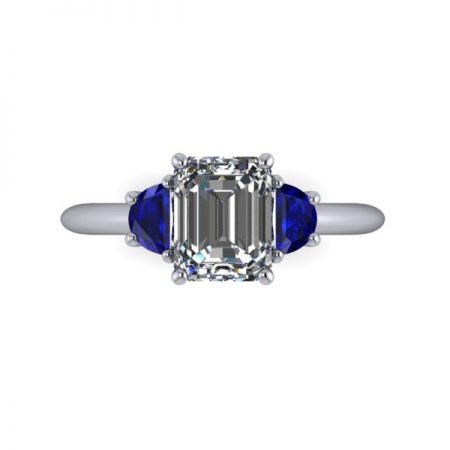 Emerald cut three stone ring with sapphires
This three stone engagement ring design features a beautiful color contrast created by setting the center emerald cut diamonds between two beautiful blue ceylon sapphires. Aside from being one of Winnipeg's premier diamond specialists, we also source a wide variety in the finest diamonds, rubies and colored gems. With three stone rings, the options are endless as to the combinations which can be created with a variety of colors and stone shapes.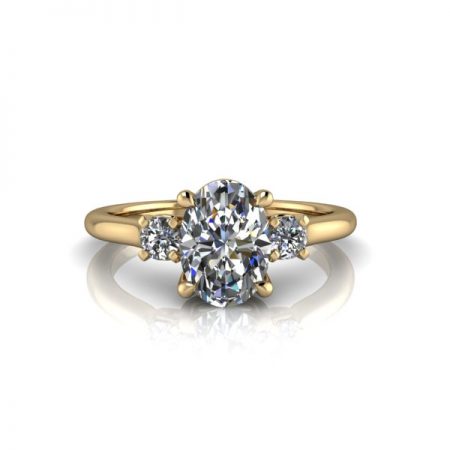 Oval diamond three stone ring
Last but not least on our list of three stone rings in Winnipeg is this exceptional oval diamond ring which also features two smaller round brilliant diamonds on wither side. This design can also look magnificent in all metal colors as well as with sapphires or rubies on either side. To view more similar styles please visit our custom design engagement rings page and learn about our custom design process.
Thanks very much for checking out this article on three stone rings in Winnipeg. Feel free to get in touch when the time comes to create your dream ring and don't forget to connect with us on  facebook, twitter or instagram.