Here at Omori Diamonds inc. we craft a variety of fine wedding bands and custom engagement rings in Winnipeg. In today's article we will be showing you a twig and nature inspired engagement ring that we created for our client. Although this is not our first nature inspired engagement ring, it is certainly one of our favourite custom design projects that we have worked on in a while, as the details were a great challenge and turned out amazing!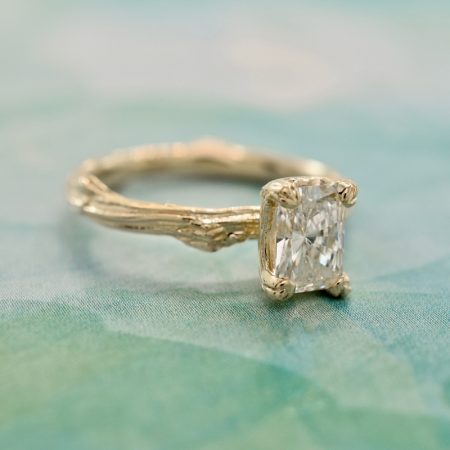 This twig and nature inspired engagement ring features a brilliant radiant cut centre diamond and was crafted with an interesting wood like texture along the band and even claws. The radiant cut diamond is a very special cut which combines the rectangular shape of the emerald cut diamond with the sparkle and brilliance of a round diamond. To learn more about this stunning diamond cut, please visit the GIA website.
Custom design process
As is often the case, we created this ring through the use of CAD (computer aided design) where our design team created some 3D renders first to show the client for approval. This allows our clients to see their design coming to life and to suggest any changes along the way. After this stage was complete we then had a resin model 3D printed out for further confirmation. This allows our clients to see a physical, life sized representation of their deign. Upon approval, the design is then cast in precious metal (yellow gold in this case) at which point our master goldsmith then polished and finished the design and sets the centre stone.
At Omori Diamonds inc. we always take special care to use the finest diamonds which are selected based on a detailed review of their proportions, cut quality as well as all other measurements in order to insure that they will look brilliant from all angles.
If you love nature inspired engagement rings be sure to check out this article on whowhatwhere on top nature inspired designs.
Thanks very much for checking out this blog post on our lates twig and nature inspired engagement ring. Feel free to contact us anytime to begin your own special custom design. In the mean time, don't forget to connect with us on  facebook, twitter or instagram.