We specialize in crafting fine custom jewellery and engagement rings in Winnipeg. In today's article we will be showing you a purple sapphire vintage engagement ring that we crafted for a client. This ring features a wonderful combination of vintage styling and unique colour contrast, created by the purple sapphire and amethyst.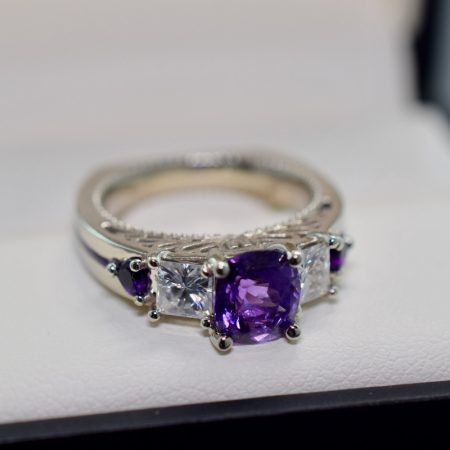 This ring was created using CAD (computer aided design) based on some design ideas that our client had brought to us. From our initial meeting, it was clear that her main interests were in a beautiful purple gem as well as vintage styling, especially detailed engraving and piercing on the profile of the ring.
Sapphires, an everlasting gem…
We ended up using a spectacular purple sapphire as the centre stone. This is the perfect choice as sapphires are incredibly durable and long lasting. As a matter of fact, they score a 9 on the Mohs scale of mineral hardness, which is right next to diamonds, which score a solid 10.
Love sapphires and precious gemstones, check out our sapphire engagement rings page. 
For more style inspiration check out this article on The best sapphire engagement rings.
The timeless beauty of vintage…
As often mentioned on our blog, vintage engagement rings are one of our specialties. It seems that many couples these days, love the intricate patterns and delicate use of geometric shapes in vintage and antique styling.
One of the key elements in vintage and antique custom ring design is the use of detailed piercing on the bridge of the ring, which can be seen best on its profile.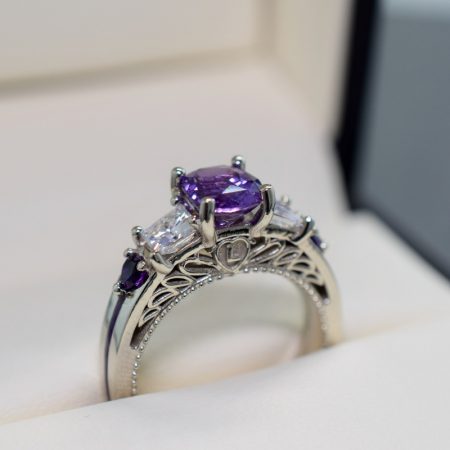 As you can see from the above image, this particular ring features quite a detailed pattern on the bridge as well as a heart shape with the initials of the couple engraved right under the centre stone. This spot is often a perfect location for hidden gems and details that clients wish to include during the custom jewellery design process.
Love vintage style? Check out this excellent website, vintage dancer to view lots of great clothing and jewellery ideas!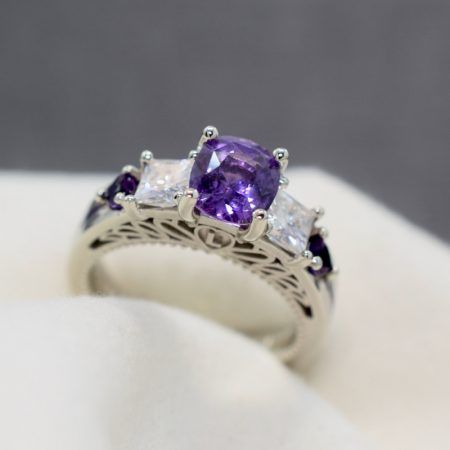 Another unique feature of this ring is the purple enameling which goes down the band. This helps to create a wonderful pop of colour on the ring and is a feature rarely seen on engagement rings. The enamel work can best be seen in the matching men's wedding band.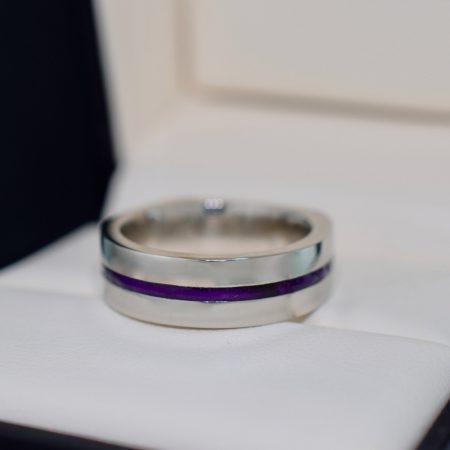 As a premier designer of custom jewellery we are able to create unique matching wedding bands for all of our engagement rings. This can involve creating rings with patterns, shapes and designs which match the engagement ring or also creating a more simple design which can be worn along with the engagement ring or even soldered together so the two can be worn as a single ring. Be sure to check out our wedding rings page for more examples.
Thanks very much for checking out this article on our purple sapphire vintage engagement ring. We hope you have enjoyed learning about this ring as much as we enjoyed creating it. Feel free to contact us any time to begin the design of your very own dream ring and don't forget to connect with us on  facebook, twitter or instagram.
Do you love unique engagement rings, check out our newest article on 4 custom ruby engagement rings!