Omori Diamonds inc. specializes in crafting beautiful gemstone engagement rings in Winnipeg, including fine sapphire and ruby engagement rings. We work directly with our clients to help them craft their perfect custom ring that they will cherish for a lifetime.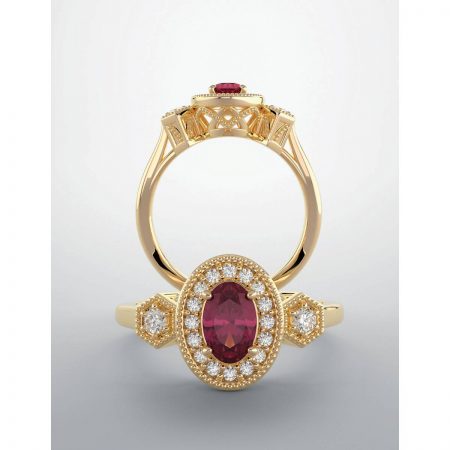 Rubies have been prized for centuries for their deep red colour and ability to create exceptional amounts of sparkle. Along side of Ceylon sapphires, rubies are probably our top choice for a unique non diamond engagement ring due to both their beauty and their exceptional hardness.
An everlasting, durable gem
Like sapphires, rubies rank 9 on the Mohs scale of mineral hardness (diamonds are a solid 10) which means they will wear extremely well over time and you will be able to continue to wear them with pride for many, many years. Their durability however, is not the only thing that adds to their timelessness, the ruby is also the perfect choice for both antique and vintage engagement rings.
A perfect complement for antique style
Vintage style engagement rings are probably one of the most popular styles that we create. Perhaps thanks to the popularity of movies such as the Great Gatsby as well as the trending styles on instagram, vintage style has made a comeback over the past couple of years and shows no signs of slowing down.
So without any further delay, lets take a look at some of the beautiful antique ruby engagement rings available through our catalogue collection.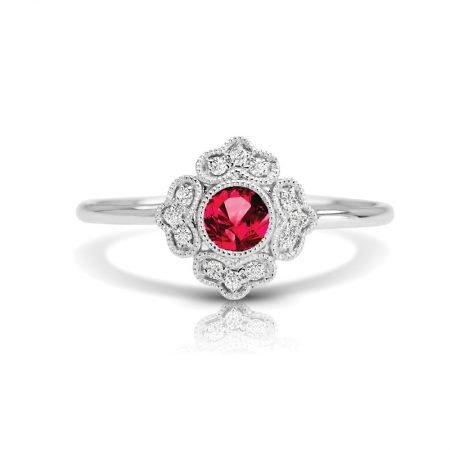 This stunning ring features a floral style halo around the centre ruby stone. The halo's diamonds are round brilliant cut diamonds which are slightly larger than the typical small, micro set diamonds shown in most modern styles. This is a characteristic style often seen in antique style engagement rings as they take inspiration from an era where stone cutting and setting was not as advanced, leading to goldsmiths tending to set larger stones in a less complex manner. This however, has resulted in a few of the characteristic traits that many jewellery experts have grown to love.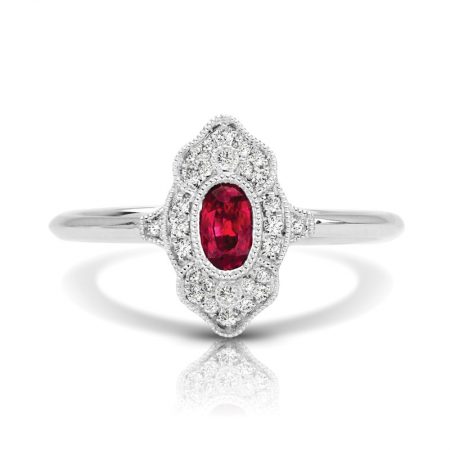 This next antique ruby engagement ring features an oval cut stone with a slightly more complex elongated halo. This style of ring is very popular due to the current trend of oval cut diamonds and stones. This design has also been crafted to have a slimming and elongating effect on the finger due to its slender shape.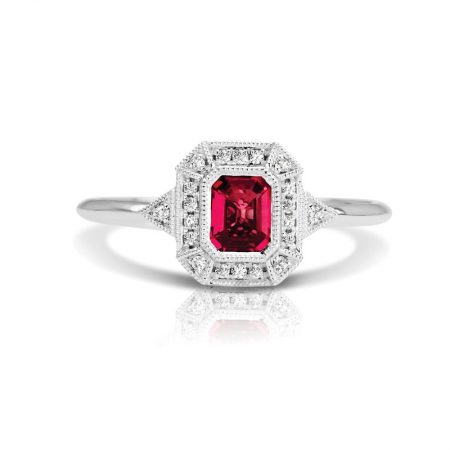 For those who love the emerald cut, this design features an emerald cut ruby in the centre as well as a square shaped halo. The geometric patterns of this ring are often seen in many Art Deco engagement rings as this style period was known for complex shapes and patters featuring interconnecting rectangles and triangles.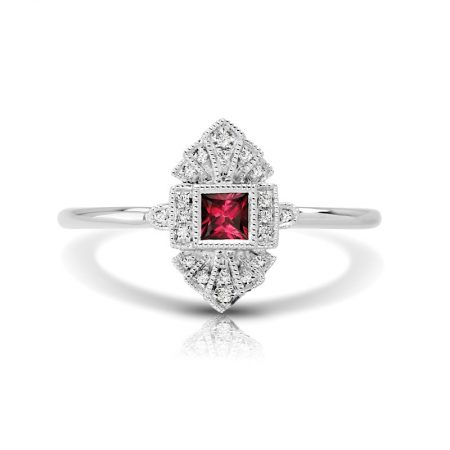 This next ring features a princess cut, square ruby as the centre stone and a very unique halo which has been created by placing rectangular shaped settings on either side of the horizontal part as well as a fan shaped setting on the vertical portion of the ring. This combines some of the key aspects of the previously shown designs.
Thank you very much for checking out this blog on timeless antique ruby engagement rings. We hope you have enjoyed this article and that you have been able to take some helpful style inspiration from it. In the mean time feel free to browse out engagement rings and custom design ringgalleries for more design inspiration. Also don't forget to follow us on facebook, twitter or instagram!