As a premier designer of fine custom jewelry and engagement rings in Winnipeg, we have worked with hundreds of couples to help them find or create that perfect ring. In today's article we will be showing you the basics when it comes to engagement ring styles and offering some helpful pointers in picking the perfect stone.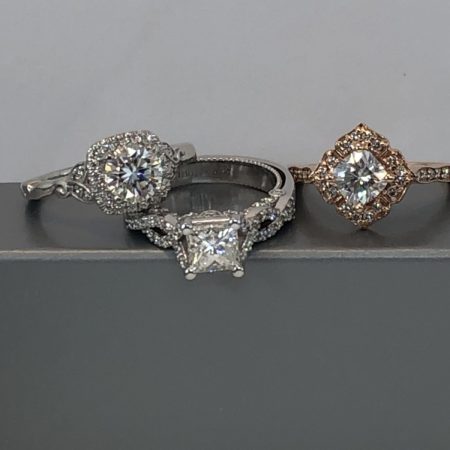 Submit an inquiry to book a free appointment or call us at (204) 951-7040 to talk to an expert. Let's create a masterpiece together!
Picking the perfect diamond or gem
When working with clients and couples who are looking for an engagement ring, we often find it is best to first consider the diamond or gem that they would like. This is due to the fact that we often create their engagement ring around the specific stone they have chosen. This can be a diamond of varying shapes, a sapphire, ruby or even a moissanite or lab created diamond depending on your preferences.
Pro Tip: Aim for the highest quality of cut possible and don't sacrifice cut quality for stone size!
When we use the term cut, we are referring not to the shape but to the quality that has gone into carving out and polishing that particular stone. This can include such things as the symmetry and that stone's ability to reflect the maximum amount of light back out the top resulting in the brilliant flashes of light that well cut diamonds, sapphires and gems are prized for.
For this reason we aim to provide the absolute highest quality cut within your budget so that your stone will shine brightly for many years and you will be able to wear it with great pride. Many stones in typical retail stores have been cut so that the stone appears larger, however this has been done to the sacrifice of the cut quality and the stone does not have ideal proportions, leading to a diamond which may appear dull and lifeless away from the fancy lighting of the jewellery stone. Our goal is to bring you diamonds and gems which are brilliant under all lighting conditions.
To learn more about choosing the perfect diamonds, please check out our diamond education page.
Engagement Ring Styles:
We will now show you some of the classic styles when it comes to engagement rings. Remember, as specialists in custom jewelry design, we can easily mix and match aspects of all styles and even create something completely unique. These images are simply here to give you a basic idea of some of the terminology and styles of engagement rings you may encounter on your search.
Solitaire Engagement Rings
Solitaire engagement rings feature a single centre stone and are loved for their simple yet elegant look. Since the gemstone or diamond tends to steal the attention, is it important to choose a stone which has been cut for maximum brilliance and sparkle. This style of ring can be crafted to set a wide variety of stones of many different shapes and sizes.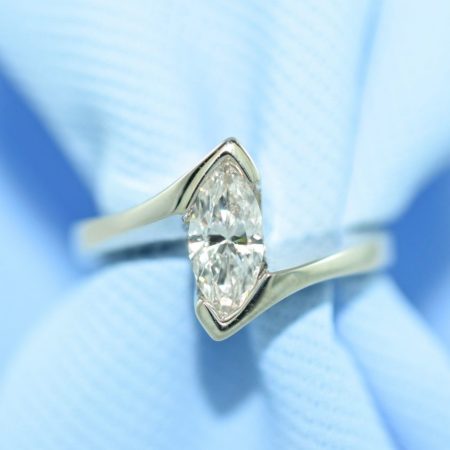 Halo Engagement Rings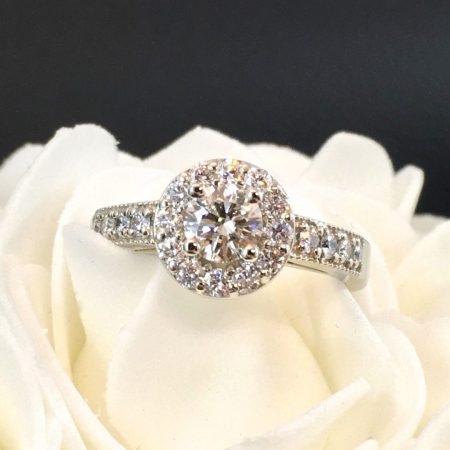 Perhaps one of the most popular styles of engagement rings of the past decade, the halo engagement ring style is known for its ring of sparkling diamonds around the centre stone. These rings may even feature a band of diamonds down the sides for added brilliance and can be crafted for a large variety of stone shapes. The ring below shows a brilliant princess cut diamond set in a wonderful rose gold halo setting.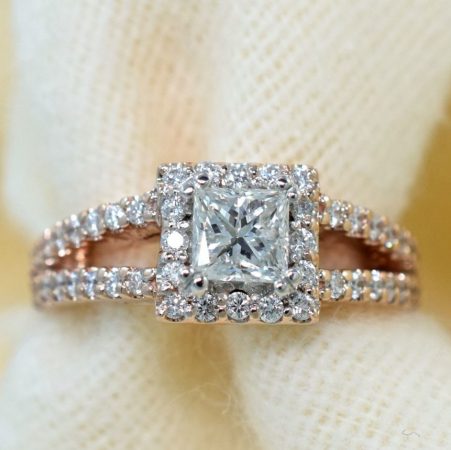 Side Stone Engagement Rings
Side stone engagement rings refer to any ring where small diamonds or gems have been set along the band of the ring. The photo above features a brilliant Ceylon sapphire set in a simple yet elegant band with many brilliant round small diamonds set within it.
This style of engagement ring has become very popular on instagram, especially with celebrities such as Karlie Kloss's engagement ring stealing so much attention as of late!
Vintage Engagement Rings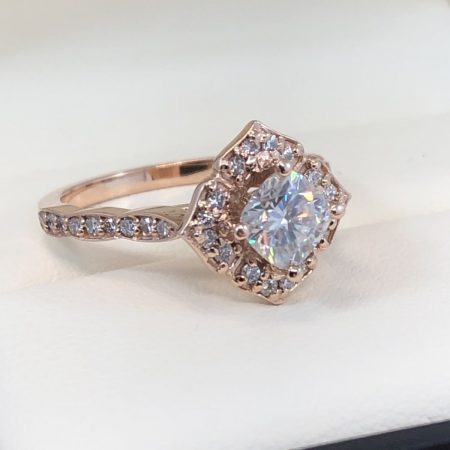 Last but not least, we have come to perhaps one of our favourite and most unique styles of engagement rings, the antique or vintage inspired design. These are know for their detailed engraving and fantastic use of geometric shapes and patterns. These rings have become increasingly popular due to a variety of shows such as Downton Abby and The Great Gatsby.
These designs often look great in rose coloured gold as well as with unique stones such as Sapphires and Rubies. For more vintage style inspiration check out this article on brides.com on the 6 most popular vintage engagement ring trends right now.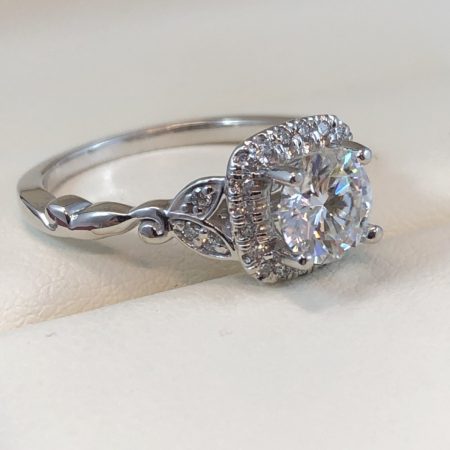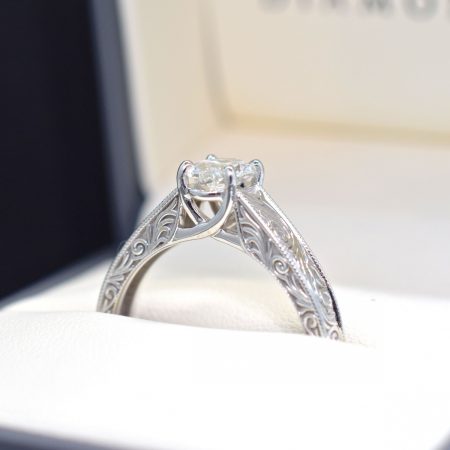 Thank you very much for checking out this article on choosing an engagement ring. We hope you have enjoyed learning about the different styles and are enthused about creating your own ring design. Feel free to contact us when the time comes to begin your masterpiece and don't forget to follow us on facebook, twitter or instagram!