Jim Omori is an expert custom jewellery designer in Winnipeg, Manitoba and specializes in designing fine custom engagement rings, anniversary rings and all kinds of custom jewellery. In today's article we will be showing you some of the spectacular custom rings Jim has created over the past few years.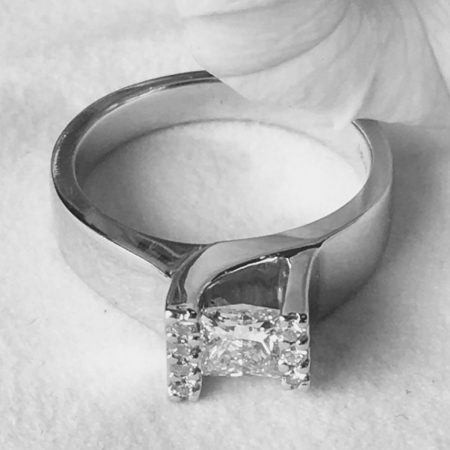 Princess Cut Engagement Ring
This is a custom engagement ring Jim designed for a special client a few years back and features a brilliant princess cut diamond. The design is a modern and sleek setting which features an asymmetrical channel setting with round brilliant diamonds on either side.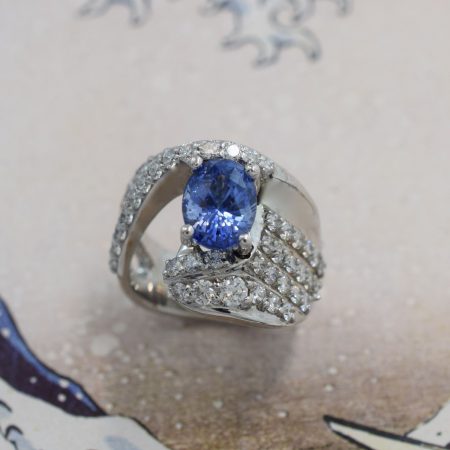 Custom Blue Sapphire Waterfall Ring
This ring features a brilliant blue ceylon sapphire and was inspired by the waves and crests seen in waterfalls and rushing rivers. This ring was created by first sketching some ideas and then 3D printing a wax model which was then cast. Our master goldsmith then went on to polish the ring and set the many brilliant diamonds and centre sapphire. One other feature of this ring is the delicate water lilies which have been engraved on the top of the band.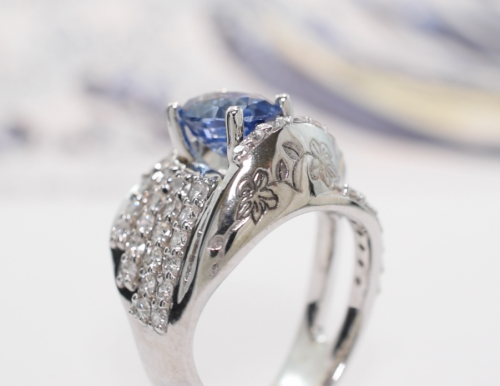 As you can see this ring has many details so that the ring looks wonderful from all angles. The bridge of the ring often makes for a perfect spot for many hidden gems and details.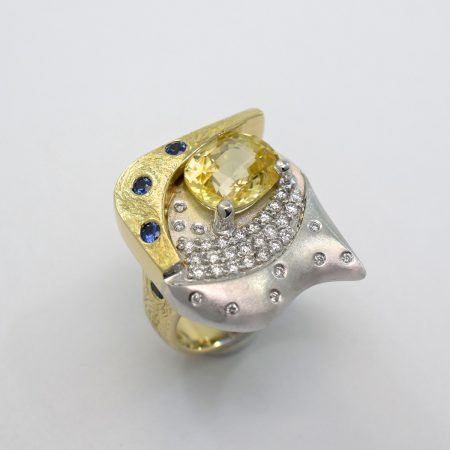 Yellow Sapphire Starry Night Ring
This ring was created by Jim Omori and was inspired by the famous Vincent van Gogh painting "starry night". This ring features an amazing yellow sapphire and also displays some of the most exciting uses of colour and contrast with the blue sapphires set in the textured swirls of gold. This ring is one of the most unique pieces of custom jewellery we have had the pleasure of creating.
Want to see more of this Starry Night ring by Jim Omori? View the video HERE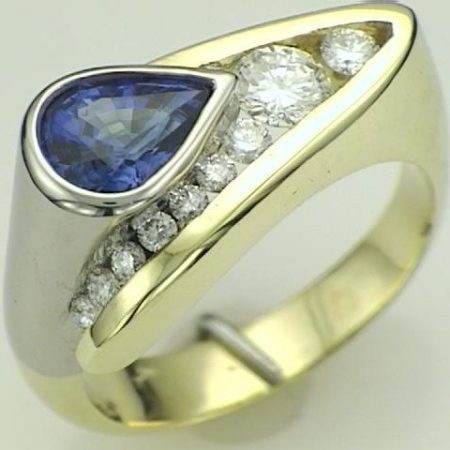 Pear Shaped Blue Sapphire Ring
As you can probably tell, Jim Omori loves to work with fine sapphires of all colours. In keeping with this sapphire theme we would now like to show you this wonderful custom design which features an expertly cut pear shaped blue sapphire set in this design with a graduated pattern of small to large diamonds on the side. This design is very similar to some of the classic styles that Jim has won awards for in the past and features many of the unique and striking style traits Jim often includes in his designs.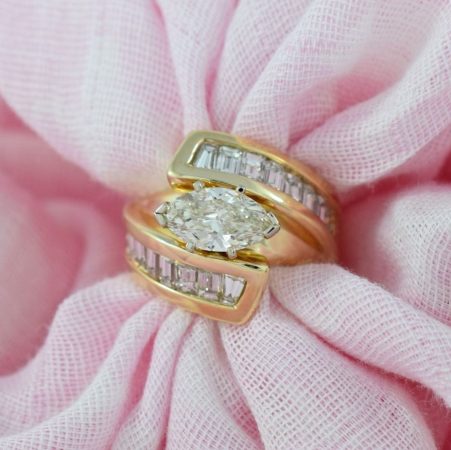 Triple Axel Spiral Diamond Ring
Here is another favourite and unique custom jewellery design which was created by Jim Omori for a special client. This design is called Triple Axel and was inspired by the grace and movement of figure skating. This design features a brilliant marquise diamond and two rows of baguette diamonds.
Want to see more of this design? Check out the video HERE
Thank you very much for checking out this article detailing 5 unique custom jewellery designs by Jim Omori. This article represents only a small portion of the designs that we create on a daily basis for our clients. Feel free to check out some of our other articles on vintage engagement rings as well as our latest article on timeless antique ruby engagement rings.
Don't forget to connect with us on facebook, twitter or instagram
Are you ready to create your perfect unique custom jewellery design in Winnipeg?
Book your free consultation with Omori Diamonds inc. now!