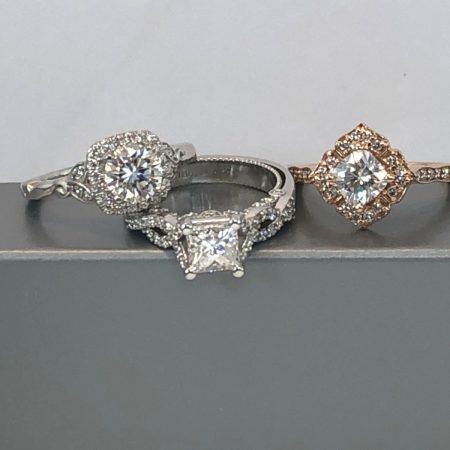 As an artisan designer of fine custom jewellery and engagement rings in Winnipeg, we have the honour of working with many couples to create their perfect dream ring. In today's article we will be showing you 3 of the most unique engagement rings that we have had the pleasure of working on over the past while. From a dazzling princess cut diamond ring to a delicate rose gold design, the one thing these designs have in common is their reminiscence to vintage and antique styling. So, if you are a lover of vintage engagement rings or even art deco jewellery designs, this top 3 list is definitely for you!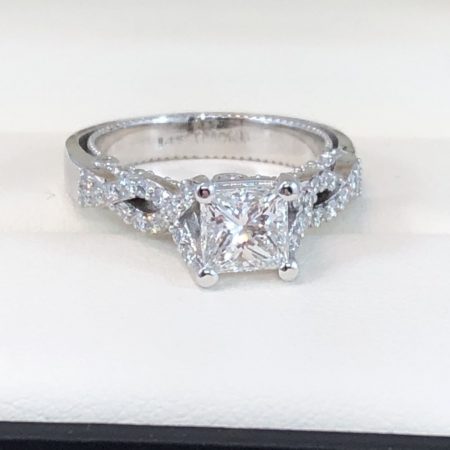 1. Princess Cut Engagement Ring With Extra Fancy Bridge
First on our list of the 3 of Winnipeg's most unique engagement rings is this lovely princess cut diamond design. This was created for a special couple that we worked with from afar and features some very extraordinary vintage styling on the band. Of all the rings we have crafted in the past while, this ring probably features one of the most unique bridges of all.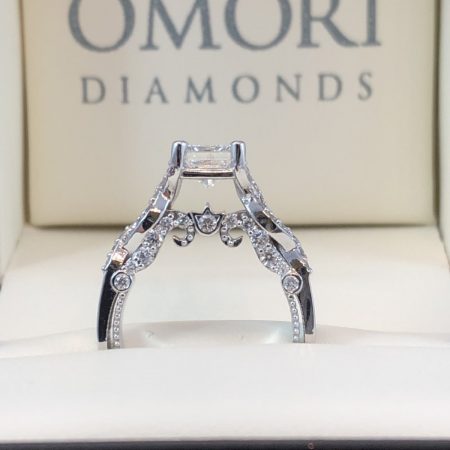 With so many intricate details and spiral patterns, this design was created using CAD (computer aided design) where the shape is first created using a computer program and then 3D printed out in a wax resin which was then cast in white gold. At this point the ring was then polished by our master goldsmith who also set the many wonderful diamonds. This process insures that we are able to create our rings not only to match the personal style of our clients but also for maximum quality so that they will be able to wear them with pride for many many years to come.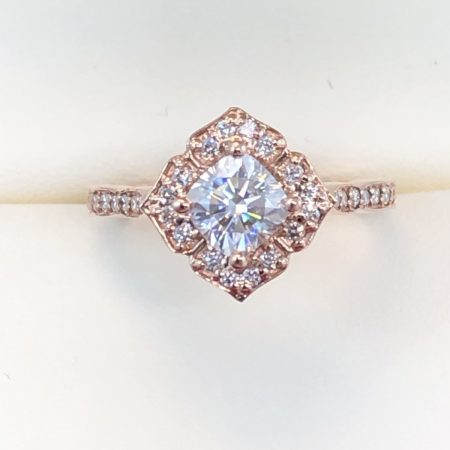 2. Timeless Rose Gold Vintage Engagement Ring
Next on our list of unique engagement rings is this striking rose gold cushion cut engagement ring. This ring displays a feature which has recently been trending where the centre stone is set diagonally in stead of horizontal crating a unique diamond shape to the setting of the ring. Due to its unique shape this ring looks wonderful not only from the front but also from all other angles as well.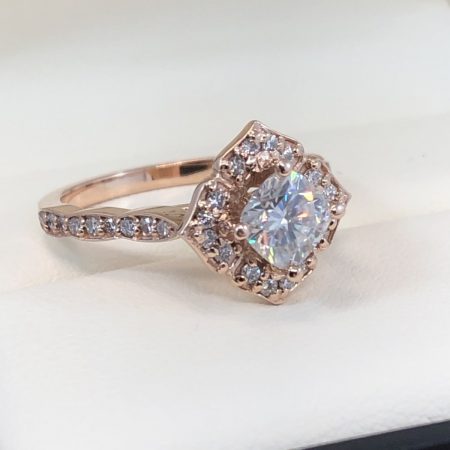 As mentioned in previous blogs, rose gold is extremely popular with regards to vintage styling as its warm tone goes perfectly with all skin tones and seems to bring out the shapes and contours often seen in antique and vintage style rings.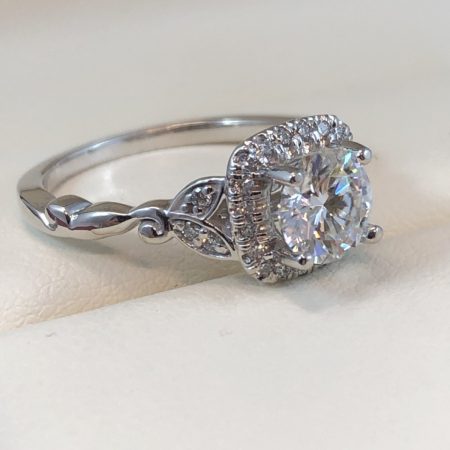 3. Leaf Inspired White Gold Halo Engagement Ring
Last but not least on our list of Winnipeg's most unique engagement rings, is this white gold halo engagement ring which features some very detailed leaf inspired designs on the band. This ring features the delicate flare and nature inspired designs which are incredibly popular on instagram currently and show no signs of slowing down. If you love nature inspired rings be sure to check out our articles on the butterfly engagement ring and the tree inspired ring and wedding band we created!
Thank you for checking out this article on our list of the top 3 most unique engagement rings. We hope you have enjoyed checking out these latest custom jewellery designs. Feel free to browse our other articles for inspiration or check out our custom galleries. Also don't forget to follow us on facebook, twitter or instagram!
Do you love celebrity engagement rings? 
Check out this article by Vogue on the best celebrity engagement rings of all time. Also, for those who love sapphire engagement rings, especially those featuring blue sapphires, check out this article by elle on Kate Middleton's ring!