Today we will be showing you 3 stunning new engagement rings which have been made by Omori Diamonds inc.. From oval diamond vintage, to delicate side-stone designs, to a unique custom ring with a rose wood inlay, 2019 has brought us a number of unique custom design projects that we cant wait to share with you!
As a premier designer of custom jewellery and fine engagement rings in Winnipeg, we have the pleasure of helping many clients and couples to create their perfect ring. This is not only rewarding creatively but also gives us an excellent opportunity of working on some fascinating projects that help us practice the techniques and skills of the jewellery trade. The first style we are going to show you involved some very detailed engraving which turned out fantastic.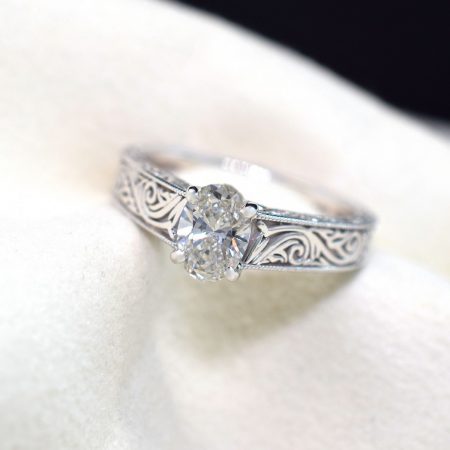 1. Vintage style oval diamond engagement ring
This engagement ring features an exceptionally well cut oval diamond set in a custom design with beautiful vintage antique inspired engraving. As often mentioned oval engagement rings and vintage engagement rings are currently trending as some of the most popular rings of 2019 so far.
One of the main features of vintage rings is often the use of engraving, not only on the outside of the band but also on the bridge of the ring as well. With this specific engagement ring, the bridge displays an overlapping appearance to the claws which are surrounded by leaf like patterns. This ring has definitely been a favourite on our instagram account.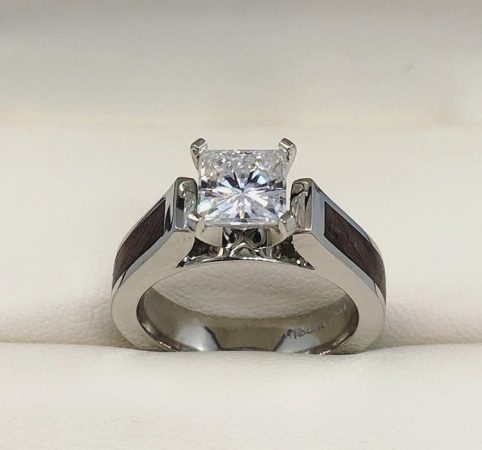 2. Custom engagement ring with rose wood. 
This custom engagement ring features a unique feature which is rarely seen in most jewellery pieces, an inlay of rosewood into the band. This acts as a perfect natural accent to the design and creates a wonderful contrast between the white gold and dark hues of the wood. Although the creation of this  style of ring can be difficult to master, thanks to our master goldsmith, it turned out perfectly! The princess cut centre stone also makes for another brilliant features in keeping with the shape of the ring and is reminiscent of the square cut diamonds used in some of the best celebrity engagement rings!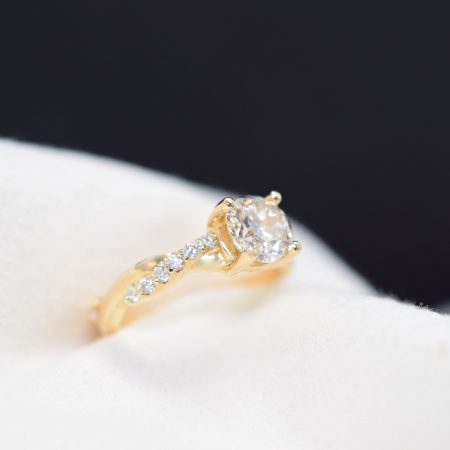 3. Yellow gold side stone engagement ring
Last but not least in our list of stunning new engagement rings by Omori, this wonderful design features an infinity side stone band. If you have been following our articles or social media at all, you must know by now that side stone rings are one of our most popular styles especially those that feature a criss cross or infinity band. In the case of this lovely ring, the band features an overlapping patter, one with a line of diamonds and one without, creating a delicate and beautiful look from all angles.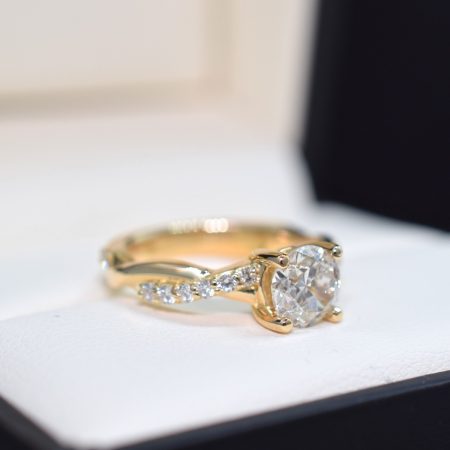 Thanks very much for checking out this article on 3 stunning new engagement rings by Omori. We hope you loved checking out these new styles as much as we loved creating them. If you are ready to create your perfect engagement ring or custom jewellery piece, please get in touch with us to book your free design appointment. In the mean time. Don't forget to follow us on facebook, twitter or instagram!