As a premier designer and creator of the finest custom jewelry and engagement rings in Winnipeg, we have the pleasure of working directly with clients to help them craft their perfect design. In today's article we will be showing you our latest custom oval engagement ring which features some very stunning details.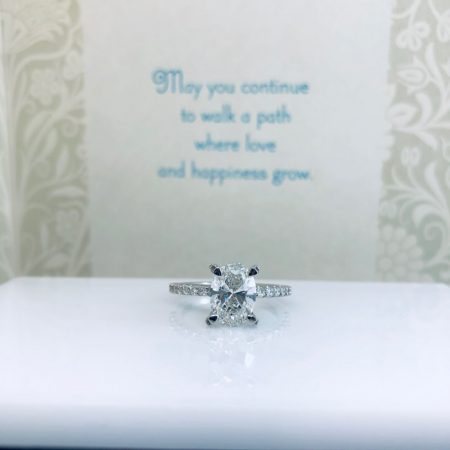 As often mentioned, oval diamond engagement rings are extremely popular at the moment and we expect this trend to continue for a long time. It seems that many couples are loving the exceptional brilliance and versatility of this stunning diamond cut. The ring we will be showing you was created for a special couple and was given during a wonderful sprint time engagement at The Forks in Winnipeg. This ring features an absolutely brilliant oval cut diamond and is set in a very unique side stone design which features diamonds running all the way up the claws!
The Engagement Ring Design Process:
Our client originally contacts us with some ideas for the perfect engagement ring. After sharing some ideas with us, we were able to begin by creating some computer images of the design, also known as CAD images.
These images allow us to show our clients a realistic representation of their design and give them an idea of how it will look when it is finished. View CAD images of this custom oval engagement ring below.
These images also help us communicate with our clients clearly during the custom jewelry design process. If there are changes that the client wishes to make, these can easily be adjusted and new images can be created prior to moving on to the next stage in the jewelry design process.
After our client's approved the CAD images in their design, we then went on to 3D print their design in a wax resin. Often times clients wish to see this model as well so that they can see a 3D representation of their design.
Quality First
With this custom oval engagement ring, as with any design featuring side diamonds, we always take special care to build up the claws. Often when similar rings are sold in traditional retail stores, these rings have been made offshore and the claws are often not as strong, leading to diamonds falling out. In order to avoid this, we make sure that the claws are thick enough so that the diamonds stay in place. Our goal is to create custom rings which are not only beautiful but also that our clients will be able to wear for years and years to come.
Completing The Masterpiece 
To complete the design, the ring was cast in white gold at which point our skilled goldsmith polished the design and set the beautiful centre oval diamond and smaller side stones. At this point we contacted our client to pick up his design at which point he went off to plan his proposal. We are very happy to say that this wonderful couple is now happily engaged and extend our congratulations on behalf of the Omori Family!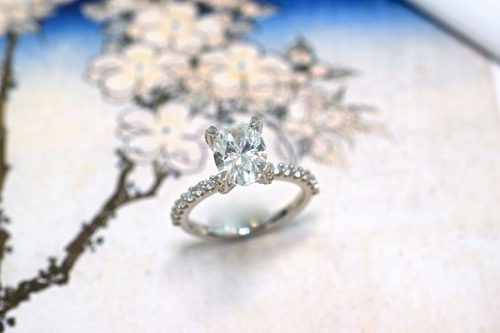 To see more of this custom oval engagement ring design check out the video HERE
Thanks very much for checking out this blog post on our latest custom oval engagement ring. We hope you have enjoyed learning about the custom jewelry design process and that perhaps this article has helped spark your creativity in creating your own custom ring. Feel free to browse our custom design engagement rings page to see examples of our work and learn more about our custom design process. In the mean time don't forget to keep in touch by following us on  facebook, twitter or instagram!