Here at Omori Diamonds inc., we help clients create stunning custom jewellery and custom engagement rings in Winnipeg, Manitoba. In todays blog we will be showing you 5 rings similar to Jennifer Lopez's engagement ring. Read on to learn more!
As you've probably heard by now J-Lo has become engaged once again! Although we'd like to hope the saying "third time's a charm" applies to everyone, in her case it will have to be the fifth! With reports that J-Lo has become engaged to Yankees baseballs star, we had to find out about the special ring!
Jennifer Lopez's engagement appears to be a white gold or platinum solitaire design featuring an absolutely massive 12-15 carat emerald cut diamond. The ring itself is said to be worth a reported 1 million dollars and was purchased at a famous London jewellery store. For some good up close shots of the ring, be sure to head over to hello magazine where you will find a few photos of the couple together on a recent date through New York City. We would like to post the photos ourselves but unfortunately due to internet copyright laws, the major tabloids would probably sue us or at the very least, write a scary lawyer drafted letter…
Anyways let's take this opportunity to show you 5 exciting diamond rings similar to Jennifer Lopez's engagement ring. Please note that although the rings shown feature diamonds ranging between roughly 1-2 carats, you are perfectly welcome to have one made by us with a 15 carat diamond and we certainly won't protest!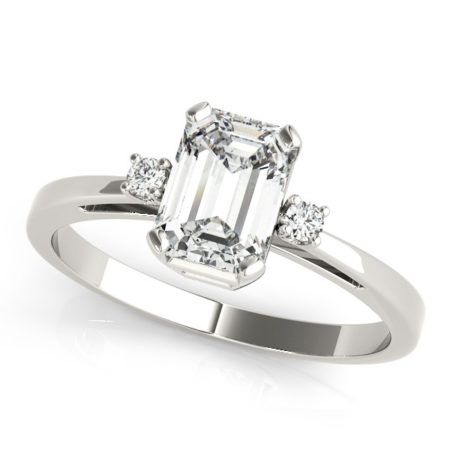 Three stone emerald cut engagement ring
This ring is perhaps the most similar to Jennifer Lopez's engagement ring in our list as it features the simple, modern white gold band. One added twist however is the addition of a round diamond on either side of the centre stone, making this an elegant past, present, and future design.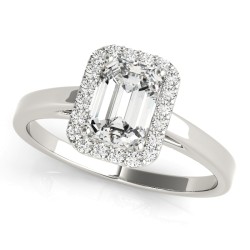 Emerald diamond halo engagement ring
For those who favour diamond halo engagement rings but also love the look of a smooth white gold band, this is the perfect design as it features the winning combo of the halo for added sparkle together with the bands simplicity.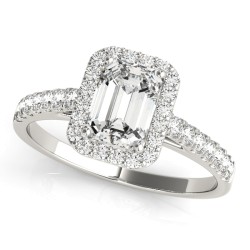 Sidetone diamond halo ring
Like the previous ring, this design features the elegant emerald diamond halo with the addition of a side stone band for even more sparkle! Adding side stones to your band is a great addition to any engagement ring whether it features a centre diamond of any shape or size or even a beautiful ceylon sapphire.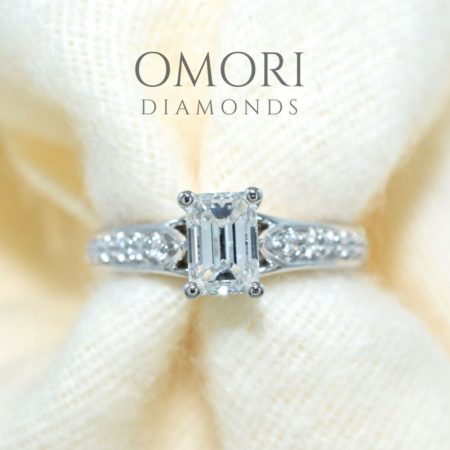 Custom emerald cut diamond ring by Omori
The above ring was custom created for a client a while back. This ring features a magnificently cut emerald cut diamond as the centre stone as well as two rows of side diamonds on it's beautiful tapered band. If you look carefully at the picture you can see the unique optical effect that is created when an emerald cut diamond has been masterfully cut. To learn more about this unique and visually stunning diamond shape, please check out the articles on the GIA website.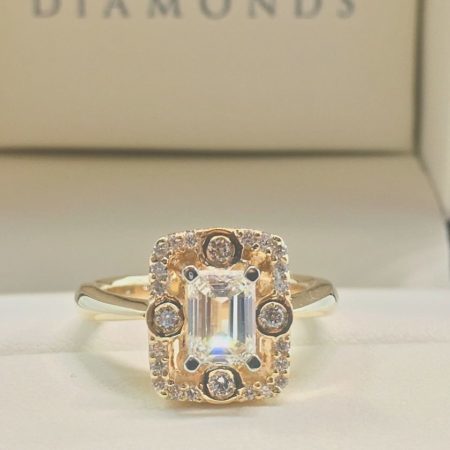 Vintage art deco engagement ring
As you can guess from previous blogs, vintage engagement rings are one of our most popular styles that we create. This particular ring features a beautiful emerald cut diamond as well as four round brilliant diamonds set around the centre stone. The unique geometric patterns created by this setting are reminiscent of the art deco artistic movement which can be seen in not only jewellery but also architecture from the 20's and 30's
Thanks very much for reading this article on 5 diamond rings like Jennifer Lopez's engagement ring. We hope you have been inspired by these designs and have added them to your list of favourites for when the time comes to create your very own custom diamond ring. In the mean time please keep in touch by following us on  facebook, twitter or instagram!