We specialize in crafting exceptional quality engagement rings, wedding bands and custom jewellery in Winnipeg. From designs featuring detailed vintage engraving to modern and sleek designs, we are experts in working with our clients to create something special. In today's article we are going to show you a few of our favourite custom jewellery styles. Read on to learn more.
Unique Sapphire Rings:
This beautiful ring was designed by expert designer Jim Omori for a client a while back. A favourite on our social media, this ring features a pear shaped ceylon sapphire. To accompany its modern and sleek shape, this design features a stream of diamonds running from the top down the side. We have since created a number of rings which make use of the asymmetrical theme as they have been a favourite among many of our clients. It also seems that pear shaped diamonds and stones are trending and we expect to create many more custom jewellery designs featuring both pear shaped diamonds and sapphires in the near future.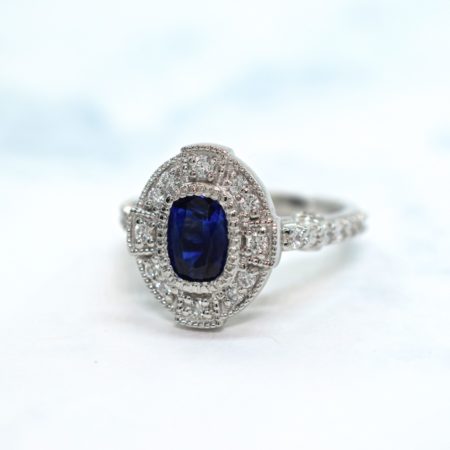 This vintage Edwardian style sapphire engagement ring has also been a big hit on our instagram and social media accounts. As mentioned previously in our articles, vintage engagement rings have been very popular for a number of years now and never seem to go out of style. In fact, vintage rings may be one of our most requested custom jewellery designs. Many of our clients love the detailed engraving and complex geometric shapes often seen on these designs.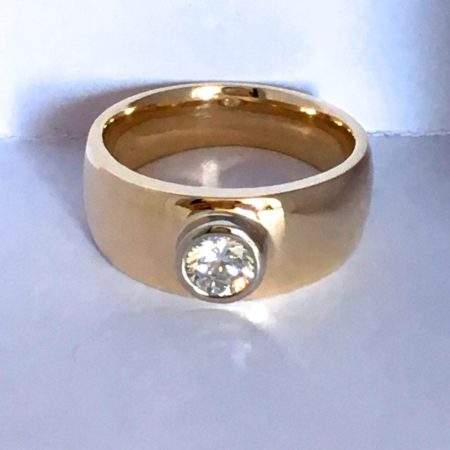 Sometimes when it comes to designing a custom jewellery piece, the simplest style can be the most eye catching. This bezel set diamond ring was created for our client a while back and we have had a number of requests for similar designs. Although many modern diamond rings often feature complex halos and micro set bands, the bezel set is a classic favourite especially on the west coast. Vancouver is actually where Jim Omori began his jewellery design career and it is also a favourite holiday destination for our family. Many times when we are there, we love to check out different local custom jewellery shops and are always amazed at how many custom jewellery designs feature bezel set diamonds.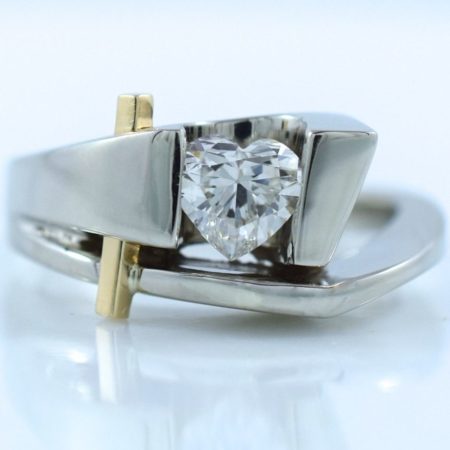 The above ring features a very unique gold bar which runs perpendicular to the band of the ring. We have created many variations of this style as it is a favourite, especially among clients looking to restyle their old jewellery. This particular ring is an engagement ring that we created and it features a bright and beautiful heart shaped diamond.
Let's take a moment to have a look at some of the variations we have crafted of this wonderful style.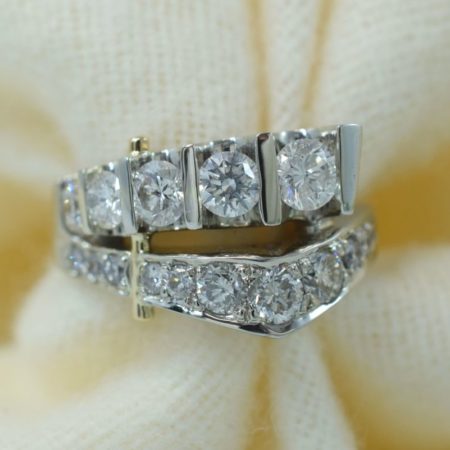 As you can see, this diamond ring features a very similar layout as the previous ring, however, where as the first ring is a solitaire engagement ring (featuring a single diamond), this custom ring features a cascade of a variety of different sized diamonds. This creates the appearance of a continuous band of sparkle when viewed on the hand. Once again the yellow gold bar helps to add colour contrast to the white gold band.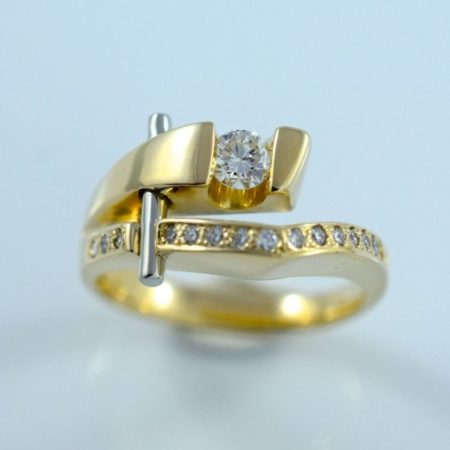 Last but not least we would like to show you yet another variation on this favourite design. Where as the first two rings features a white gold band with a yellow gold bar running through it, this ring features a yellow gold band with a white gold bar for colour contrast. This ring also features a brilliant round centre diamond as well as a partial side stone band. Another favourite on our social media this is an excellent style for clients who have a larger diamond as well as a number of smaller stones to use in crafting something new and exciting.
Thanks very much for reading this article on 7 beautiful custom jewellery designs created in Winnipeg. We hope these designs have inspired you to create something special. When the time comes to create your very own piece of custom jewellery please contact us to book your free appointment. In the mean time follow us on facebook, twitter or instagram!