We specialize in the finest custom jewellery and diamond engagement rings in Winnipeg. Choose from our selection of top styles or work with our award winning jewellery designer to create your perfect custom ring.
In today's article we would like to show you 5 new diamond ring styles which are available through our catalogue of top styles. These designs can be made to order directly or used as inspiration for a unique custom design. Many times our clients select a design from our catalog or portfolio of custom design engagement rings as the starting point for their design and then wish to make adjustments to make it their own. This can easily be accommodated by our expert design team. Now without further delay, lets look at these beautiful new diamond ring styles!
Vintage Hale Engagement Ring
With the recent excitement generated by Katy Perry's engagement ring we thought we would start our list off with this beautiful vintage style ring. Similar to Katy's design, this ring features a classic vintage style halo which is often seen in rings which take inspiration from vintage and art deco styling. One of the unique features of this ring is the unique styling both on the halo and on the band. Unlike most diamond engagement rings which feature a smooth or tapered band, this ring shows off a number of geometric pattern to create an eye catching outline when viewed from all angles!
For more vintage style inspiration, check out this article on Elle on 15 celebrities with Vintage Engagement Rings.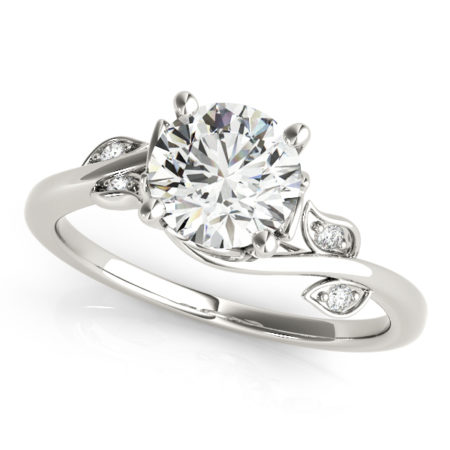 Leaf Inspired Diamond Engagement Ring
One of our favourite styles when it comes to diamond engagement rings is leaf or nature inspired rings. As a matter of fact we have created a number of leaf rings which our clients love. The above design features a single round diamond in the centre, set between 4 striking leaf patterns on either side, each with their own diamond for added sparkle. As with all of our diamond engagement rings, this design can be created in rose, white and yellow gold as well as platinum. When it comes to nature themed ring designs, it can be great to experiment with different metal colours and textures as these can really help to breath life into the design.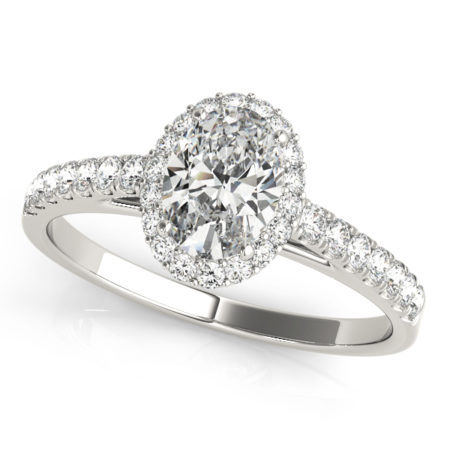 Oval Diamond Halo Engagement Ring
With oval diamonds being so popular, this list would not be complete without a modern oval diamond halo engagement ring. With famous celebrities such as Hailey Baldwin as well as Blake Lively sporting diamond engagement rings featuring oval cut diamonds, it seems the requests for creating such rings are never ending. As a matter of fact, in one of our recent articles, we listed oval diamond engagement rings as one of the years most popular styles.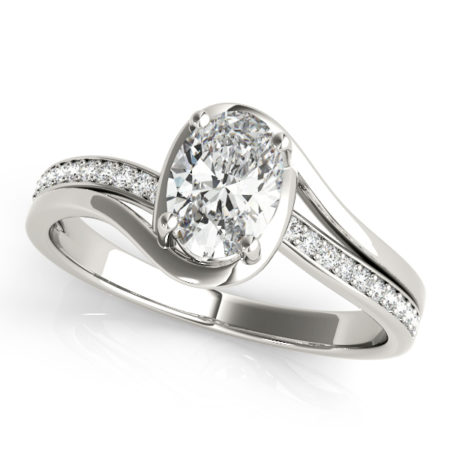 Side stone engagement ring with a twist. 
Another very popular style when it comes to diamond engagement rings has been the infinity band. This style is characterized by a twist or wrap around effect in the band. In this beautiful ring, the split band wraps part way around the diamond creating a spiral like appearance when viewed from the top. With the split band being half bare and half lined with diamonds, this ring displays a beautiful and unique contrast.
We have also created this style of ring by combining a spiral engagement ring design together with an interlocking wedding band to create the look of a seamless single diamond ring band as shown below.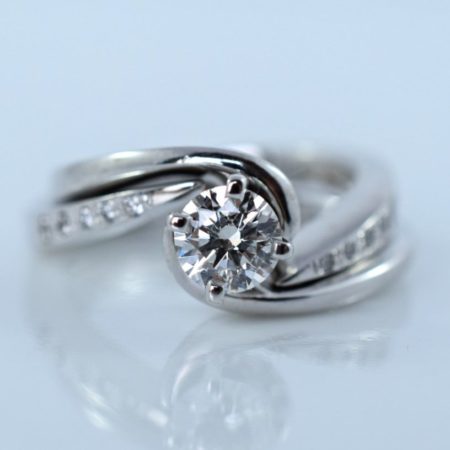 Bezel Set Engagement Ring
This solitaire engagement ring features a single round diamond which has been bezel set. This setting is created by an elevated metal collar around the diamond as opposed to the commonly seen claw setting. This style is extremely popular on the west coast among many high end custom jeweller designers but is also increasingly popular among custom diamond engagement rings in Winnipeg as well. Although the style above is shown with a centre round diamond, this style would also look fantastic with a Ceylon Sapphire, Ruby or other precious coloured gemstone.
Thank you for checking out this article on 5 stunning new diamond engagement rings. We hope you have been inspired by these ring styles. Feel free to contact us to book your free appointment to begin your own masterpiece. In the mean time follow us on facebook, twitter or instagram!