We are a personal designer and creator of custom jewellery and engagement rings in Winnipeg, Manitoba. In today's blog we will be showing you 5 very popular non diamond engagement rings featuring beautiful gemstones such as rubies, sapphires and more!
With a name like Omori Diamonds inc. it is often correctly assumed that we specialize in crafting fine engagement rings featuring the brightest diamonds of all shapes. However, one of our unique features is our ability to source some of the worlds best sapphires, rubies and precious gemstones. Over the past while, we have had the pleasure of helping many couples create unique non diamond engagement rings featuring these other precious gems. Without any further delay, let's have a look at some our most popular non diamond engagement rings!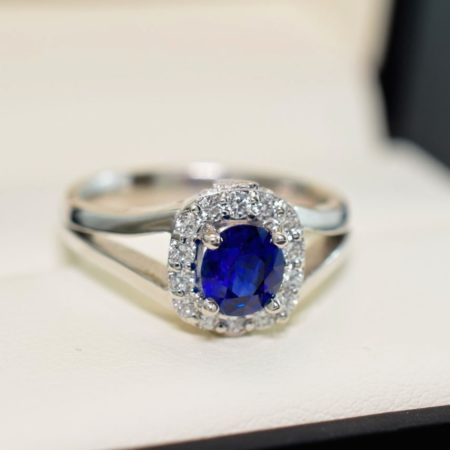 Blue Sapphire Halo Engagement Ring
If you've been keeping up with our blog, you have probably noticed that when it comes to choosing the perfect stone for a non diamond engagement ring, the ceylon sapphire is usually our top choice. Due to the gem's durability and hardness, the sapphire is an excellent stone for any piece of custom jewellery that you plan to wear for many years. The above ring features a beautiful blue sapphire set in a wonderful diamond halo with a unique split band. Another special aspect of this sapphire engagement ring is the family crest which is engraved on the bridge of the ring (not shown). As mentioned in other articles, the bridge is a great spot for us to add little hidden gems and details which can be seen by the one wearing it. These can act as secret love notes from the persons partner and are a favourite romantic gesture among our clients!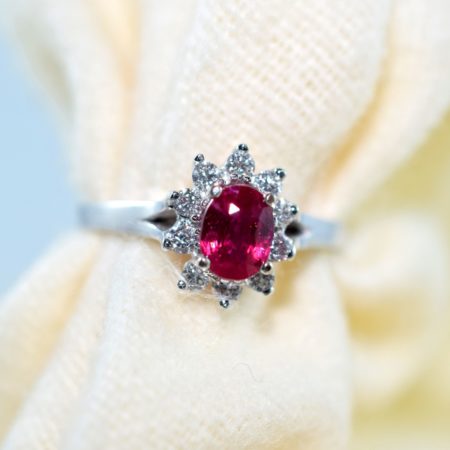 Ruby Engagement Ring With Diamond Halo
Next to sapphires, rubies are definitely another favourite choice for non diamond engagement rings. Belonging to the same mineral family as sapphires (corundum) rubies also display great hardness and durability. For this reason along with their exceptional beauty, rubies are a great choice for not only engagement rings but also wedding rings and anniversary rings. The above ring features a beautiful ruby as the centre stone surrounded by a vintage style diamond halo. As a matter of fact, this is one of the ring styles featured in our recent article which detailed 3 custom rings like Katy Perry's engagement ring. Due to the recent popularity of the engagement ring belonging to Katy Perry and Orlando Bloom we expect to receive more requests for similar rings in the near future, which we will be happy to oblige!
Pink Sapphire Halo Engagement Ring
Did you know that sapphires can come in a variety of different colours aside from blue? They can also come in many shades of wonderful pinks, purples, yellows and much more. With halo rings being one of the most popular 2019 engagement ring trends we felt it would be great to include a classic halo design in our list of top non diamond engagement rings. This ring features a brilliant pink sapphire as the centre stone surrounded by a double halo of diamonds with a side stone band! In terms of sparkle, this design definitely packs the largest punch of our list.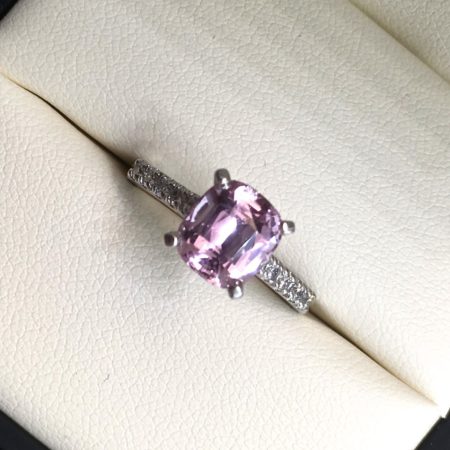 Pink Sapphire Side Stone Engagement Ring
Simple and elegant, this side stone engagement ring displays all the brilliance of a diamond with the unique pink hue that only a top quality sapphire can display. As one of our most popular engagement rings on instagram, we had to include this special ring on our list of top non diamond engagement rings.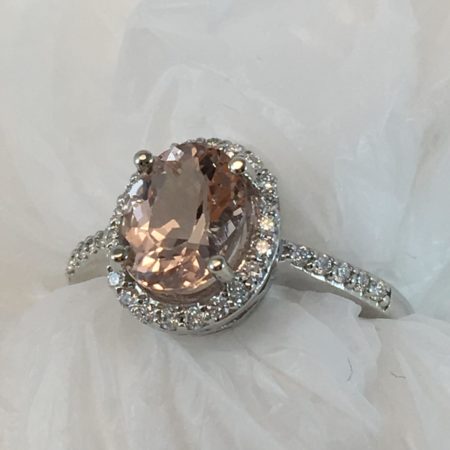 Morganite Ring With Diamonds
As one of our most popular recent posts on social media, this spectacular morganite halo ring is the last but not least on our list of non diamond engagement rings. Known for it's warm and romantic colour tone, morganite is a popular stone used in many kinds of jewellery. This particular ring combines the rich colour of the morganite stone with the brilliant sparkle of the halo and side stones down the band for the perfect combination, making it a favourite among our social media followers and clients alike.
Thank you once again for checking out this article on the 5 most popular non diamond engagement rings. Feel free to follow us on follow us on facebook, twitter or instagram to keep up with all of our latest designs!