At Omori Diamonds inc., we design and create beautiful fine engagement rings and custom jewellery in Winnipeg, Manitoba. We work directly with clients to design something that is special and unique to their style. Read on to check out custom rings we have created which are similar to Katy Perry's engagement ring.
So, by now you've probably heard the news that Kay Perry and Orlando Bloom have gotten engaged on Valentine's day. The couple announced their engagement over social media and instagram with the caption "full Bloom" Although no details have been released about the design, expert jewellery designer Grant Mobley has noted that the ring features a large oval shaped Ruby set in a vintage style floral halo setting. In this article on people magazine, he estimates that the ring could be worth up to 5 million dollars. Experts have also noted the similarity of Katy Perry's engagement ring to Kate Middleton's engagement ring as both rings feature precious gemstones and are set in floral halo designs.
We thought it would be appropriate to take some time to show you a few custom rings we have created which are similar to Katy Perry's engagement ring as well as a few other honourable mentions which have similar style characteristics.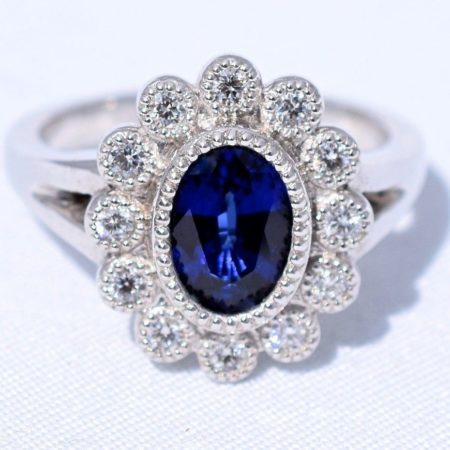 Blue Sapphire Floral Halo Engagement Ring
This sapphire engagement ring features a brilliant blue sapphire as the centre stone and of all the custom engagement rings that we have created, it is probably one of the most similar to Katy Perry's engagement ring. The vintage style diamond halo features 12 round diamonds which are larger than in most modern micro set halo engagement rings giving the ring that European almost antique feel.
Although this ring features a blue sapphire, we can also create similar rings featuring Rubies, Emeralds and pretty much any other precious gemstone of your choice.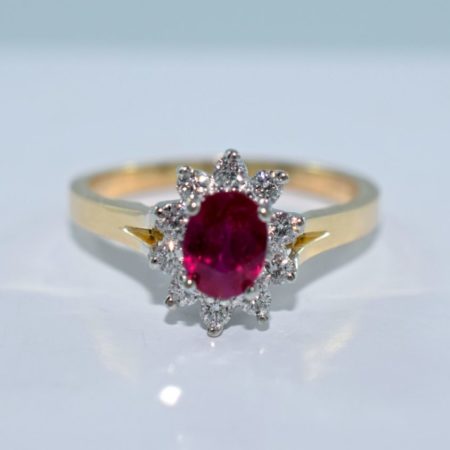 Ruby Engagement Ring With Yellow Gold Band
In terms of the setting, this ruby engagement ring is another design that we created which is quite similar to Katy Perry's engagement ring in that it features a yellow gold band with a beautiful red ruby in the centre. Rubies are an excellent choice for a non diamond engagement ring due to their exceptional hardness (close to diamonds and sapphires) making them very durable and long lasting.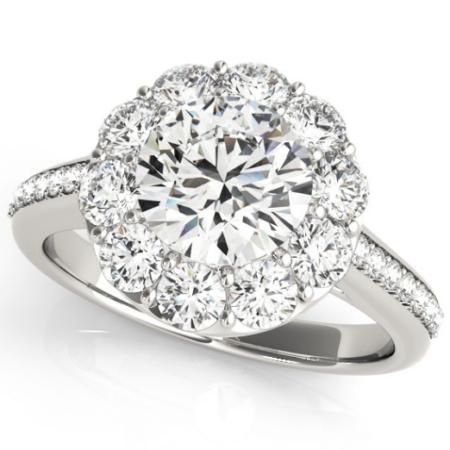 This floral engagement ring is from our catalogue styles and although it features side stones in the band, it is very similar to Katy Perry's engagement ring in terms of the halo setting which features large diamonds. All of our styles can be created in rose, white and yellow gold as well as platinum.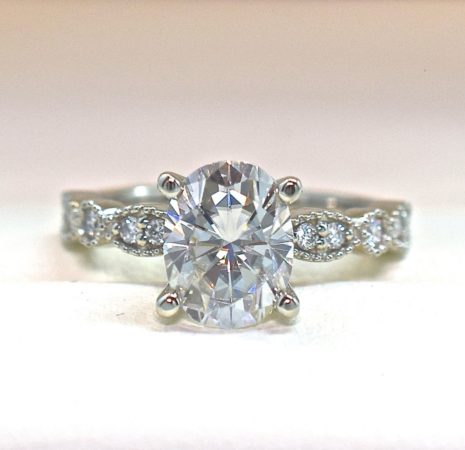 For those who love oval vintage engagement rings
This engagement ring was created a while back and features a beautiful oval centre stone. The combination of the oval and the vintage styling gives this ring that classic look that we had to include in this list. Although it does not feature a halo, this custom ring definitely is a favourite among those who love vintage style.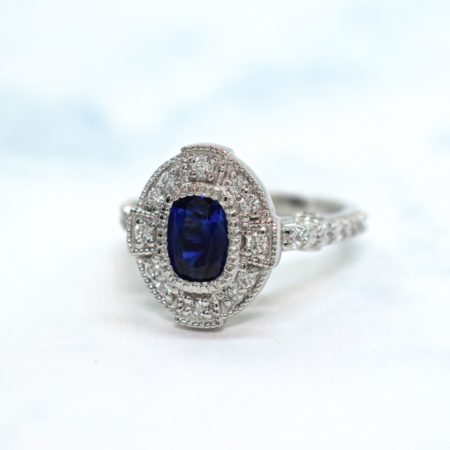 Edwardian Sapphire Engagement Ring
In keeping with the edwardian and gemstone theme of Katy Perry's engagement ring, we wanted to show you this lovely engagement ring that we created which features a deep blue Ceylon Sapphire set in a classic antique, edwardian style. This ring has been a favourite among those who love the royal engagement rings worn by Princess Diana and Kate Middleton due to it's timeless style and centre sapphire stone.
Thanks very much for reading this blog entry on custom rings like Katy Perry's engagement ring. We hope you have taken some style inspiration to use in your own piece of custom jewellery. Feel free to get in touch to create your very own masterpiece. Until then connect with us on facebook, twitter or instagram!