Here at Omori Diamonds inc., we specialize in crafting beautiful and unique engagement rings, wedding rings and all styles of custom rings in Winnipeg, Manitoba. To book your free appointment with an expert designer, simply get in touch by calling (204) 951-7040 or emailing us at info@omori.ca
The top designs of the year
With the new year here, we thought we would provide you with a roundup of some of the most popular styles and trends that we saw throughout 2018. From the always popular rose gold engagement rings to royal sapphire engagement rings, this last year was a special one for custom design. Let's take a look at a few of a few of the style trends which were not only the most popular, but also show no sign of slowing down in 2019!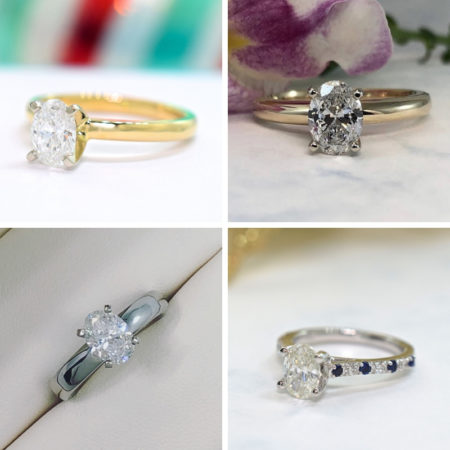 Oval Diamond Engagement Rings
As mentioned many times in our articles, oval diamond engagement rings are currently one of the most popular trends in Winnipeg and across the world. Gaining much popularity from celebrities such as Blake Lively and Hailey Baldwin who have been seen sporting engagement rings featuring beautiful oval diamonds, this diamond shape can look spectacular in both solitaire and side stone designs. As you can see from above, we had the pleasure of creating a number of both yellow and white gold solitaire engagement rings as well as some unique designs which blended both diamonds and other gemstones.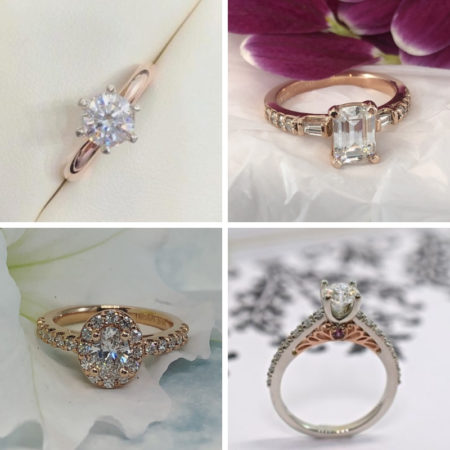 Custom Rings Featuring Rose Gold
Not only has rose gold been one of the most popular themes when it comes to custom rings, but we have also created a number of custom rings which feature a blending of rose and white gold. The design on the bottom right for instance, features a delicate and modern side stone band with an ornate vintage style bridge made from the rose gold. The colour contrast is exceptional and this particular ring received a great amount of love on instagram and social media.
As you can also see from the above image, rose gold is extremely versatile in terms of how it can be used to create a variety of custom ring designs. From modern halos, to simple solitaires and of coarse, more detailed vintage designs, we had the pleasure of crafting a variety of styles in this warm and romantic precious metal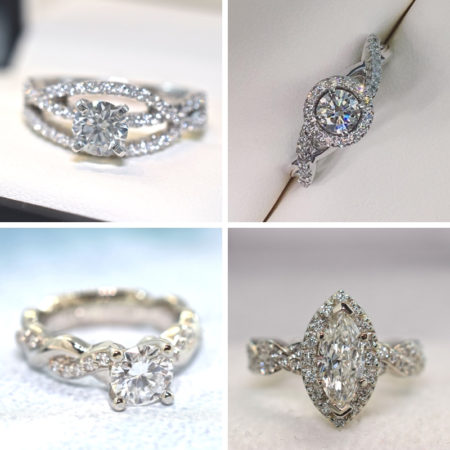 Custom Rings With Infinity Bands
To infinity and beyond!!! Another theme that was very popular this last year was the criss cross or infinity band as shown above. These designs feature an interwoven band creating a very natural and even vine like appearance. Many infinity band engagement rings feature a contrast of texture where one part of the band may be lined with side stones where as the other part is left clear like that of a solitaire (as shown in the lower left and upper right designs). This helps to create contrast and draw attention to the unique shape of the ring band. Although round diamonds are always the most popular, this style also looks incredibly striking with more unique diamond shapes such as the marquise diamond engagement ring shown above.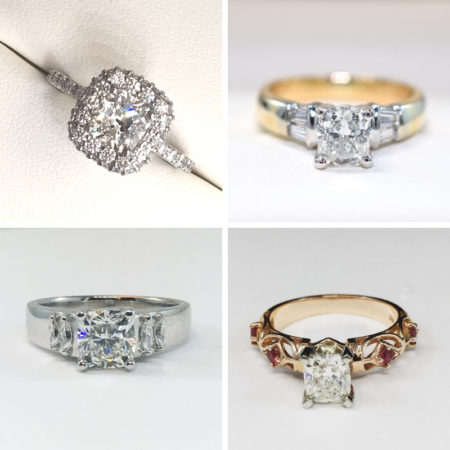 Cushion cut custom rings
One diamond shape which was very popular this last year is the cushion cut. This cut of diamond, provides a great amount of brilliance with the unique feature of the rounded square shape. As one of the oldest diamond shapes, the cushion cut has been featured in many popular designs over the years and is very versatile. This year saw a number of styles from modern delicate halos (upper left), to detailed pierced vintage rings (lower right) and also a number of multi diamond styles which combine the centre cushion cut diamond with other shapes such as marquise or baguette shaped diamonds.
Thanks very much for checking out this article on this year's most popular custom rings in Winnipeg. We hope you have been able to receive some design inspiration from some of our favourite custom ring designs. Please feel free to connect on  facebook, twitter or instagram!
Are you ready to create your own custom ring in Winnipeg?
Book your free appointment with Omori Diamonds inc. now!