At Omori Diamonds inc., we create exceptional platinum, palladium and gold engagement rings in Winnipeg. Our unique business model offers an excellent custom jewellery design experience, as well as very competitive pricing on the finest diamonds, sapphires and precious gems. In todays, article we will be talking about the winning combination of rose and white gold engagement rings. Read on to learn more!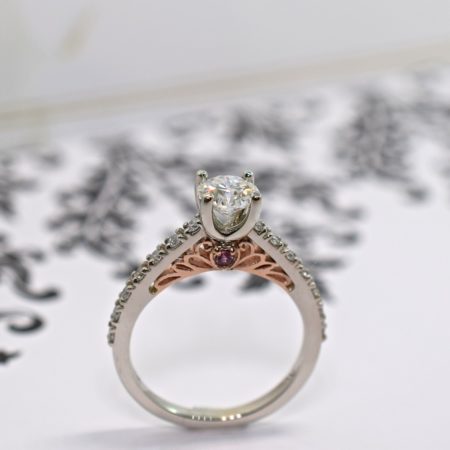 When it comes to creating a unique engagement ring, there are many style options to consider. Some couples may choose to incorporate elements of vintage or art deco styling which feature ornate and detailed engraving on the band. Others may opt for a non-diamond engagement ring by choosing to set another precious gem such a sapphire, ruby, or moissanite in the centre. Another design technique which is often requested is combining both rose and white gold in the setting.
When it comes to combining both rose and white gold in your engagement ring, there are many options as to what part of the ring you want made in the gold colour of your choice. Here are a few examples of rose and white gold engagement rings which incorporate the colour contrast into the band, bridge or claws.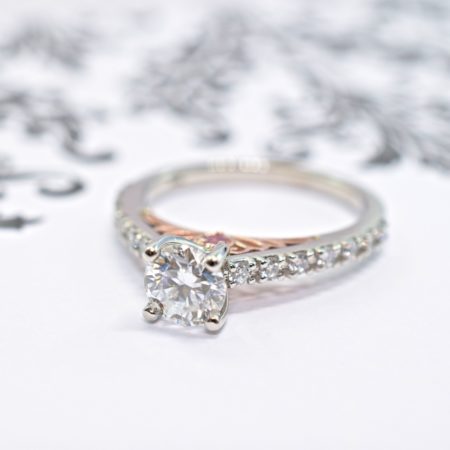 This beautiful side stone engagement ring (also shown at the top of the page) features an ornate vintage style bridge design, created out of rose gold. The white shine of the claws and band create a beautiful contrast. In just the past week of posting this ring on social media, this engagement ring has already become a favourite on our instagram page. This came as no surprise to us as vintage style engagement rings are currently at the top of the list for engagement ring trends of 2018.
For more vintage style inspiration check out this article on Elle on celebrities with vintage engagement rings.
This custom engagement ring was created a while back and features an infinity shaped band made from both rose and white gold which overlaps in a criss cross pattern. This design also features an exceptionally bright pear diamond set in a brilliant halo.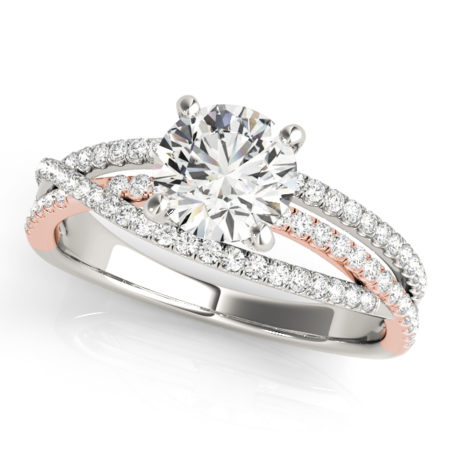 This design comes from our catalogue of pre designed engagement ring styles and features three connecting pavé bands, with one being made in rose gold. Sometimes just a little pop of pink is all you need!
Considerations with rose gold…
One important thing to realize about rose gold is that it is softer than white gold. This can become an issue especially with regards to mass produced rings which can be found at some retail stores, as the manufacturers may try to save cost by making the claws smaller or the same size as they would be with white gold, which can result in stones becoming loose or lost.
We pride ourself on crafting our jewellery to the highest standards and always make sure to build up the claws so that they are more durable and will last. The same applies to yellow gold which is also softer as well. During the design consultation we will also discuss various options on how to make your ring as durable as possible.
A few more beautiful rose gold engagement rings…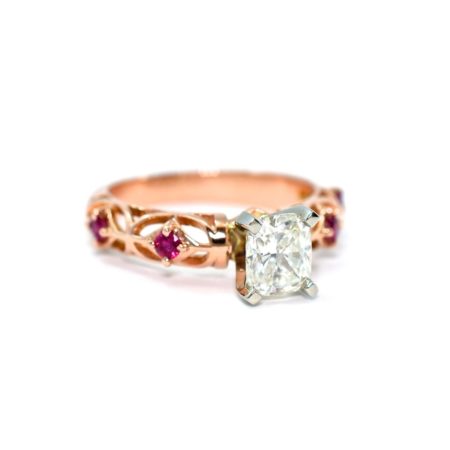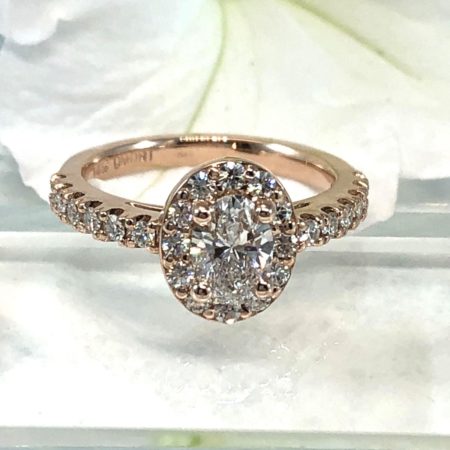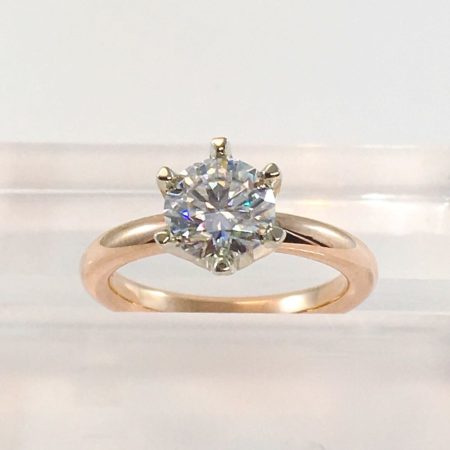 In closing
Thanks for reading this article on rose and white gold engagement rings. We hope you have found this article useful and perhaps recieved some design inspiration for your next custom ring.  Don't forget to keep updated and follow us on facebook, twitter or instagram!