We specialize in creating and designing the finest gold, and platinum engagement rings in Winnipeg. Our unique business model allows us to source the absolute highest quality diamonds at prices much lower than traditional retail and to turn your ideas into reality with our expert custom jewellery design service. 
Why Platinum?
Everlasting Durability 
Platinum is a unique white metal which is known for its everlasting durability and is often the metal of choice for our clients when it comes to creating their engagement ring. Since platinum is much more malleable than gold, platinum engagement rings can retain their beautiful finish for many years, as any nicks and scratches can simply be polished away. White gold on the other hand, can be prone to loosing little pieces due to wear over time and may need to be reinforced and reshanked in order to replace metal that has been lost. White gold can also loose colour over time where as platinum is know to retain its white sheen and will not fade.
Hypoallergenic 
Another great aspect of platinum is that it is hypoallergenic and will not result in negative reactions on the skin.This is due to platinums purity, where as white gold is mixed with other metals and alloys such as nickel which can result in allergic reactions on the skin.
A great choice for an heirloom
Due to its strength and durability, platinum is the perfect choice for any piece of jewellery which you plan to wear for many years and even pass down to future generations. For this reason we often create many engagement rings as well as anniversary rings in platinum for our clients.
A favourite choice among celebrities
For those of you who love to take inspiration from famous celebrity engagement rings and jewellery pieces, you should know that a number of famous hollywood celebrities have worn their favourite platinum pieces to the red carpet as of late. The most recent being Lady Gaga's platinum necklace which features 100 carats of diamonds, which she wore to the premier to "A star is born". Another hit on social media was also Heidi Klum's elegant platinum necklace which she wore to the 70th primetime Emmy awards.
To learn more about famous celebrity platinum engagement rings, check out Wedding Sutra's article on 10 favourite platinum rings celebrities used to propose. 
Some of our platinum creations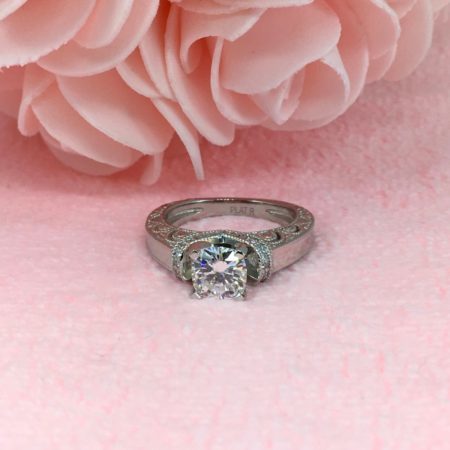 This vintage style platinum engagement ring features incredibly detailed engraving on the band and travelled all the way across the world to Japan for a special Mount Fuji proposal.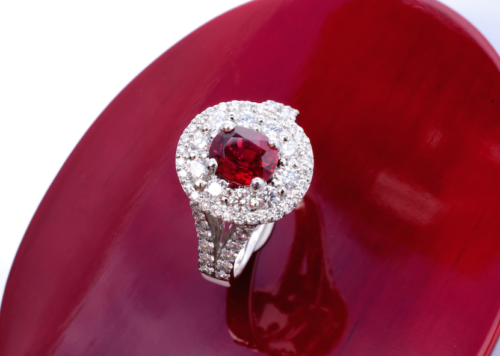 This ruby and platinum custom ring was created for our client as an anniversary present for his wife. For those of you who love gemstone rings be sure to check our our previous article on beautiful ruby engagement rings as well as our blog post on sapphire engagement rings in Winnipeg.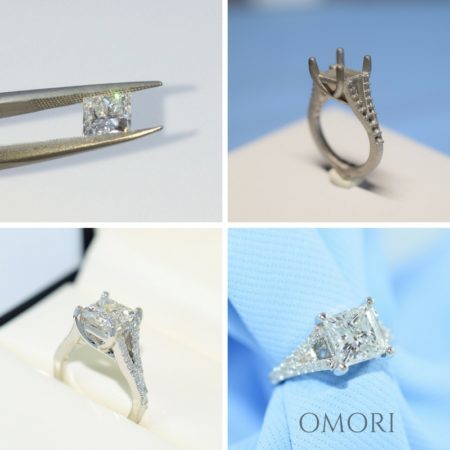 The above picture shows a look into the jewellery design process behind creating this wonderful princess cut platinum diamond ring which was created for a client who is close to our family and hearts.
Thanks for checking out todays article on platinum engagement rings in Winnipeg. Learn more about our latest styles by following us on  facebook, twitter or instagram