At Omori Diamonds inc. we design and create beautiful engagement rings and diamond rings in Winnipeg. In Today's article we are going to show you 7 exceptional diamond rings that we think you will love! Whether you are looking for your perfect diamond ring for that special someone, or just browsing style ideas for when the time comes, these rings are sure to give you some design inspiration and if nothing else, brighten up your day. Without any further delay, lets have a look at some of our current favourite diamond ring designs!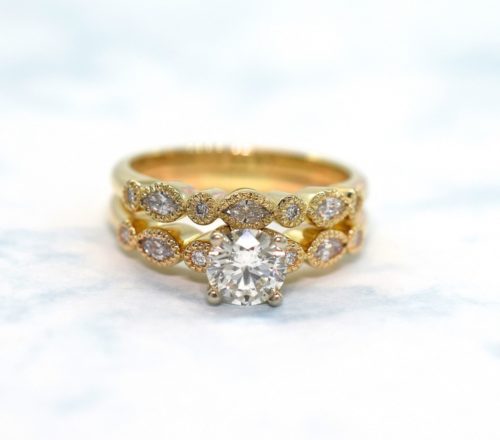 Matching yellow gold bridal diamond rings
This pair features matching engagement and wedding rings. One of our specialties is creating matching wedding rings to fit with the engagement ring. In this case we created both the vintage style engagement ring and wedding band using CAD (computer aided design) which allows our design team to perfect the finest details.
If you love these yellow gold vintage diamond rings, be sure to check out the VIDEO.
Art deco style diamond ring
Art deco diamond rings are characterized by unique shapes and angular patterns. Like vintage style rings, art deco rings have seen a resurgence in the past number of years, perhaps due to the number of movies and TV shows which are set in the relevant time period. The above ring features a VVS emerald cut diamond as well as halo with brilliant round cut diamonds. If you like this design, head over to our previous article on 5 unique engagement rings to view other eye catching diamond ring styles.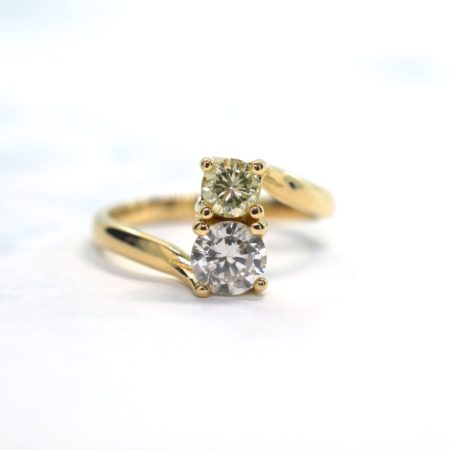 Two stone diamond ring
While many two stone rings feature a side by side or diagonal diamond settings this design features two round diamond set in a vertical pattern, creating a line of sparkle on the finger. The spiral, wrap around setting creates the impression of two rings stacked and helps to accentuate the sparkle of the stones.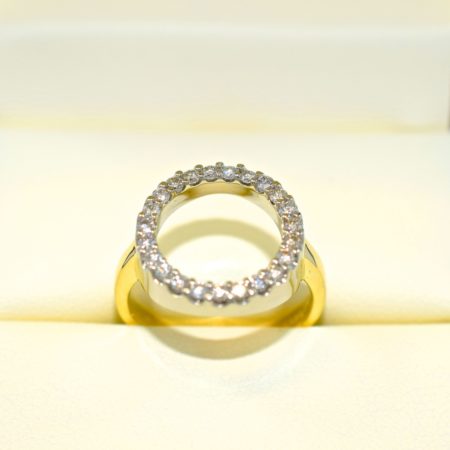 Circle of life diamond ring
This custom diamond ring often referred to as a karma circle or circle of life features a band of diamonds as the centre feature. In many cases, clients may suggest a specific number of diamonds based on a number which is significant to them or their family.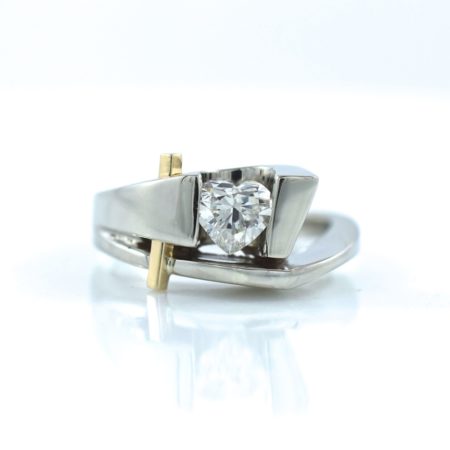 Modern heart shaped diamond ring
This ring features a brilliant heart shaped diamond set in a unique and modern solitaire engagement ring design. This design is often a favourite of our clients who have brought their gold jewellery in to be used in order to create a new piece. Many people may have jewellery which they do not wear any more due to it being out of style. This setting is an excellent choice as it is very modern and eye catching and gives them a chance to breathe new life into the gold or diamonds that they may own. Learn more about using your gold and diamonds on our custom jewellery page.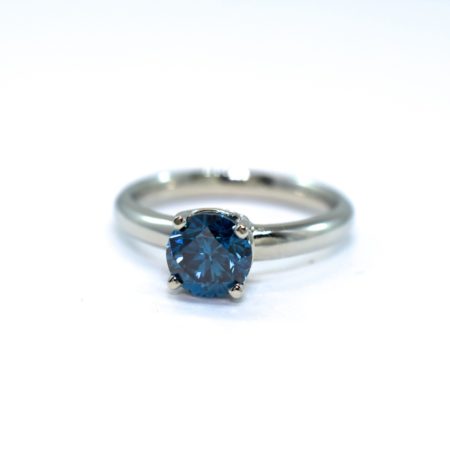 Blue diamond ring
This ring features a bright and beautiful blue diamond set in a solitaire design. This ring was carved and crafted by hand by Jim Omori and our master goldsmith. Blue diamonds are an excellent choice for those who love the intense sparkle of a diamond but also want to add a pop of colour into their ring. Alongside of sapphire engagement rings, coloured diamonds are also an great choice due to their exceptional hardness and durability.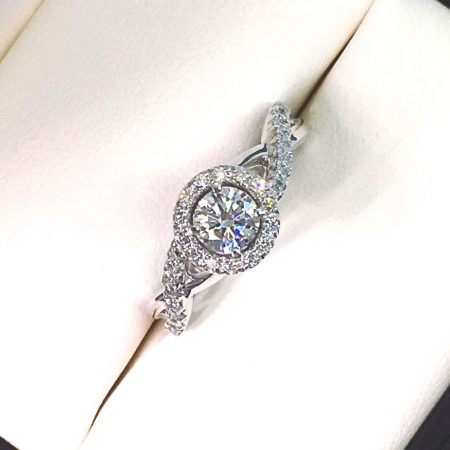 Diamond ring with infinity band
Infinity bands are a great feature on side stone, solitaire and halo engagement rings as they allow the band to produce more sparkle while retaining the sleek look of a thin band. The engagement ring shown above was one of the most like engagement rings on instagram and our social media.
Thanks once again for reading todays article on 7 exceptional diamond rings. Be sure to head over to our  facebook, twitter or instagram where we will keep you updated on all the latest style and custom ring designs.