Here at Omori Diamonds inc. we specialize in bringing you the finest custom engagement rings made in Winnipeg, Manitoba by our expert jewellery design team. Each ring is custom made for each client for the specific diamond or precious gemstone that it will feature. Read on to learn more about our latest engagement ring designs!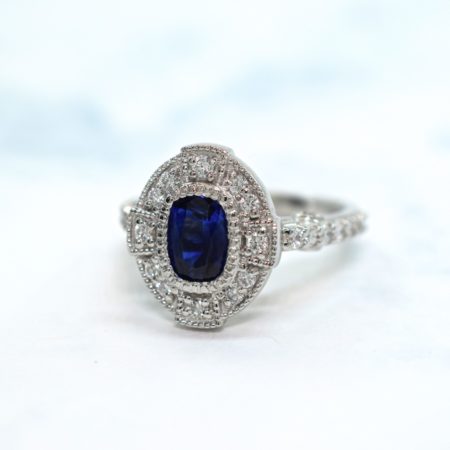 Blue Ceylon Sapphire Engagement Ring
This exceptional sapphire engagement ring features detailed vintage art deco styling around the halo. The centre stone is a deep blue ceylon sapphire which is reminiscent of the stone featured in Kate Middleton's engagement ring. Although posted recently, this ring has already become a favourite on instagram and social media and its no wonder why!
To check out more antique inspired engagement rings made in Winnipeg, be sure to visit our article on vintage engagement rings.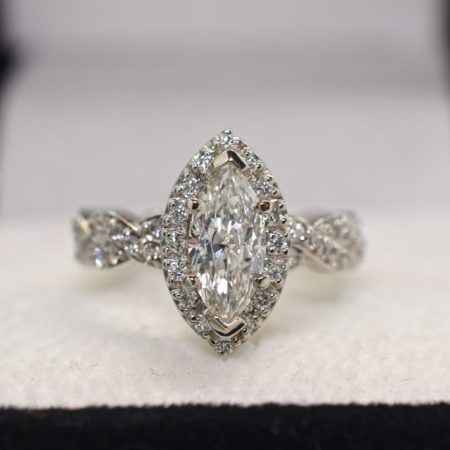 Marquise Diamond Halo Engagement Ring
This custom ring features an absolutely magnificent marquise diamond surrounded by a brilliant halo and criss cross style band. The combination of the brilliant centre diamond and the smaller side stones creates a band of never ending sparkle around the finger.
To learn more about other marquise engagement rings made in Winnipeg by Omori, please check out article on marquise cut diamonds: centuries of excellence.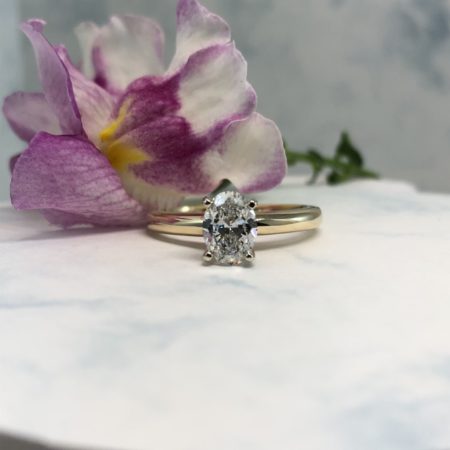 Oval Diamond Solitaire Engagement Ring
This spectacular solitaire engagement ring features a beautiful oval cut diamond and an elegant yellow gold band. This timeless design is similar to those made by Tiffany, one of the most famous engagement ring and jewellery shops in the world.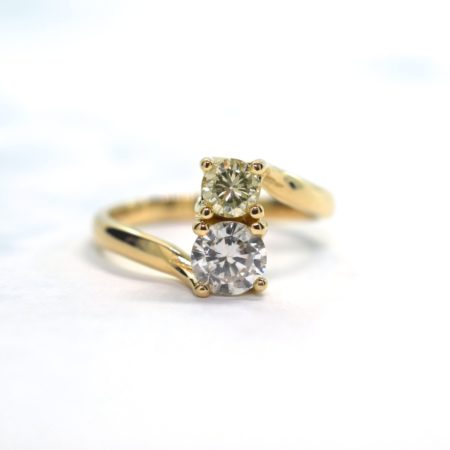 Two Stone Diamond Ring
Although not an engagement ring, this ring was created custom for our client and features a unique, vertical diamond setting. Unlike many two stone rings which feature a side by side or diagonal setting, this setting places one diamond on top of the other in a spiral band creating the look of two rings being worn at once.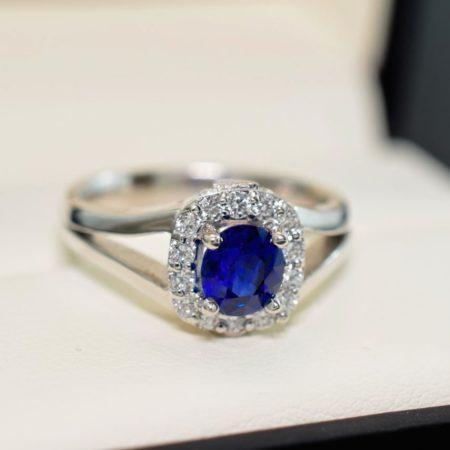 Sapphire Halo Engagement Ring
This fantastic sapphire ring features a white gold split band and a family crest engraved on the bridge. As mentioned previously in other articles, we have access to a large selection of the finest sapphires in Winnipeg and as such we have developed a great reputation for helping couples to create their perfect sapphire engagement rings.
To learn more about this beautiful gemstone please visit the website of the Gemological Institute Of America to view their educational articles on Sapphires.
Are you ready to create your very own custom engagement ring in Winnipeg with Omori Diamonds inc.?
Simply gather your ideas (which can include anything from pictures of styles that you love or even images of flowers, plants or anything that inspires you) and book your free appointment with our designer and diamond specialist. During your appointment we will discuss your ideas and help you to select the perfect diamond, sapphire or gemstone for your budget.
Once a design is settled on we with either craft it in precious metal such as gold or platinum or create 3D images and a wax model for you to view and approve before your design is finalized. Finally, our master goldsmith will set the stones and polish your masterpiece!
Thanks once again for reading todays article on 5 new engagement rings made in Winnipeg. Be sure to head over to our  facebook, twitter or instagram where we will keep you updated on all the latest style and custom ring designs.