We specialize in creating fine engagement rings, wedding bands and all other kinds of custom diamond rings in Winnipeg. In today's blog we are showing off 6 beautiful and elegant marquise diamond ring styles that we are sure you will love!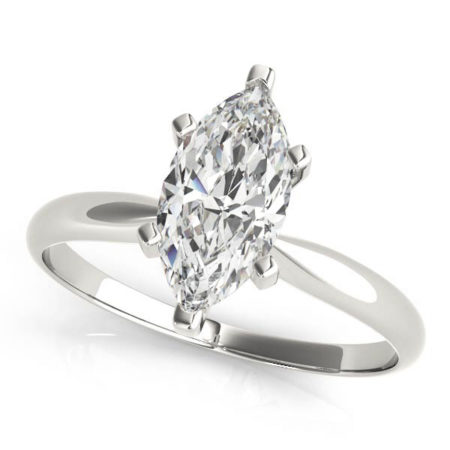 Marquise diamond rings are a favourite choice when it comes to both halo and solitaire styles, as they feature the longest diamond shape for a given carat weight. For this reason it could be argued that choosing a marquise cut diamond engagement ring allows you to get "more sparkle for your buck" as the extra length will enhance the appearance of the diamonds size when worn on the hand.
Dating back over two centuries, the marquise diamond shape has been featured in a number of famous engagement rings and diamonds rings seen in pop culture. Catherine Zeta Jones's engagement ring features a bright and beautiful 10 carat marquise cut diamond and has been featured in a number of publications including an article by Enews discussing Hollywood's priciest engagement rings. However, no matter the budget or size, marquise cut diamonds can look exceptional in a variety of styles. Lets have a look at some of the most popular engagement ring trends we are seeing this year.
Halo Diamond Rings…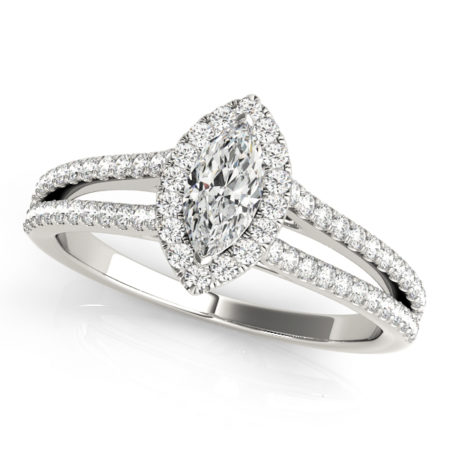 As has been the case for the past number of years, the diamond halo is certainly the most popular current style when it comes to engagement rings. The above marquise diamond ring features a halo of round diamonds as well as a split side stone band. This is an excellent choice for those who favour lots of sparkle and also love the unique appearance of the marquise cut diamond.
Be sure to check out our article on this unique marquise diamond halo engagement ring which was custom created for one of our clients a while back.
Intertwining band…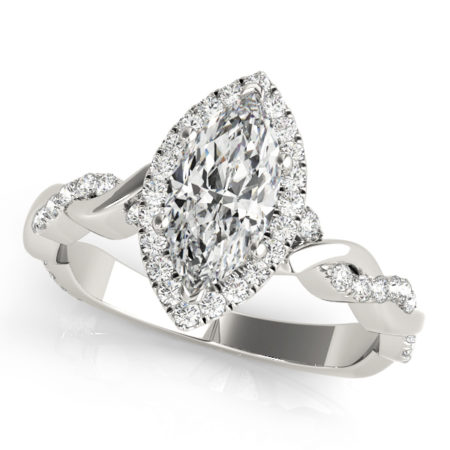 Winding band and vine inspired designs create a striking and unique touch for any side stone engagement ring styles. While the above design features an intertwining band with side diamonds, this style of diamond ring can also look perfect with other precious gemstones such as rubies or sapphires.
Sapphires and more…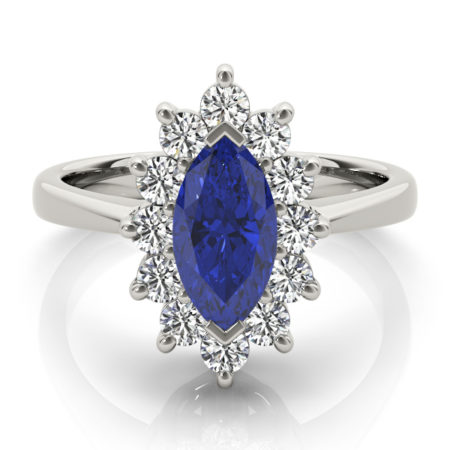 With sapphire engagement rings being one our specialties, we had to mention that the marquise shape can be a great choice for a non diamond engagement ring as well. The above design features a simple and sleek tapered band with a floral diamond halo. This is a perfect choice for those who love precious gemstones and especially for those who are fans of Kate Middleton's engagement ring.
Classic and timeless vintage engagement rings…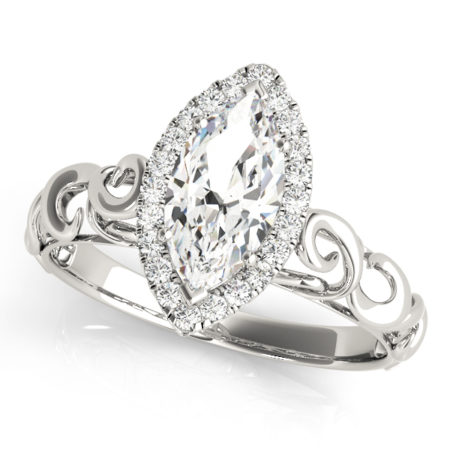 As you may know, vintage engagement rings have been on the rise in popularity for the past couple of years and they show no signs of slowing down. These designs are often characterized by their detailed engraving and piercing along the band. The above design features elegant spirals and swirls all along the band as well as a brilliant diamond halo.
Intricate and asymmetrical…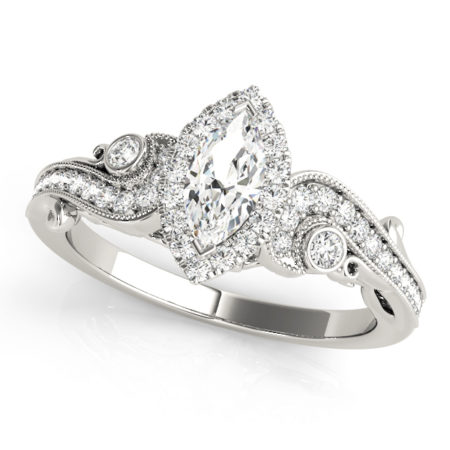 Asymmetrical engagement rings have been one of the most popular diamond ring trends of this year so far with Emily Ratajkowski's engagement ring stealing the show on social media and instagram this summer. The above design features a winning combination of side stone and antique styling and is a great choice for those who are looking for a unique engagement ring.
Thanks once again for checking out this article on our top 6 marquise diamond rings. Don't forget to like, share and subscribe on  facebook, twitter or instagram