Here at Omori Diamonds inc., we specialize in creating beautiful and unique engagement rings in Winnipeg. In today's article we are going to be showing you 5 unique engagement rings for your inspiration. Read on to learn more!
Nature and leaf inspired engagement rings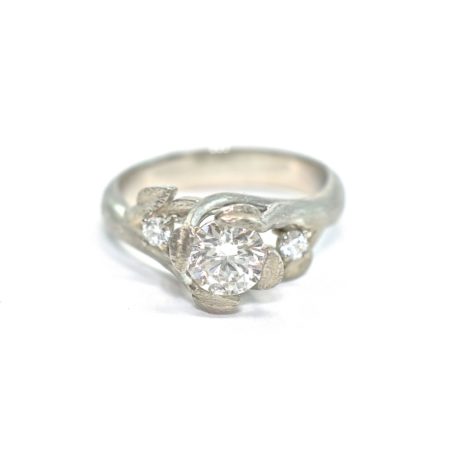 One of the most striking and unique design elements that can be incorporated into an engagement ring, is the use of nature inspired or leaf like elements. The above design features a leaf band which wraps around the centre and side diamonds and is polished to a matte finish giving the ring a natural feel. This ring has been a favourite on our instagram and social media accounts.
To learn more about this unique engagement ring design check out our article : Tree inspired custom engagement ring. 
Marquise diamond engagement rings…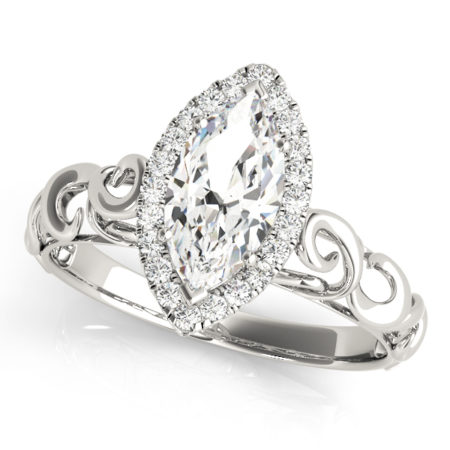 As one of the oldest diamond shapes, the marquise cut diamond is also one of the most eye catching. As the longest diamond shape for a given carat weight, a perfectly cut marquise diamond can provide you with the "most sparkle for your buck". A favourite choice for many unique celebrity engagement rings, this diamond cut is a great option for those who like the elegant look of antique and vintage engagement rings as well.
Learn more at the GIA website about the history of marquise diamonds. 
Modern heart shaped diamond designs…
Often considered the most romantic diamond shape, heart shaped diamonds can go perfectly in both detailed vintage engagement rings and modern solitaire engagement rings as well. The above design has been a very popular choice among our clients for quite some time now. The vertical gold bar helps to create contrast with the white gold band and the unique channel setting draws attention to the centre stone allowing it to steal all the attention!
If you love heart shaped diamonds, be sure to check out US Magazine's article on Blake Lively's heart shaped diamond ring. 
Unique and asymmetrical designs…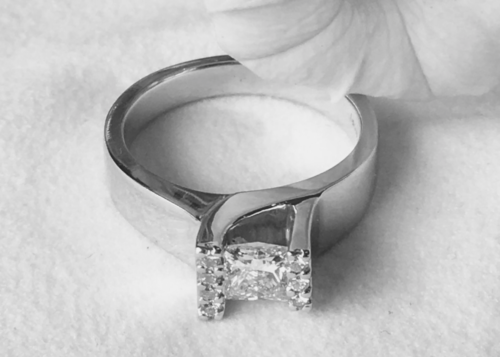 The above design was created for a special friend of the family and features a unique asymmetrical band with a brilliant princess cut diamond as the centre stone. Like many of our designs, this unique engagement ring also received much positive attention and complements on our facebook and social media accounts. As mentioned in previous articles, asymmetrical designs are one of most popular current engagement ring trends, with Emily Ratajkowski's engagement ring gaining enormous popularity in the media as of late.
Sapphires and Gemstones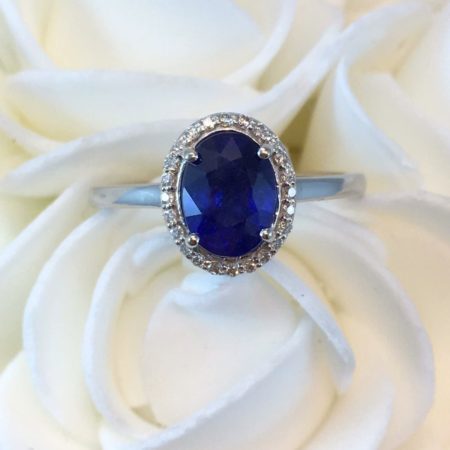 As we have often mentioned in our other blogs, gemstone engagement rings, particularly those featuring rubies and sapphires are an excellent choice for a non diamond engagement ring. Due to their exceptional hardness, both rubies and sapphires are perhaps the best choice when it comes to choosing an alternative to a diamond for an engagement ring as they will wear very well over time. Both Princess Diana and Kate Middleton both featured a beautiful blue Ceylon sapphire in their engagement rings, so if you are looking to add that extra touch of royalty to your engagement ring, the ceylon sapphire is the perfect choice!
Thanks very much for reading this article featuring 5 unique engagement ring designs. Don't forget to connect with us on social media and like, share and subscribe on  facebook, twitter or instagram