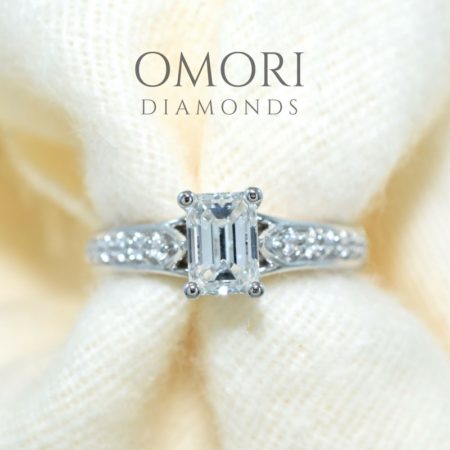 Emerald cut engagement rings are an elegant and striking choice especially for couples who are looking for a unique ring that stands out from the crowd. In fact, emerald cut diamonds have been rising in popularity largely due to their appearance in a number of famous celebrity engagement rings. It seems this hollywood trend really took off after Angelina Jolie was seen wearing a beautiful emerald cut engagement ring which, as the story goes, took over a year for Brad Pitt to design. In recent times, much has also been written about Beyone's engagement ring which features an 18 carat, flawless emerald cut diamond set in a split band solitaire design. Whether or not you are looking for a rock that is large or smaller, this particular diamond cut can look beautiful no matter the carat weight. Read on to learn more about emerald cut diamonds and some of the top ring styles that feature them!
Some info on emerald cut diamonds…
Known for their appeal in vintage engagement ring designs, emerald cut diamonds are created using a "step cut". This means that their facets are arranged in a long and narrow pattern which looks like a staircase on each side. This creates a unique and mirror like optical effect when viewing the diamond from above and presents an elegant sparkle pattern.
One thing to keep in mind when looking at emerald cut diamonds, is that this diamond shape can show inclusions easier due to the long, rectangular facets. For this reason we always make sure that any emerald cut diamond that we are considering purchasing is eye clean and we often suggest a higher clarity grade. Emerald cuts also show somewhat less scintillation than round diamonds and for this reason are prone to reveal inferior colour. Because of this, we also suggest a higher colour grade to insure that the diamond gives off a brilliant white sparkle.
To learn more, check the informational resources at the GIA's website on emerald cut diamonds. 
The versatility of emerald cut engagement rings
One of the great things about emerald cut engagement rings, is that they can come in just about any style you can imagine. From detailed vintage engagement ring designs all the way to simple and sleek solitaire engagement rings. Here are just of the few style options when it comes to emerald cut engagement rings…
The modern halo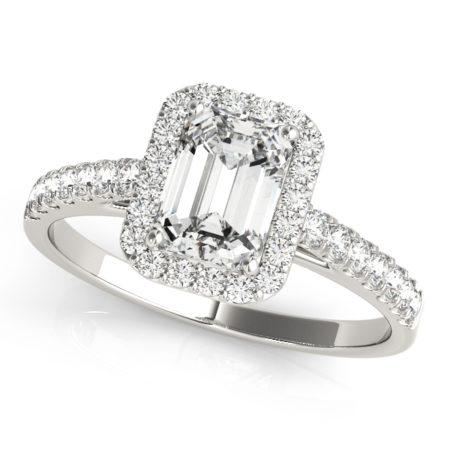 Halo engagement rings are without a doubt one of the top engagement ring trends of 2018. The above emerald cut engagement ring design features a simple diamond halo with small diamonds down the band for extra sparkle.
The Rose gold halo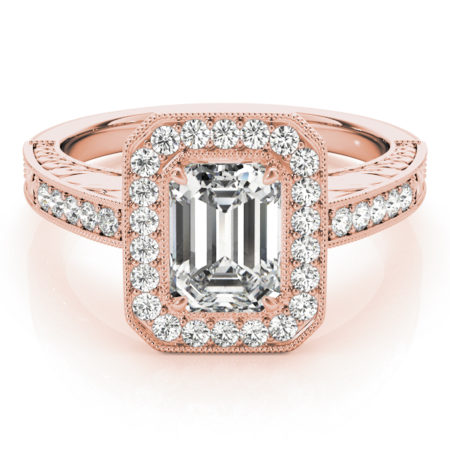 After having received so many requests from clients to create their rose gold engagement rings, we thought we would show you the above design which features an antique style halo set in rose coloured gold. Keep in mind that all of our engagement rings can be created in rose, yellow or white gold as well as platinum.
Solitaire engagement rings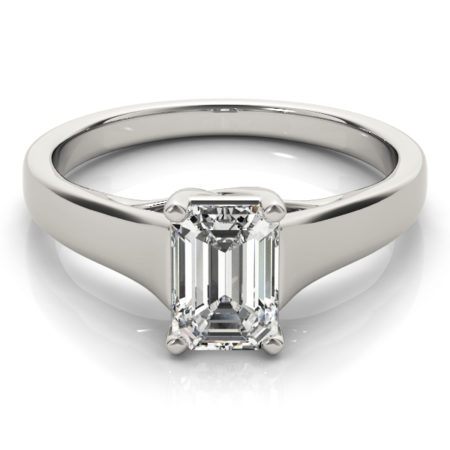 Sometimes the best choice is the simplest. In this stunning and modern solitaire engagement ring design, the centre stone is allowed to steal all the attention while the tapered band and four claw setting plays the supportive role. Solitaires are a great choice for those who love the simplicity that they offer and especially for individuals who live an active lifestyle or work with their hands, as these designs do not have any extra features which could catch on material or be susceptible to damage.
The endless options of custom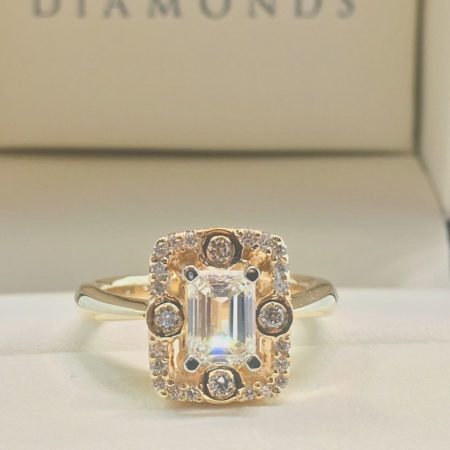 As specialists in custom jewellery design, we love helping our clients to create something unique and exciting that they will treasure for a lifetime. This above custom emerald cut engagement ring design combines the sophistication of the centre stone with the detailed antique look of vintage styling. For added sparkle the centre stone is surrounded by exceptionally bright round diamonds.
In closing…
Thanks for checking out this blog post on emerald cut engagement rings. If you have an idea for a custom engagement ring or wedding band that you would like to turn into reality, please don't hesitate and give us a call!
Feel free to comment, share and subscribe to our accounts on facebook, twitter and instagram