Omori Diamonds inc. specializes in crafting custom engagement rings and wedding bands in Winnipeg, Manitoba. To book a free appointment, please contact us by calling 204-951-7040 or email us through our contact us page. 
Today we would like to show you a very special design which has recently traveled across the world for a wonderful proposal next to a castle in Europe! This custom engagement ring features a elegant multi band, pave design with a brilliant round diamond in the centre. The multiple rows of side diamonds create an absolutely dazzling effect when worn, creating an entire ring of sparkle on the hand. Read on to learn more about the process behind creating this latest custom design.
Creating the ring…
Our client originally contacted us from across Canada to have an engagement ring created. After discussing some designs and diamond shapes from our engagement ring portfolio we began by creating some computerized images of the design. These CAD images allowed our client to see his ring from a number of angles and suggest any adjustments to the final engagement ring.
These images give our clients an accurate look at how their design will look when it is finished. In instances such is this, where the client is out of the provence, it is very important that we take every measure to be sure that we are communicating the design properly.
The finishing touches…
After approving the CAD drawings, our next step was to have a wax model created of the design which was then shown to the client for his approval. Once we received the go ahead, we then went on to the final stage of the design and had the design cast in precious metal. Our expert team then polished the design and set both the centre diamond and the many beautiful side stones.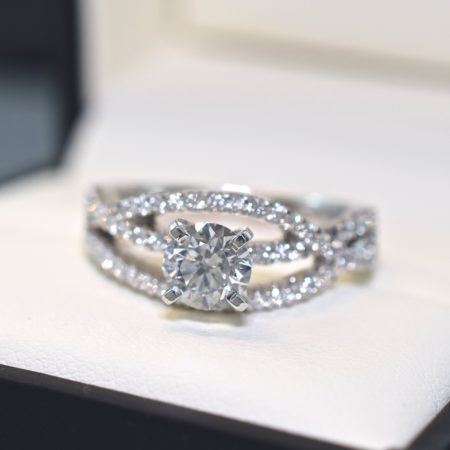 Now for the proposal…
Once the design was completed, we shipped this special custom engagement ring off to our client who was leaving shortly for Europe with the love of his life. After so much effort and care on his part in creating his design we were so proud and excited to hear that he proposed to his fince on top of a hill next to a castle in France. We were also very delighted, although not surprised to hear that she loved the ring as well!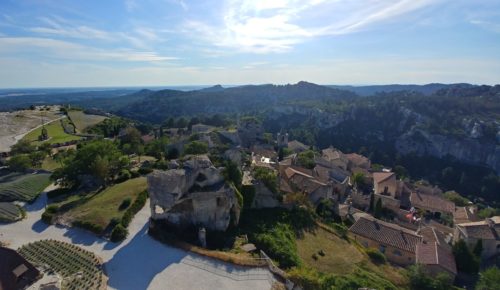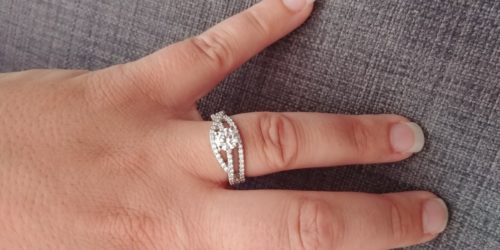 Are you ready to create your custom engagement ring?
Book a free custom ring design consultation with Omori Diamonds inc. now!