At Omori Diamonds inc. we specialize in creating fine engagement rings, wedding rings and custom jewellery in Winnipeg. Book a free consultation with expert jewellery designer Jim Omori, to receive undivided attention in creating your dream ring.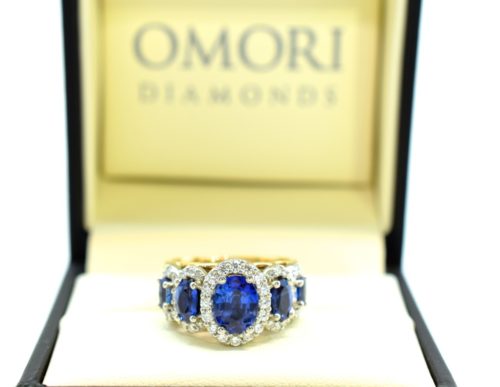 Well, it seems that this year is off to a great start with regards to creating sapphire custom rings! So far we have created rings featuring a natural pink sapphire, a yellow sapphire and of coarse we have also crafted a number of blue sapphire engagement rings as well.
Today we are going to show you an exceptionally "royal" sapphire ring which features not one, but five large ceylon sapphires. Each sapphire is surrounded by shared diamond halos which help to accentuate the shine of each stone. This design is somewhat reminiscent of Kate Middleton's sapphire engagement ring due to the size and shape of the royal blue centre stone.
Computer aided jewellery design…
This particular design was created based off of the clients ideas. After discussing the design with us, she provided some photos to be used as inspiration. At this point our team created some CAD (computer aided design) renderings for the client to view and approve.
There are times when we may simply sketch the design by hand or even carve the ring shape in wax, however for more complex designs, especially those with diamond halos, we prefer to use CAD to insure that all of the details and proportions are perfect.
Below are computer generated images used during the jewellery design process.
As can be seen, the CAD renderings provide a very accurate representation of how the custom ring will look when it is completed.
Sapphires, the perfect everlasting gemstone…
Due to their hardness and durability, both sapphires and rubies make for excellent choices when it comes to jewellery that the wearer plans to keep for many many years. This means that they go especially well in engagement rings, wedding rings and anniversary rings.
To see more of our custom rings featuring sapphires, rubies and other precious gemstones please visit our custom jewellery page.
The finishing touches…
After showing the client the CAD images and receiving approval, we went on to the final stages of the design. The shape was then 3D printed out in a wax resin which was then cast in gold. As you can see from the above images, this design features a yellow gold band and white gold halos. These pieces were cast separately and then assembled by out skilled team. To complete the ring, our master goldsmith set both the sapphires and diamonds in the halo and then polished the ring. After completion we called our client to come and pick up her ring. We are very proud to say that she loved it!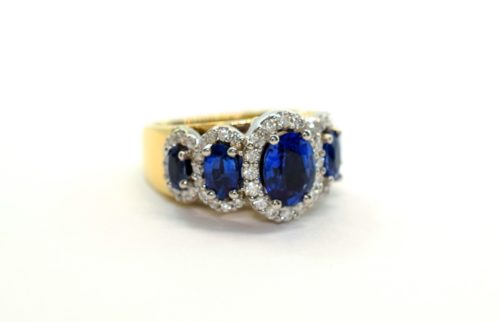 Do you want to see more of this custom sapphire ring? Check out the video HERE!
FREE CUSTOM RING DESIGN CONSULTATION IN WINNIPEG
Are you ready to design a custom sapphire or diamond ring from scratch? Book a free custom ring design consultation with Omori Diamonds inc. now!