We specialize in making fine custom engagement rings and wedding rings in Winnipeg, Manitoba. To book an appointment with an award winning designer, please get in touch with us by calling 204-951-7040 or email us through our contact us page.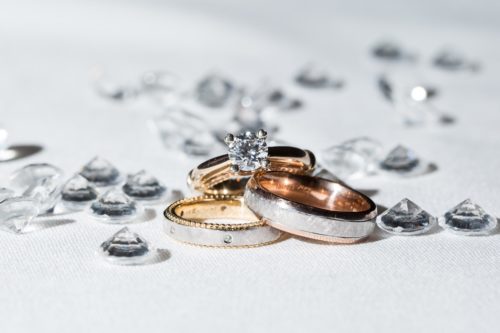 Along with engagement rings, wedding rings are one of the most important pieces of jewellery you will purchase during your life. It is important to choose the perfect ring that both complements style of the person wearing it and that also matches their engagement ring. Sometimes it can be difficult to find a wedding ring that fits your engagement ring and many couples struggle with this, especially if they are shopping at retail stores that sell pre-made jewellery.
At Omori Diamonds inc., we take the extra time and care to design and create a wedding ring that will not only match your engagement ring stylistically, but also one that will contour to its shape so the two will fit together perfectly into a seamless design. Sometimes this can mean designing the wedding ring in a unique shape so that it fits around the contours of the engagement ring or even interlocks with it.
Below is an example of a custom engagement ring that we created together with a custom interlocking wedding band (with side stones). In this case, the wedding ring was later attached onto the engagement ring by our master goldsmith, creating a single completed ring.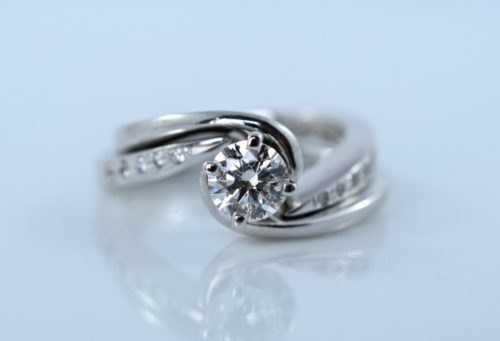 In the images below, we had created a custom engagement ring for a couple which featured detailed vintage engraving and piercing. The couple then returned to have us create their custom wedding rings.
Sticking with the vintage and European theme, we created their wedding rings with a unique florentine finish which features cross hatching in the two toned gold. The result was a pair of wedding rings that both match each other and the engagement ring.
There are also many cases when our client may choose to have both rings created at the same time. In the picture below, the client wanted a leaf themed design. Due to the complexity of this design and the multiple contours and details, we created both the engagement ring and the wedding ring at the same time through the use of computer aided design (CAD)
As you can see from the CAD image, these pictures are able to provide a very accurate look at how the design will look when completed. This is very helpful during the design process as our clients are able to see their design come to life and suggest alterations and changes during this stage.
When it comes to designing a mens wedding ring, the options are endless, as some clients may choose to create a totally unique design that does not match their partners wedding and engagement rings. In the design below, we created a unique mens gold wedding ring. For this ring, we carved the wax with a custom nugget textured finish. The result was an exceptionally unique and rugged design.
There are other cases when simple does the trick. In the design below we created a beautiful three stone engagement ring which featured three exceptionally bright, round brilliant diamonds. In this case, the wedding ring consisted of a simple band of diamonds to add to the sparkle. The end result was spectacular!
FREE CUSTOM WEDDING RING CONSULTATION IN WINNIPEG
Are you ready to design a custom wedding ring from scratch? Book a free ring design consultation with Omori Diamonds inc. now!
Be sure to visit the latest entries of our Winnipeg engagement ring journal to read about the creative process behind our latest custom jewellery designs!