Omori Diamonds inc. is a designer and creator of exceptional custom jewellery, and engagement rings in Winnipeg, Manitoba. We also specialize in creating fine custom wedding rings, anniversary rings and all other types of custom jewellery. Book a free appointment and meet directly with our expert ring designer to create your perfect piece.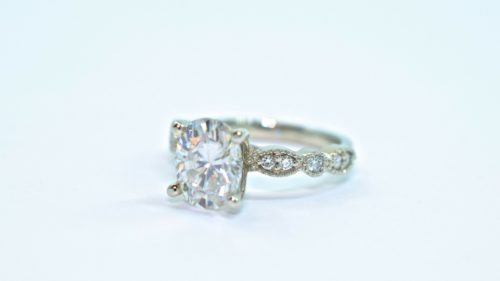 Welcome back to this entry of our Winnipeg engagement ring journal. Today we are showing you an elegant and classic sidestone engagement ring design that we created for a special couple. This design features a bright and beautiful oval cut stone as well as some very detailed engraving down the side.
The process behind the design…
After meeting with the client's to discuss ideas, we created some computer design (CAD) images to show them. During this stage of the custom jewellery design process, clients are given the opportunity to suggest changes to their design. As you can see from the images below, the CAD renderings provide an accurate picture of how the engagement ring will look like when it is finished.
As you can see, the details along the sides of the band provide excellent texture from all angles. This creates a band of sparkles running on either side of the centre stone.
Learn more about oval diamond engagement rings
Learn more about side stone engagement rings
The finishing touches…
After the clients approved their design the next stage was to have the engagement ring shape created in a wax resin. At this point we had the wax cast in precious metal (white gold). The shape is then polished by our master goldsmith who then sets the stones perfectly in place. Upon completion of the process we contacted our clients to pick up their design and we are very proud to say that they loved it very much and that the proposal went perfect!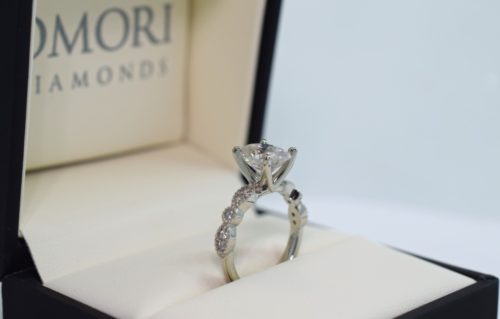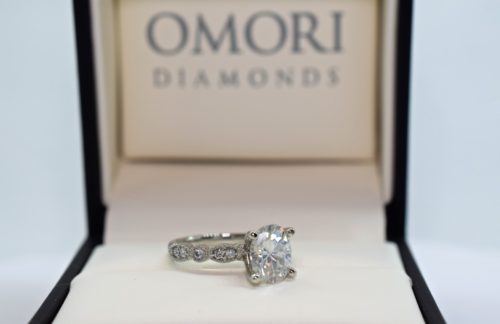 Want to see more of this custom oval engagement ring? Check out the video HERE
FREE CUSTOM ENGAGEMENT RING DESIGN CONSULTATION IN WINNIPEG
Are you ready to design a custom diamond engagement ring from scratch? Book a free ring design consultation with Omori Diamonds inc. now!
CHECK OUT PAST ENTRIES OF THE WINNIPEG ENGAGEMENT RINGS JOURNAL:
Winnipeg Engagement Ring Journal 26: Vintage sapphire custom ring
Winnipeg Engagement Ring Journal 25: Yellow gold oval engagement ring
Winnipeg Engagement Ring Journal 24: Custom leaf engagement ring and wedding ring
Winnipeg Custom Jewellery Journal: Cascading Diamond Ring
Winnipeg Custom Jewellery Journal: Custom Gold Men's Ring
Winnipeg Custom Jewellery Journal: Diamond Karma Circle Ring
Custom Jewellery & Engagement Rings Winnipeg