Omori Diamonds inc. is a Winnipeg based custom jewellery team, specializing in crafting custom engagement rings, diamond rings, and all kinds of custom jewellery. Book an appointment with our expert designer, to receive undivided attention in creating your masterpiece.
Welcome back to the Omori Diamonds inc. Winnipeg custom jewellery journal. In today's entry, we will be showing you a very elegant custom ring which features a beautiful yellow sapphire and diamond halo. This ring was created for a special client using her ideas and inspiration. Read on to learn more about the process behind the creation of this wonderful custom jewellery piece.
Designing the custom ring…
As is often the case, we began the process by sitting down with our client to discuss ideas for her ring design. She wanted to have the sapphire in the centre surrounded by a double halo of diamonds. This is a brilliant idea as the diamonds really help to accentuate and draw attention to the beautiful centre sapphire.
Some quick info on Sapphires…
Sapphires, like Rubies, belong to the mineral family, corundum which is also known for it's exceptional hardness (2nd to diamonds on the Mohs scale). This means that Sapphires are an excellent stone in terms of their durability. As you may have noticed, Sapphires come in a variety of colours from yellows, greens, pinks, and of coarse, deep royal blues. The colour differences are due to the presence of other minerals such as titanium, iron and chromium
Yellow sapphires, in particular are very popular choice due to their sunny colour. They are a happy and bright stone and an excellent choice for both engagement rings and all other kinds of custom jewellery.
CAD Images…
After discussing the design ideas, we created some CAD images (computer aided design) for the client. This stage of the design process lets the client see their design from a variety of angles and suggest changes to the design. If any changes are requires we can easily make the changes and create new images prior to creating a wax model of the ring.
Finalizing the ring…
After the client approved the CAD images, we created a wax model of the ring for her to view and approve. At this point the design was cast in precious metal and our goldsmith polished the design and set both the yellow sapphire and the beautiful diamonds in the halo. We are very happy to say that she loved her custom Omori Design!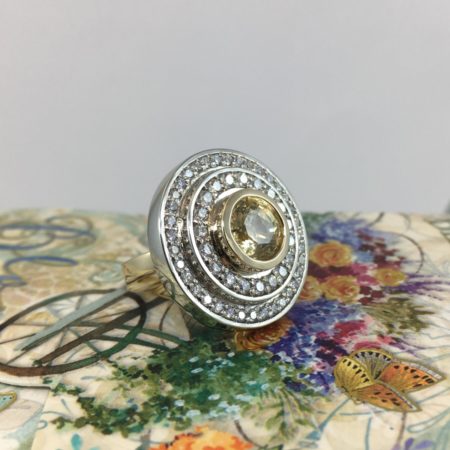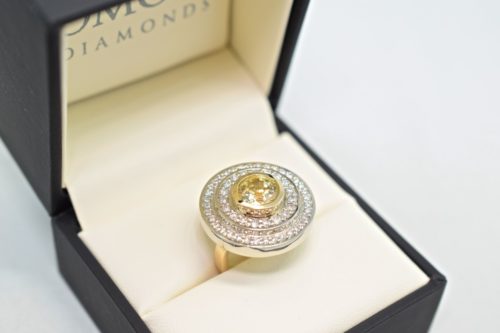 Want to see more of this yellow sapphire and diamond custom ring? Check out the video HERE!
FREE CUSTOM RING CONSULTATION IN WINNIPEG
Are you ready to design a custom sapphire or diamond ring from scratch? Book a free custom ring design consultation with Omori Diamonds inc. now!
CHECK OUT PREVIOUS ENTRIES OF THE WINNIPEG CUSTOM JEWELLERY JOURNAL:
Winnipeg Custom Jewellery Journal: Elegant Diamond Ring
Winnipeg Custom Jewellery Journal: Cascading Diamond Ring
Winnipeg Custom Jewellery Journal: Custom Gold Men's Ring
Winnipeg Custom Jewellery Journal: Diamond Karma Circle Ring