Omori Diamonds inc. is a designer and creator of exceptional custom jewellery, and engagement rings in Winnipeg. We also specialize in crafting custom wedding rings, anniversary rings and all other types of custom jewellery. Book a free consultation and meet directly with our expert ring designer to create your perfect piece.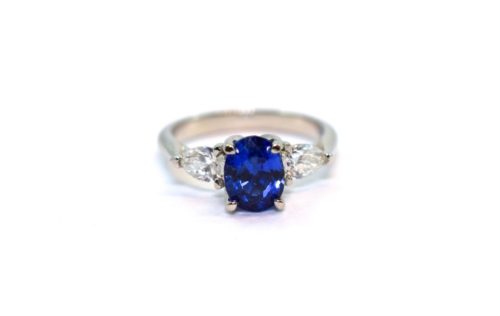 Welcome back to the Winnipeg Engagement Ring Journal. In this entry, we are going to be showing you a wonderful custom made ring that we created, which features a beautiful blue Sapphire and a couple of bright and brilliant diamonds. As mentioned in previous articles, Sapphires make for an excellent choice when it comes to engagement rings as they are extremely hard and durable. Read on to learn more about using coloured stones in engagement rings.
Coloured stone engagement rings…
Engagement rings featuring coloured gemstones have been increasing in popularity in recent years. Many people are opting for centre stones such as rubies, sapphires and even coloured diamonds. These are all excellent choices, as both rubies and sapphires both have a 9.0 on the mohs scale of hardness, with diamonds being at the very top with a rating of 10. This means that these stones are very durable and will wear well overtime. Stones such as tanzanite however, are considerably soft, with a mohs scale rating of 6.5 – 7, meaning that they will be much more prone to scratching and wearing over time. For this reason we like to recommend diamonds, coloured diamonds, sapphires and rubies as your best options when choosing a centre stone for your engagement ring.
Examples of engagement rings with coloured stones
How its made…
When it comes to the design process, the first step in creating this sapphire engagement ring was to sit down with the clients and discuss design ideas. At this point, we then created some computer aided design (CAD) images based off of their ideas to show them, so that they could approve their design and suggest changes. As you can see, the computer design images provide a realistic look at how the design will look from a variety of angles.
Finalizing the design…
After the clients approved their design, we went on to have the design created in wax for so that they could see a 3D representation of their design. This is an important stage in the jewellery design process, as it allows our clients to see their design come to life. Once given approval, we then went on to have the design cast in precious metal. At this point our expert goldsmith then polished the design and set the stones. We are very happy to say that our clients loved their custom made sapphire engagement ring.
Do you want to see more of this custom made sapphire ring? Check out the video HERE
FREE CUSTOM RING CONSULTATION IN WINNIPEG
Are you ready to create your very own custom ring from scratch? Book a free ring design consultation now!
VIEW OTHER ENTRIES OF OUR WINNIPEG ENGAGEMENT RINGS JOURNAL:
Winnipeg Engagement Ring Journal #25: Oval Diamond Engagement Ring
Winnipeg Engagement Ring Journal #24: Custom Leaf Engagement Ring & Wedding Ring
Winnipeg Engagement Ring Journal #23: Custom Butterfly Engagement Ring
Winnipeg Engagement Ring Journal # 22: halo Engagement Ring with initials