At Omori Diamonds inc., we create exceptional custom jewellery, and engagement rings in Winnipeg. We also specialize in designing and making custom wedding rings, anniversary rings and all other types of custom jewellery. Book a free consultation and meet directly with our expert ring designer to create your perfect piece.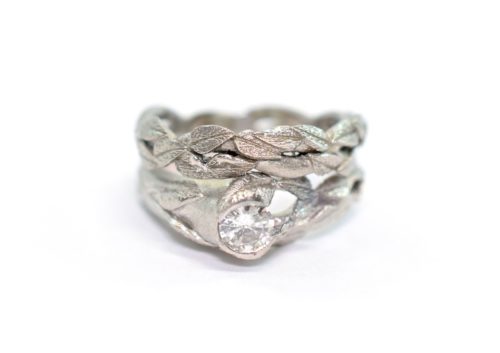 In this latest entry of our Winnipeg Engagement Ring Journal, we will be showing you one of our most unique and detailed designs. This is a custom leaf engagement ring and wedding ring set that we created for a special couple, just before Christmas. This design was created by Jim Omori and his team based on the ideas and inspiration from the client's themselves. Read on to learn more about the design process behind this custom jewellery masterpiece!
The custom design process: your dream is our inspiration…
The couple approached us with the idea of having a custom leaf, engagement and wedding ring set made. Jim Omori and the couple sat down to discuss design ideas and exchanged a variety of photographs to be used as inspiration. The main driving force behind this design is the natural texture and beauty of an apple tree.
Jim began by making some rough hand sketches of the design. This helps to aid in the communication of ideas between the clients and our design team. At this point we then created some realistic computer aided design (CAD) renderings for the clients to view.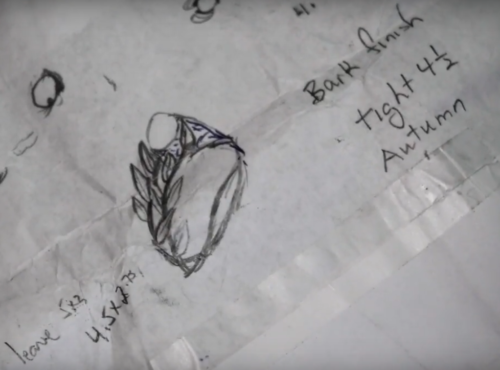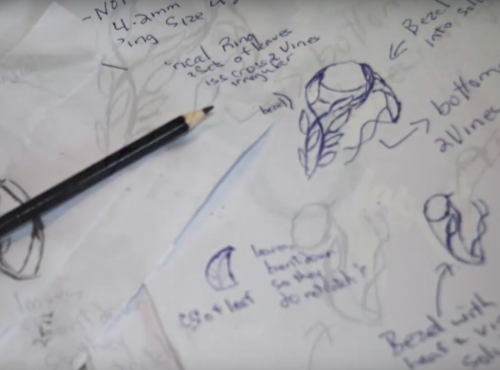 CAD renderings allow the clients to view their design from a variety of angles so that they can both see their design coming to life and suggest changes prior to the shape being printed out in wax.
As can be seen from the above images, the CAD renderings give an extremely accurate representation of how the ring will look when finished.
After the clients approved the CAD images, we printed out the shape in a wax resin to show them. This stage once again allows clients to see their design come to life and even suggest further changes to be made. In this case, the clients were very enthusiastic about seeing their engagement and wedding rings created so our team went on the the final stage in the design process!
Finalizing the design…
With the design approved and the shape created in wax, we then had the design cast in precious metal and our master goldsmith polished the design and set the diamond. We are very happy to say the this special couple loved their design and so do we!
The Finished Masterpiece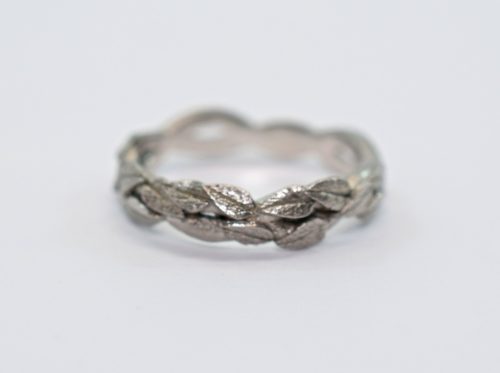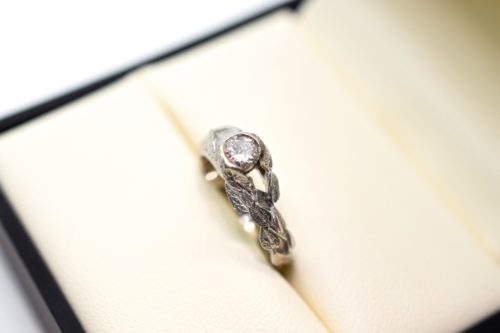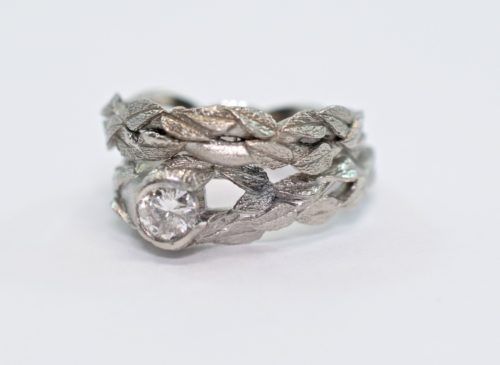 Do you want to see more of this custom leaf engagement ring and wedding ring design? Check out the video HERE
FREE CUSTOM RING CONSULTATION IN WINNIPEG
Are you ready to create your very own custom ring from scratch? Book a free ring design consultation now!
VIEW PREVIOUS ENTRIES OF OUR WINNIPEG ENGAGEMENT RINGS JOURNAL:
Winnipeg Engagement Ring Journal #23: Custom Butterfly Engagement Ring
Winnipeg Engagement Ring Journal # 22: halo Engagement Ring with initials 
Winnipeg Engagement Ring Journal # 20: Custom Pear Diamond Solitaire Engagement Ring
Winnipeg Engagement Ring Journal #19: Oval Diamond halo Engagement Ring
Winnipeg Engagement Ring Journal #18: Custom Blue Diamond Solitaire Engagement Ring