At Omori Diamonds inc., we specialize in crafting custom jewellery, and engagement rings in Winnipeg. We also specialize in making custom wedding rings, anniversary rings and all other types of custom jewellery. Book a free consultation and meet directly with our designer to create your perfect ring.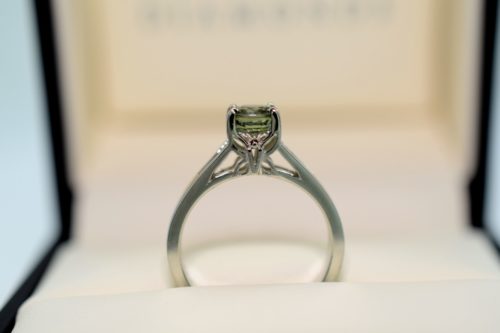 In todays entry of our Omori Diamonds inc., Winnipeg engagement ring journal, we are going to be showing you are very special design that was created using a client's ideas. One of the unique aspects of our business is that we provide clients with the perfect avenue to design their own engagement ring. In this case, the client brought us a drawing that he had made of a special butterfly inspired design.
As you can see from the drawing below, the design features a beautiful butterfly shape in the bridge of the ring.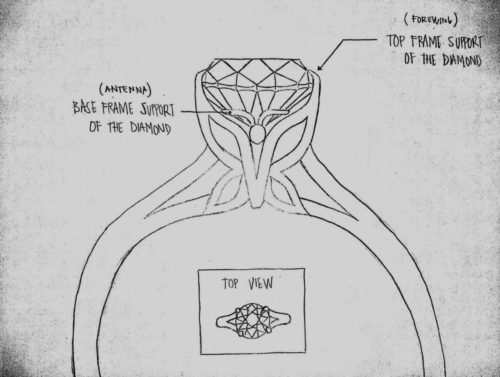 We thought that this was a beautiful and meaningful idea and were happy to help turn this client's dreams into reality.
Custom designing the engagement ring…
The next step in the process was to create some CAD (computer aided design) images of the ring for the client, so that he could view his design in 3D from a variety of angles. One of the common concerns when it comes to custom jewellery is whether or not the ring will turn out as the client imagines. By using both 3D images and wax/ resin models we are able to give them an accurate representation of the ring to view before it is finished.
After viewing the CAD images, clients are able to suggest any alterations to the design before it is finalized.
note: although the above CAD images show the design with a blue stone, the client ended up deciding on a brilliant green sapphire.
Learn more about sapphire and gemstone engagement rings. 
Finishing the design…
After showing the client the CAD images, he was very excited to see his design that he had envisioned coming to life. The next step in the process was to 3D print a resin model of the design to show him. Once again he was very pleased and gave us the go-ahead to begin crafting his butterfly engagement ring.
After printing out the design, the shape was then cast in white gold and polished. Our master goldsmith also set the spectacular green sapphire that our client had selected and the ring was complete. We then called our client to come and pick up his design. Within just a few days he was off to the Philippines to propose. We are very honoured to know that both he and his finace' love their custom engagement ring and that their celebration went perfectly.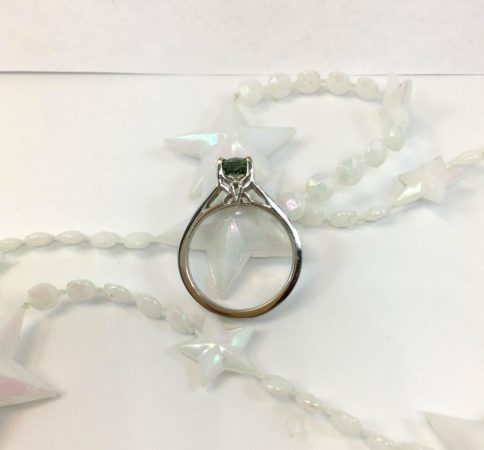 Want to see more of this custom butterfly inspired engagement ring? Check out the video here.
FREE CUSTOM ENGAGEMENT RING CONSULTATION IN WINNIPEG
Are you ready to create your very own custom  engagement ring ? Book a free ring design consultation now!
VIEW PREVIOUS ENTRIES OF THE WINNIPEG ENGAGEMENT RINGS JOURNAL:
Winnipeg Engagement Ring Journal # 22: halo Engagement Ring with initials 
Winnipeg Engagement Ring Journal # 20: Custom Pear Diamond Solitaire Engagement Ring
Winnipeg Engagement Ring Journal #19: Oval Diamond halo Engagement Ring
Winnipeg Engagement Ring Journal #18: Custom Blue Diamond Solitaire Engagement Ring
Winnipeg Engagement Ring Journal # 17: Gemstone Engagement Rings
Winnipeg Custom Jewellery Journal: Karma Circle Diamond Ring