Omori Diamonds inc. is a Winnipeg based custom jewellery design team, specializing in creating custom engagement rings, diamond rings, and all kinds of custom jewellery. Book an appointment with an expert jeweller, to receive undivided attention in creating your masterpiece.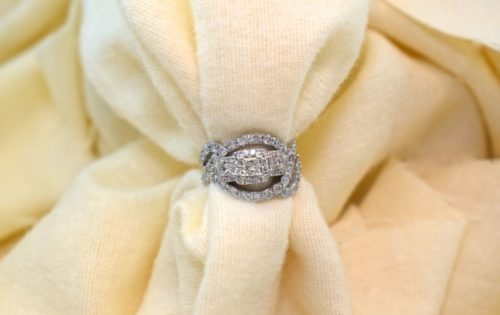 In todays's entry of our Winnipeg custom jewellery journal, we are going to show you a special and elegant custom diamond ring that we created. This ring was crafted using a client's diamonds from her other jewellery. We initially designed this ring using CAD (computer aided design) at which point the shape was created in wax and then cast in gold. Read on to find out more about the custom process behind the creation of this special diamond ring.
Designing the custom diamond ring…
After meeting with the client to discuss design ideas, we created some CAD (computer aided design) renderings of the band. These images are created in order to show our clients how their design will look, from a variety of angles.
As you can see, the CAD images provide a very accurate representation of how the ring will look when it is complete. After the client approved the CAD images, we then went on to create the design in wax. This further gives clients the opportunity to see their design and to suggest any changes which they would like.
Finalizing the design…
After approving the wax model, we then had the design cast in gold and our master goldsmith set the client's diamonds into the custom ring and polished it magnificently. We are very happy to say that she loved her ring!
If you would like to learn more about our custom jewellery process, please visit our "how we work" page or check out our portfolio on the custom jewellery page.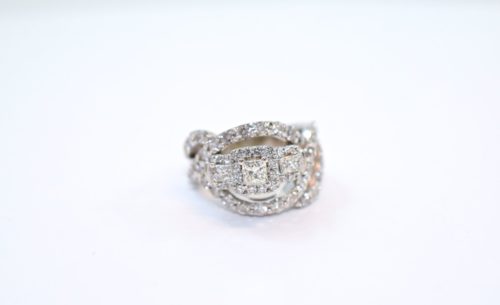 Want to see more of this elegant custom diamond ring design? Check out the video HERE.
FREE CUSTOM RING CONSULTATION IN WINNIPEG
Are you ready to design a custom diamond ring from scratch? Book a free custom ring design consultation with Omori Diamonds inc. now!
CHECK OUT PREVIOUS ENTRIES OF OUR WINNIPEG CUSTOM JEWELLERY JOURNAL:
Winnipeg Custom Jewellery Journal: Cascading Diamond Ring
Winnipeg Custom Jewellery Journal: Custom Gold Men's Ring
Winnipeg Custom Jewellery Journal: Diamond Karma Circle Ring
Custom Jewellery & Engagement Rings Winnipeg
Custom Jewellery Winnipeg Blog: Ruby and Platinum Custom Ring 
Winnipeg Custom Jewellery Designer Journal: Omori Triple Axel Ring
Winnipeg Engagement Ring Journal 17: Gemstone Engagement Rings
Winnipeg Engagement Ring Journal 16: Diamond and Platinum Engagement Ring 
Winnipeg Engagement Ring Journal #15: Unique Sapphire & Diamond Engagement and Wedding Ring
Custom Jewellery & Engagement Rings Winnipeg