At Omori Diamonds inc., we create fine custom jewellery, and engagement rings in Winnipeg. We also specialize in making custom wedding rings, anniversary rings and all other kinds of custom jewellery. Book a free consultation and meet directly with our jewellery designer to create your perfect ring.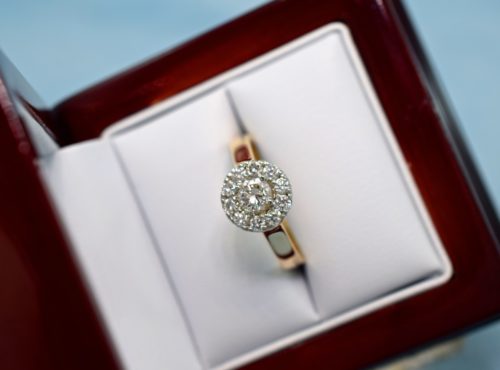 Welcome back to our Omori Diamonds inc. Winnipeg Engagement Ring Journal. It has been a number of weeks since our last entry, as we have been extremely busy with Christmas orders! In todays article we are going to show you a  custom halo engagement ring that we created for a special couple. This particular ring features custom initials on the bridge. Many clients have requested special "hidden" details on the bridge of their ring as it acts as a special reminder to the person wearing the ring, of their love.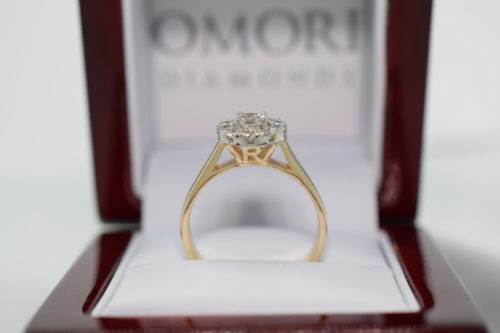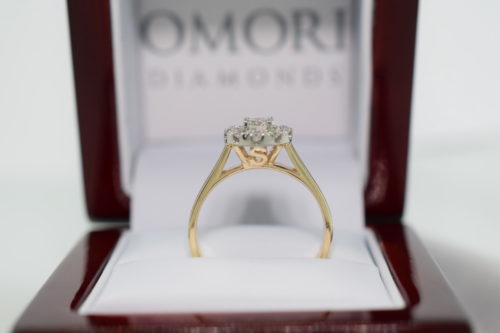 The custom design process…
After discussing design ideas with the client, our first step was to create some basic sketches for their approval. Using CAD (computer aided design), our team was able to create 3D renderings. This is a very important step in the jewellery design process, as it allows people to see their design come to life and even suggest changes along the way.
As you can see from the above CAD images, the computer is able to create a very accurate representation of what the engagement ring will look like when it is finished. This is due to the fact that the computer is processing all of the actual proportions and measurements of the ring and taking these into account when creating the images.
Finishing the custom design…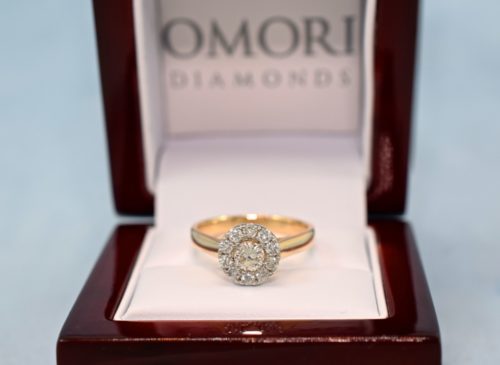 After viewing the CAD renderings, the client decided to add custom initials to the bridge. We felt that this was a wonderful idea and our team simply adjusted the design to accommodate the initials. After the design was approved, the shape was 3D printed out in a resin model which was then cast in yellow gold. At this point our master goldsmith polished the design and set the exceptionally bright centre and halo diamonds. We then contacted our client to come and pick up his custom Omori engagement ring. We are very proud to say that he and his fiance'  were extremely pleased with their design.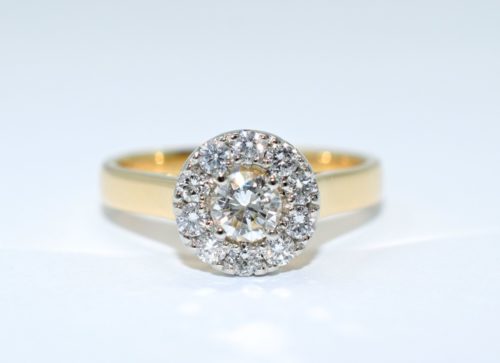 Want to see more of this custom halo engagement ring with initials design? Check out the video HERE
FREE ENGAGEMENT RING CONSULTATION IN WINNIPEG
Are you ready to create your very own custom diamond engagement ring ? Book a free ring design consultation with Omori Diamonds inc. now!
VIEW PREVIOUS ENTRIES OF THE WINNIPEG ENGAGEMENT RINGS JOURNAL:
Winnipeg Engagement Ring Journal # 20: Custom Pear Diamond Solitaire Engagement Ring
Winnipeg Engagement Ring Journal #19: Oval Diamond halo Engagement Ring
Winnipeg Engagement Ring Journal #18: Custom Blue Diamond Solitaire Engagement Ring
Winnipeg Engagement Ring Journal # 17: Gemstone Engagement Rings
Winnipeg Custom Jewellery Journal: Karma Circle Diamond Ring