At Omori Diamonds inc., we create fine custom jewellery, and engagement rings in Winnipeg. We also specialize in designing and crafting custom wedding rings, pendants and all other kinds of custom jewellery. Book a free consultation and meet directly with our jewellery designer to create something special, that will last a lifetime. 
Book a free consultation or call us at (204) 951-7040 to begin the creation of your dream ring!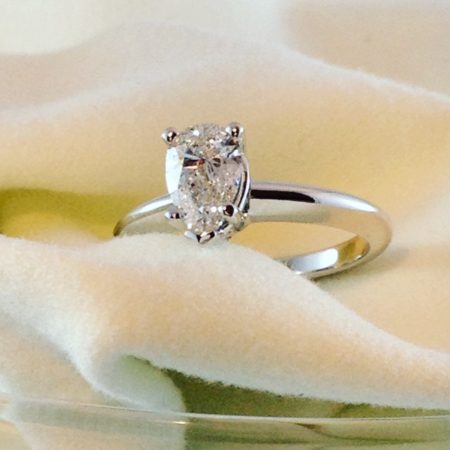 Hello, and welcome to the Omori Diamonds inc., Winnipeg engagement ring journal. In today's entry we are going to show you a beautiful and modern custom solitaire engagement ring that we created for a special couple a while back. This custom design is a simple and sleek ring, which features a sculpted knife edge and a bright and beautiful pear shaped diamond. We will now go into detail about the custom jewellery design process that went into making this ring.
It began with a sketch…
After discussing ideas with the client, we began by creating some rough sketches of the design. This is a helpful way to make sure that we have interpreted the client's ideas correctly before we proceed. With this design, one of the main features, is the sculpted knife edge on the band.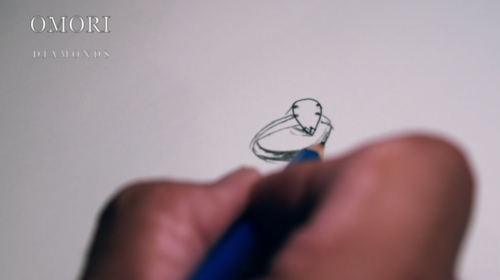 Carving the engagement ring design in wax…
After sketching the design, Jim went on to carve the shape of the engagement ring in wax. Using precise measurements of the client's finger size and the techniques he has developed over years of experience, Jim was able to carve the shape perfectly to the correct size and shape.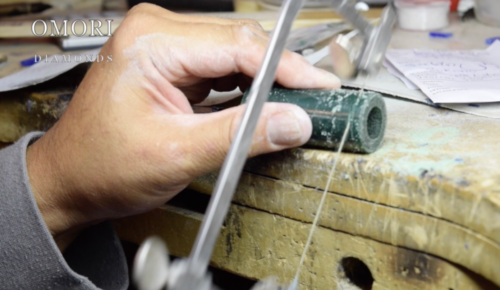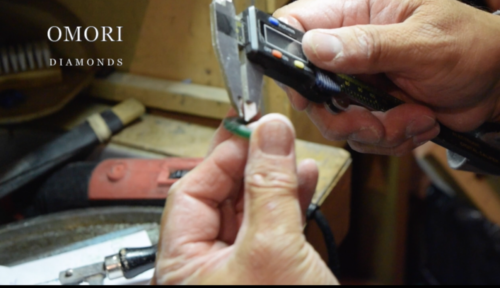 Please Note: you may have noticed in other entries of our Winnipeg engagement ring journal, that we often use CAD (computer aided design), where the shape of the custom jewellery piece is 3D printed out in a wax resin. In the case of the solitaire engagement ring we are showing you today, we decided to carve the shape by hand, as it is a simpler design and we enjoy working with our hands when possible. In the case of more complex, micro set and halo designs we usually use CAD.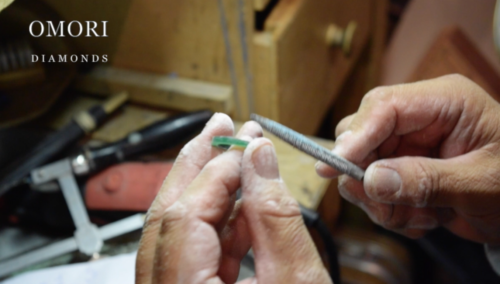 The bright and beautiful pear shaped diamond…
The design was set with a beautiful pear shaped diamond. As mentioned in previous articles, when selecting a pear shaped diamond, it is very important to be sure that it is cut to the right proportions to ensure maximum brilliance. At Omori Diamonds inc., we take special care to scrutinize and review the quality measurements of every diamond that we source, in order to be make sure that the client is getting the absolute biggest and brightest diamond possible within their budget.
Learn more about pear shaped diamonds in our article here.
The finishing touches…
After the shape was carved, we cast the design in precious metal (white gold). After this, our master gold smith polished the design and set the diamond. We then contacted our clients to come and pick up their design. We are very happy to say that they loved their custom Omori engagement ring.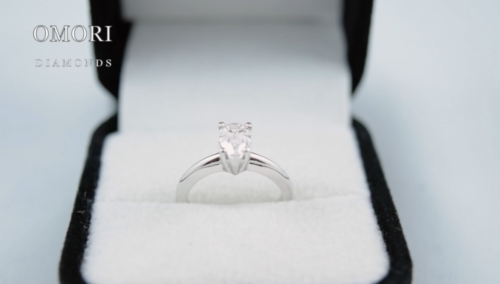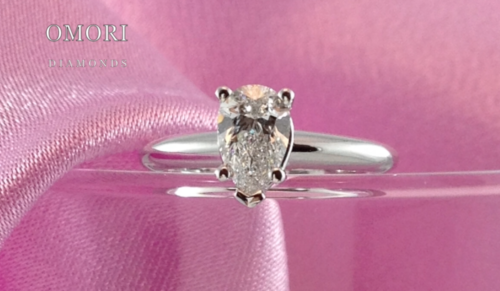 Want to see more of this custom solitaire engagement ring? Check out the video HERE
Learn more about Custom Engagement Rings
FREE CUSTOM ENGAGEMENT RING DESIGN CONSULTATION IN WINNIPEG
Are you ready to design a custom diamond engagement ring from scratch? Book a free ring design consultation with Omori Diamonds inc. now!
CHECK OUT PAST ENTRIES OF THE WINNIPEG ENGAGEMENT RINGS JOURNAL:
Winnipeg Custom Engagement Ring Journal 19: Oval Diamond Halo Engagement Ring
Winnipeg Engagement Ring Journal #18: Custom Blue Diamond Solitaire Engagement Ring
Winnipeg Engagement Ring Journal # 17: Gemstone Engagement Rings
Winnipeg Custom Jewellery Journal: Karma Circle Diamond Ring
Winnipeg Engagement Ring Journal #16: Diamond & Platinum Engagement Ring
Winnipeg Custom Jewellery Journal: Custom Gold Men's Ring
Winnipeg Custom Jewellery journal: Custom Designed Jade Pendant 
Custom Jewellery Winnipeg Blog: Ruby and Platinum Custom Ring 
Winnipeg Custom Jewellery Designer Journal: Omori Triple Axel Ring