At Omori Diamonds inc., we specialize in designing and creating fine custom jewellery, and engagement rings in Winnipeg. These are set with the brightest, ethically sourced precious gemstones and diamonds. Book a free appointment and meet directly with our custom jewellery designer to create something special that will last a lifetime. 
Book a free consultation or call us at (204) 951-7040 to talk to an expert. Let's create a masterpiece together!
Welcome back to the Omori Diamonds inc., Winnipeg engagement ring journal. In this entry, we are going to talk about a spectacular custom solitaire engagement ring that we created, featuring a bright and beautiful blue diamond.
As mentioned in a previous blog, many couples are choosing both coloured gemstones and coloured diamonds as a unique feature in their engagement rings. This may be due to the popularity of the famous Sapphire engagement ring which is now worn by Kate Middleton.
Hand carving the design…
The client approached us with some ideas that he had for his engagement ring. After discussing some design ideas, we were able to carve the design by hand, in wax.
In many cases, we use CAD (computer aided design) to create our custom engagement rings. This is because some clients request complex micro set and halo designs, however with the case of the classic solitaire, we often favour the hands on approach of carving the design by hand.
Carving by hand also allow the designer to have greater control over the specific details as the design is taking shape. In many cases we can also make direct alterations to the design based on the client's input.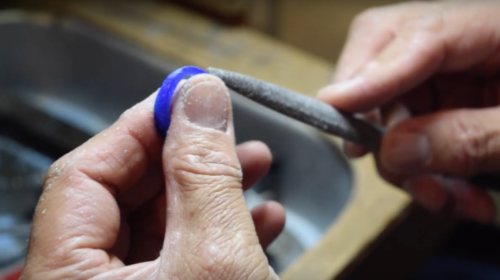 Choosing the blue diamond…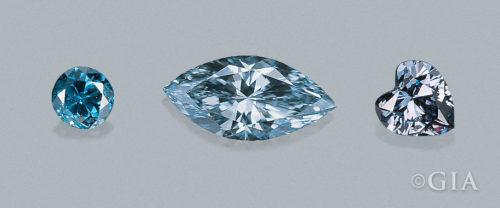 When it came time to select a beautiful blue diamond, we made sure to search our network of sources, for the absolute best and brightest. As is the case when selecting any fancy coloured diamond, colour is one of the most important aspects. It is important to choose a diamond which has a rich blue colour without any strong traces of green or grey. In terms of colour saturation, the diamond should have a nice intense blue and not appear pale or faint to the eye.
As with Sapphires, there is a common misconception that the darker the stone the better. Although the colour tone comes down to personal preference, it should be noted that if the diamond or gemstone is too dark, it may appear black and not show off the desirable brilliance.
To learn more about coloured diamonds be sure to check out this page on the G.I.A. website.
The finished masterpiece…
After the wax was carved and the diamond was selected, we then went on to cast the engagement ring design in precious metal. Our goldsmith then polished the design and set the beautiful blue diamond. At this point we contacted our client to come and pick up his blue diamond engagement ring. We are very happy and proud of this design and pleased to know that his fiancé loved the design as well!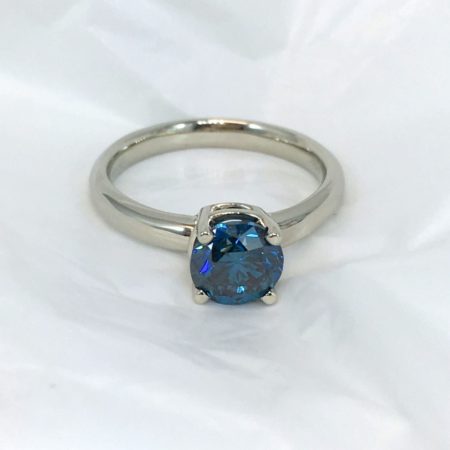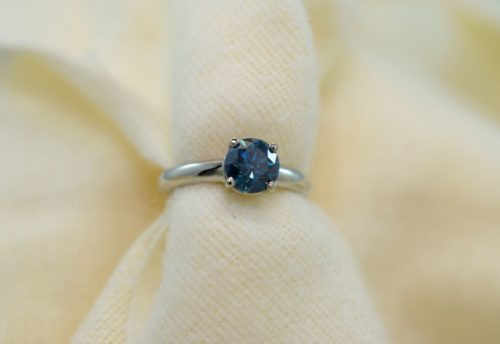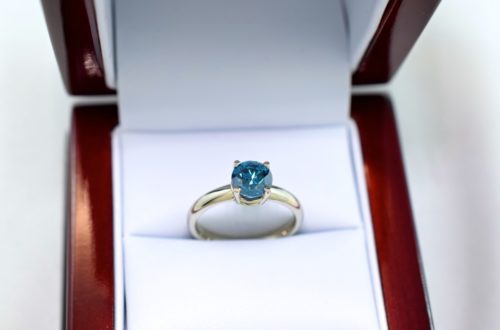 FREE CUSTOM ENGAGEMENT RING CONSULTATION IN WINNIPEG
Are you ready to design a custom diamond engagement ring from scratch? Book a free ring design consultation with Omori Diamonds inc. now!
CHECK OUT PAST ENTRIES OF THE WINNIPEG ENGAGEMENT RINGS JOURNAL:
Winnipeg Engagement Ring Journal # 17: Gemstone Engagement Rings
Winnipeg Custom Jewellery Journal: Karma Circle Diamond Ring
Winnipeg Engagement Ring Journal #16: Diamond & Platinum Engagement Ring
Winnipeg Engagement Ring Journal #15: Unique Sapphire & Diamond Engagement and Wedding Ring
Winnipeg Engagement Rings Journal #14: Pear Diamond Halo Engagement Ring
Winnipeg Engagement Ring Journal #13: Pear Shaped Diamond Engagement Ring w/ Rose Gold
Winnipeg Engagement Ring Journal #12: Custom Floral Sapphire Engagement Ring
Winnipeg Engagement Ring Journal #11: Unique Custom Rudy and Diamond Ring
SaveSave