At Omori Diamonds inc., we create fine custom jewellery, and engagement rings in Winnipeg. We also specialize in making custom wedding rings, pendants and all other kinds of custom jewellery. Book a free consultation and meet directly with our jewellery designer to create something special that will last a lifetime. 
Book a free consultation or call us at (204) 951-7040 to begin the creation of your dream ring!
Welcome back to our latest edition of the Omori Diamonds inc., Winnipeg engagement ring journal. Today, we are going to talk about a recent custom engagement ring design that we created. This design is a spectacular yellow gold, oval diamond halo engagement ring. It features a simple, elegant band and an ornate bridge. Read on to learn more about the custom jewellery process behind it's creation!
The custom design process…
We began the process by helping our client to select a beautiful and brilliant oval shaped diamond. As always, we took special care to ensure that the diamond was cut to spectacular perfection so that it would be sure to shine magnificently under all lighting conditions.
After discussing some design ideas with the client, the first step was to create some CAD (computer aided design) images, of their custom engagement ring. We feel that this is a crucial step in the custom jewellery design process, as it allows the client to see how their design will look from a variety of angles. During this stage, the client can also offer suggests of alterations to make to the design. This ensures that the final engagement ring will turn out just how the client imagines.
About Oval shaped diamonds…
The oval shaped diamond cut is one of the most elegant shapes and can go beautifully in a variety of styles from vintage to modern. Another exciting aspect about oval shaped diamonds is that, due to their length, they can appear larger than a round diamond of the same carat weight. For example, a 1 carat oval cut diamond can have a 10% larger surface area than a round diamond which is 1 carat in weight. This means that you can get more sparkle for your dollar, in a sense, provided that the diamond is expertly cut.
As with all types of diamonds, it is very important to take into account the quality of the diamond and to consider the 4 C's. The goal should be to find a diamond which is symmetrical and proportional. At Omori Diamonds inc., we take special care to ensure that each and every diamond we source is cut to provide maximum brilliance and light return so that you receive a better, brighter diamond for your budget.
To learn more about Oval Shaped diamonds, check out this article at the GIA website
Also, be sure to check out this article on celebrity oval cut engagement rings
Finishing the custom design…
After our client approved the design images, we went on to the next stage in the design process. This involves printing a wax shape of the engagement ring design, which is then cast in precious metal. In the case of this particular custom engagement ring, we cast the shape in yellow gold. At this point, our expert goldsmith then went on to polish the ring and set the diamonds. We then contacted our client to pick up their very own custom Omori Engagement ring. We are very happy so say that both he and his fiancé love their design!
Check out some photos of the custom oval diamond, halo engagement ring.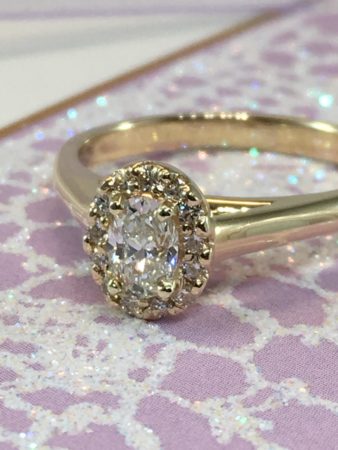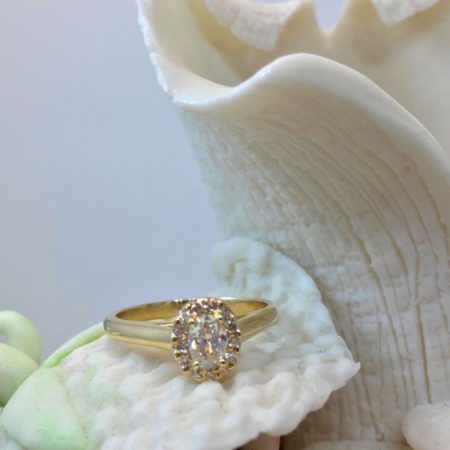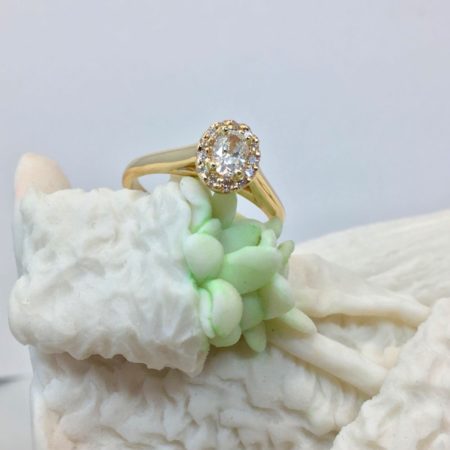 FREE ENGAGEMENT RING CONSULTATION IN WINNIPEG
Are you ready to create your very own custom engagement ring ? Book a free ring design consultation with Omori Diamonds inc. now!
CHECK OUT PAST ENTRIES OF THE WINNIPEG ENGAGEMENT RINGS JOURNAL:
Winnipeg Engagement Ring Journal #18: Custom Blue Diamond Solitaire Engagement Ring
Winnipeg Engagement Ring Journal # 17: Gemstone Engagement Rings
Winnipeg Custom Jewellery Journal: Karma Circle Diamond Ring
Winnipeg Engagement Ring Journal #16: Diamond & Platinum Engagement Ring
Winnipeg Engagement Ring Journal #15: Unique Sapphire & Diamond Engagement and Wedding Ring
Winnipeg Engagement Rings Journal #14: Pear Diamond Halo Engagement Ring
Custom Jewellery & Engagement Rings Winnipeg
SaveSave
SaveSaveSaveSave
SaveSaveSaveSave