Omori Diamonds inc. is a Winnipeg based custom jewellery designer specializing in fine engagement rings, diamond rings, and all forms of custom jewellery. Book a free appointment with expert jeweller, Jim Omori to receive undivided attention in creating your lifelong treasure.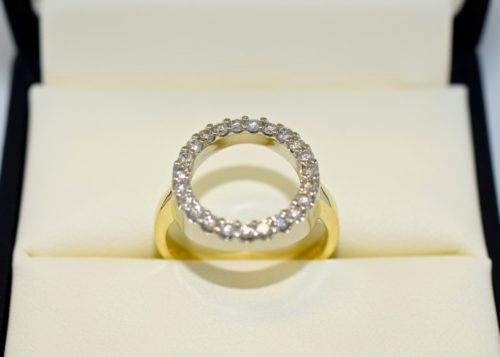 Welcome back to our Winnipeg custom jewellery journal. In todays entry, we are going to be showing you a brilliant Karma Circle, diamond ring that we created for a client. This special design, features 23 round diamonds, set in a circular pattern. Unlike many diamond rings, which feature a single centre stone, this design features many small round diamonds all set in a circle which create a ring or sparkles when worn on the hand.
The custom jewellery process…
The client came to  us with some ideas that she had for a custom diamond ring. She also brought some of her old jewellery to be used during the process. Using your own jewellery can be a great way to lower material costs and retain the sentimental value which that jewellery holds.
Click HERE to learn more about reusing your gold and diamonds
In this case of this particular ring, the client told us that the number 23 had a significant meaning to her, and that she would like to have that incorporated in this design. Together we decided to use 23 beautiful diamonds to line the outside edge of her ring.
The first design images…
As is often the case when it comes to creating custom jewellery, we began the process by creating some computer aided design (CAD) images for the client to view. This provide an accurate representation of what the finished design will look like, from a number of angles.
Finalizing the design…
After viewing the CAD images, the client was very enthusiastic about having her custom jewellery design created. From here, we went on to have the shape carved out in wax, which was then cast in precious metal. In the case of this particular ring deign, we cast the shape using the clients gold. As you can see from the images below, the ring turned out magnificently. We are also very proud to say that the client loved her design and that it holds great meaning to her, due to the importance of the number 23 and the fact that we were able to use her gold and diamonds to create this special design,
Diamond Circle (In White Gold)
As it turns out, as soon as we posted a picture of the karma circle diamond ring, another client asked to have a similar design created in white gold. We were very happy to oblige! Check out some pictures below.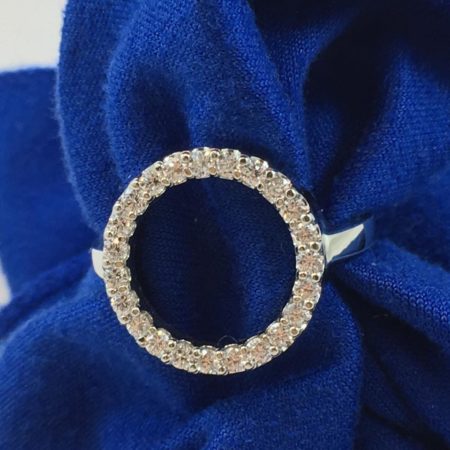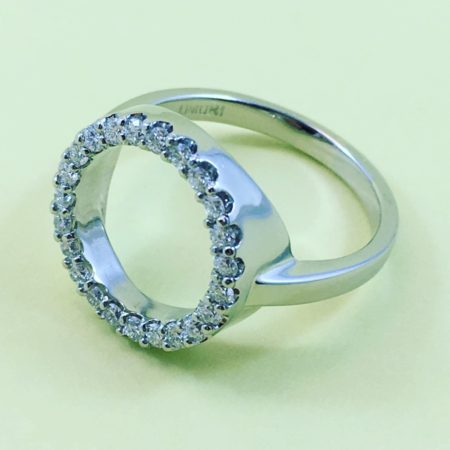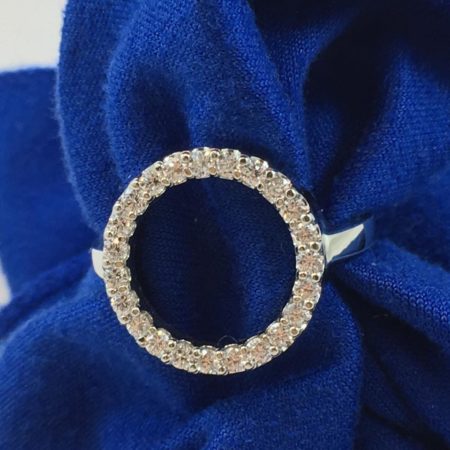 SaveSave
REE CUSTOM JEWELLERY CONSULTATION IN WINNIPEG
Are you ready to design an exceptional piece of custom jewellery from scratch? Book a free  custom jewellery design consultation with Omori Diamonds inc. now!
CHECK OUT PREVIOUS ENTRIES OF OUR WINNIPEG CUSTOM JEWELLERY JOURNAL:
Winnipeg Custom Jewellery journal: Custom Designed Jade Pendant 
Custom Jewellery Winnipeg Blog: Ruby and Platinum Custom Ring 
Winnipeg Custom Jewellery Designer Journal: Omori Triple Axel Ring
Winnipeg Engagement Ring Journal 17: Gemstone Engagement Rings
Winnipeg Engagement Ring Journal 16: Diamond and Platinum Engagement Ring 
Winnipeg Engagement Ring Journal #15: Unique Sapphire & Diamond Engagement and Wedding Ring
Winnipeg Engagement Rings Journal #14: Pear Diamond Halo Engagement Ring
Winnipeg Engagement Ring Journal #13: Pear Shaped Diamond Engagement Ring w/ Rose Gold
SaveSave
SaveSave
SaveSave
SaveSave