Omori Diamonds inc. is a Winnipeg based custom jewellery design team specializing in creating engagement rings, diamond rings, and all forms of custom jewellery. Book a free appointment with expert jeweller, to receive undivided attention in creating your lifelong treasure.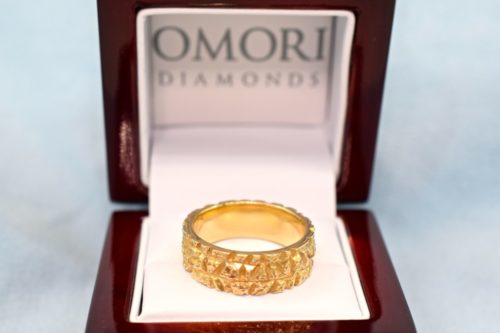 In today's entry of the Omori Diamonds inc., Winnipeg custom jewellery journal, we are going to show you a custom gold men's wedding ring that we created for a client. This design features an interesting gold rough finish texture and was originally carved in wax, by hand by Jim Omori. Read on to find out more about the design process behind creating this custom men's ring.
The design process…
The client showd us an example of a ring that he wanted. It was a classic men's gold nugget ring. These rings feature a rough texture on the outside which creates a rugged and masculine look to the ring. Jim Omori began the process by carving the ring design in wax. This was done all by hand.
Although there are times, especially with regards to complex custom engagement rings,  when we use computer aided design (CAD) to create our custom jewellery, in this case we crafted this ring by hand.
As you can see from the above images, the wax carving provides a very accurate 3D representation of how the design will turn out. This stage in the custom jewellery design process, allows clients to view their design before it is cast in precious metal so that they can see their ideas come to life and even suggest any required changes to the design.
Finalizing the design…
After the client approved the wax carving, we went on to the final stage. The ring was cast in yellow gold and finally polished by our expert gold smith. We then contacted the client to come and pick up his custom ring. We are very proud to say that he loved his custom Omori Design.
Want to see more of this design? Check out the video
FREE CUSTOM JEWELLERY CONSULTATION IN WINNIPEG
Are you ready to design an exceptional piece of custom jewellery from scratch? Book a free  custom jewellery design consultation with Omori Diamonds inc. now!
CHECK OUT PREVIOUS ENTRIES OF OUR WINNIPEG CUSTOM JEWELLERY JOURNAL:
Winnipeg Custom Jewellery Journal: Diamond Karma Circle Ring
CUSTOM JEWELLERY JOURNAL:
Winnipeg Custom Jewellery journal: Custom Designed Jade Pendant 
Custom Jewellery Winnipeg Blog: Ruby and Platinum Custom Ring 
Winnipeg Custom Jewellery Designer Journal: Omori Triple Axel Ring
Winnipeg Engagement Ring Journal 17: Gemstone Engagement Rings
Winnipeg Engagement Ring Journal 16: Diamond and Platinum Engagement Ring 
Winnipeg Engagement Ring Journal #15: Unique Sapphire & Diamond Engagement and Wedding Ring