Omori Diamonds inc. is a Winnipeg based custom jewellery design team, specializing in creating custom engagement rings, diamond rings, and all kinds of custom jewellery. Book a free appointment with an expert jeweller, to receive undivided attention in creating your masterpiece.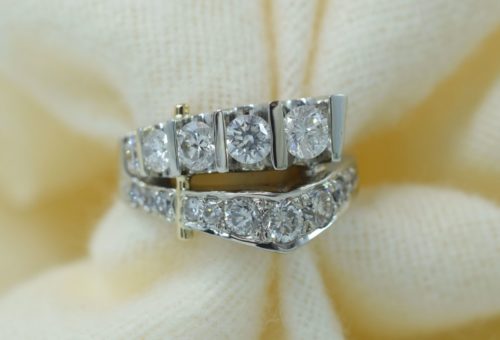 Welcome back to our Winnipeg custom jewellery journal. One of our specialities at Omori Diamonds inc., is reusing our client's gold and diamonds to create a new piece of custom jewellery. Today we are going to be showing you a recent diamond ring that we made for a client. This ring was created using the client's diamonds from her own jewellery.  This particular custom jewellery design has become a favourite among clients who wish to use their own diamonds, as it is incredibly versatile and can accommodate a range of diamond sizes.
Our Custom Jewellery Process…
Our process usually involves sitting down with the client and discussing design ideas. We have both a variety of predesigned styles and a number of wax models of designs to choose from. Many times clients may choose one of our pre existing designs and make alterations to it. In this case, the ring was based off of an earlier design we had created which featured the same modern and sleek split band and vertical gold bar.
This design shape looks spectacular both as a solitaire and as a multi-diamond ring. In the case of the diamond cascade ring, we were able to use the client's many diamonds to line both the top and bottom bands. As you can see, the design has many sizes of diamonds. This worked out perfectly as we were able to set the larger diamonds in the centre of the ring and then taper the smaller diamonds out towards the side creating a brilliant cascade of sparkles.
Reusing your gold and diamond jewellery…
Many people have jewellery at home that they do not wear anymore. This may even be heirloom jewellery that has been passed down generations. Restyling and redesigning your jewellery can be a great way to retain the sentimental value of the diamonds and gold while also providing you with the ability of wearing something new and exciting. This can also help to lower material costs. Simply give us a call and bring in your jewellery. At this point we will help walk you through various style options for creating a new custom jewellery piece.
Learn more about reusing your gold and diamonds HERE
The final design…
Once we settled on a design concept, we had the design cast in gold and the diamonds were set by our master goldsmith. We are very happy to say that the client loved her new ring.
Want to see more of this design? Check out HERE
View more images of the custom diamond cascade design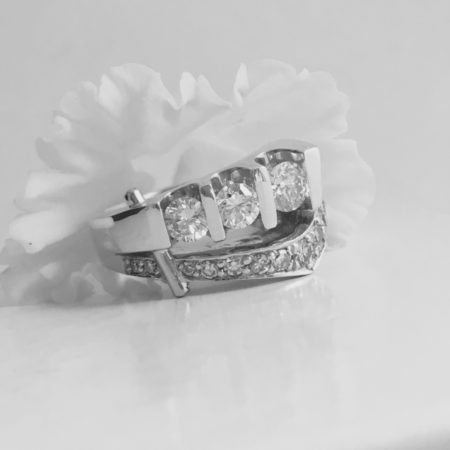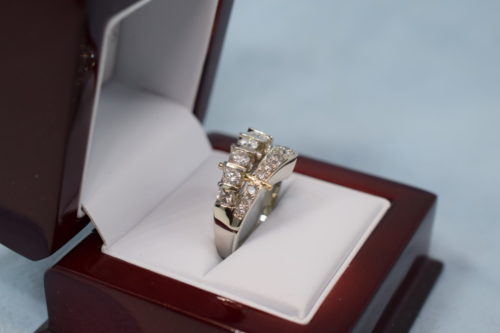 FREE CUSTOM RING CONSULTATION IN WINNIPEG
Are you ready to design an exceptional piece of custom jewellery from scratch? Book a free  custom ring design consultation with Omori Diamonds inc. now!
CHECK OUT PREVIOUS ENTRIES OF OUR WINNIPEG CUSTOM JEWELLERY JOURNAL:
Winnipeg Custom Jewellery Journal: Custom Gold Men's Ring
Winnipeg Custom Jewellery Journal: Diamond Karma Circle Ring