We create fine custom jewellery, wedding rings and engagement rings in Winnipeg. Book a free appointment and meet directly with our custom engagement ring designer to create something special that will last a lifetime. 
Book a free consultation or call us at (204) 951-7040 to talk to an expert. Let's create a masterpiece together!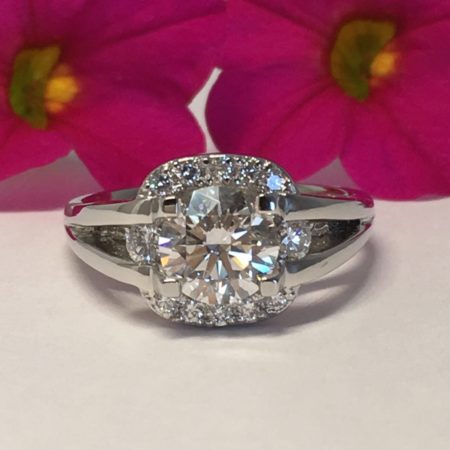 In todays article of our Winnipeg Engagement Rings Journal, we are going to show you a lovely platinum engagement ring design which we worked on for a client a while back. This design is actually a remake of her previous ring which she had purchased from another jeweller.
This platinum ring design features a brilliant diamond halo and split band. Read on to learn more about the process behind creating this custom engagement ring design.
Redesign and Restyle…
Our client came to us with a previously made engagement ring and wished to have it remade. After discussing a variety of design ideas a options we decided to create the ring in platinum. As is often the case, we began by creating some computer images which and then wet on to finalize the ring.
Platinum…
Platinum is a rare precious metal which is incredibly durable and hypoallergenic. It is also much more malleable than gold, which means that scratches and bumps can simply be smoothed out making the ring look like new. It is one of the most durable metals in the world and for this reason it is an excellent choice for an engagement ring, especially for those who love the white shine of the metal.
Check out this article on our custom ruby and diamond platinum ring
The custom engagement ring design process…
After discussing design ideas with the client, the next step is to create computer renderings (CAD) for the client to view and approve. This allows clients to see their design from a variety of angles, and as you can see from the below images, it provides a very accurate representation of how the design will look when it is completed.
Finalizing the platinum engagement ring…
Once the client approved the CAD images, we printed out the design in wax which was then cast in platinum. At this point our expert goldsmith set the diamonds and polished the design so that it sparked beautifully. We are very happy to say that our client loved her ring. Look below, to view more images of this custom platinum engagement ring design.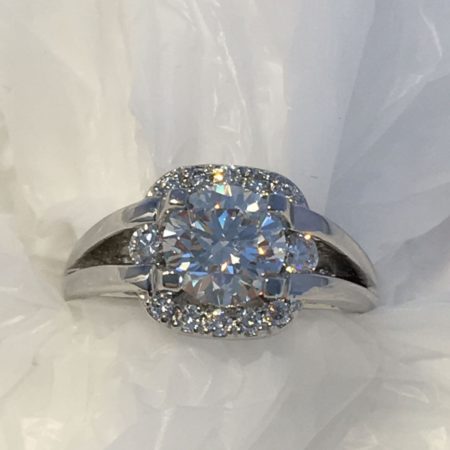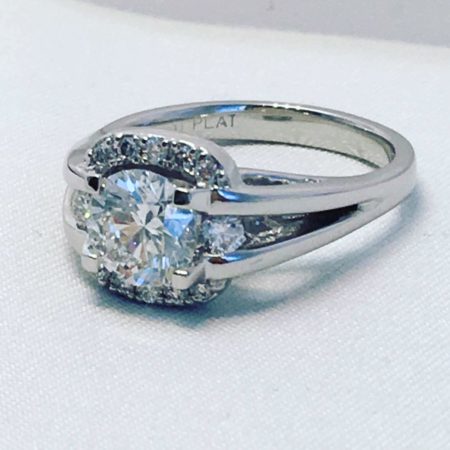 Love diamond halo engagement  rings? Check out our Winnipeg Engagement Ring Journal # 13 on a pear shaped diamond halo engagement ring with rose gold. 
REE CUSTOM ENGAGEMENT RING CONSULTATION IN WINNIPEG
Are you ready to design a custom diamond engagement ring from scratch? Book a free ring design consultation with Omori Diamonds inc. now!
SaveSave
CHECK OUT PAST ENTRIES OF THE WINNIPEG ENGAGEMENT RINGS JOURNAL:
Winnipeg Engagement Ring Journal #15: Unique Sapphire & Diamond Engagement and Wedding Ring
Winnipeg Engagement Rings Journal #14: Pear Diamond Halo Engagement Ring
Winnipeg Engagement Ring Journal #13: Pear Shaped Diamond Engagement Ring w/ Rose Gold
Winnipeg Engagement Ring Journal #12: Custom Floral Sapphire Engagement Ring
Winnipeg Engagement Ring Journal #11: Unique Custom Rudy and Diamond Ring
Winnipeg Engagement Ring Journal #10: Yellow Gold Vintage Engagement Ring
Winnipeg Engagement Ring Journal #9: Spiral Solitaire Engagement Ring and Wedding Ring
Winnipeg Engagement Ring Journal #8: Vintage Sapphire Engagement Ring
Winnipeg Engagement Ring Journal #7: Platinum Princess Cut Diamond Engagement Ring
Winnipeg Engagement Ring Journal #6: Princess Cut Rose Gold Engagement Ring
Winnipeg Engagement Ring Journal #5: Marquise Diamond Halo Engagement Ring
Winnipeg Engagement Ring Journal #4: Vintage Engagement Ring With Engraving
Winnipeg Engagement Ring Journal #3: Rose Gold Sidestone Engagement Ring
Winnipeg Engagement Ring Journal #2: Custom Diamond Halo Engagement Ring
Winnipeg Engagement Ring Journal #1: Winding Sidestone Engagement Ring
Winnipeg custom jewellery designer journal: Omori Triple Axel Ring
Winnipeg Custom Jewellery Journal: Custom Designed Jade Pendant
SaveSave
SaveSave
SaveSave
SaveSave
SaveSave