Omori Diamonds inc. specializes in custom jewellery, wedding rings and engagement rings in Winnipeg. Book a free appointment and meet directly with our custom jewellery designer to create something special that will last a lifetime.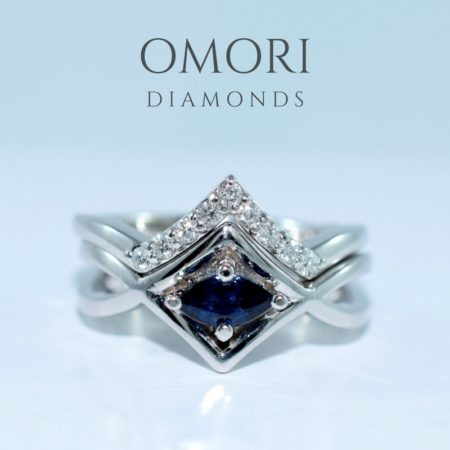 In todays entry of our winnipeg engagement rings journal we are going to show you a very interesting and speculator custom engagement ring and weeding ring combination that we created based off of a clients design ideas. This custom design features a beautiful blue sapphire. Another unique aspect of this jewellery design, is how the wedding ring and engagement ring interlock, forming one seamless piece. Like with many of our creations, these custom jewellery pieces were created using computer aided design (CAD). Read on to find out more:
It starts with an idea…
The client originally approached us with some ideas that he had for a custom engagement ring design. These ideas were quite thought out and we were very honoured to know that he choose Omori Diamonds inc. as the right team for the job. The client also wanted his custom engagement ring design to feature a beautiful blue Sapphire. This was an excellent choice since we love using sapphires in engagement rings, as they are one of the hardest stones, next to diamonds, and wear incredibly well over time.
Sapphire engagement rings, the royal choice…
Sapphire engagement rings have been increasing in popularity in Winnipeg and in North America over the last number of years, but did you know that the Sapphire has long been the stone of choice for many of the European royal families? As a matter of fact, Kate Middleton's engagement ring which used to belong to Lady Diana, features a 12 carat, oval shaped blue sapphire.
Here's a few examples of other Sapphire engagement rings we have created:
Back to the design…
As for todays design, the next step was to create some computerized rendered images for the client to approve. One of the great advantages of using CAD is that it allows the client to see their design from a variety of angles. This allows changes to be suggested and alterations to be made prior to printing out the shape in wax.
Carving out the shape…
Once the CAD renderings are approved, the next stage in the design process is to print or carve out a wax shape of the ring. This allows the client to see their design once again. The wax shape is also used to cast the design in precious metal. Once the jewellery design was approved at this stage, we then went on to create the custom engagement ring in precious metal.
Finalizing the engagement ring design…
Once the client gave the go-ahead, our expert team then finalized the design by creating the shape in precious metal. At this point our master goldsmith then went on to polish the design and set the sapphire and diamonds in the engagement ring and wedding ring. As you can see, the design turned out perfectly.
FREE CUSTOM ENGAGEMENT RING CONSULTATION IN WINNIPEG
Are you ready to design a custom diamond engagement ring from scratch? Book a free ring design consultation with Omori Diamonds inc. now!
CHECK OUT PAST ENTRIES OF THE WINNIPEG ENGAGEMENT RINGS JOURNAL:
Winnipeg Engagement Rings Journal #14: Pear Diamond Halo Engagement Ring
Winnipeg Engagement Ring Journal #13: Pear Shaped Diamond Engagement Ring w/ Rose Gold
Winnipeg Engagement Ring Journal #12: Custom Floral Sapphire Engagement Ring
Winnipeg Engagement Ring Journal #11: Unique Custom Rudy and Diamond Ring
Winnipeg Engagement Ring Journal #10: Yellow Gold Vintage Engagement Ring
Winnipeg Engagement Ring Journal #9: Spiral Solitaire Engagement Ring and Wedding Ring
Winnipeg Engagement Ring Journal #8: Vintage Sapphire Engagement Ring
Winnipeg Engagement Ring Journal #7: Platinum Princess Cut Diamond Engagement Ring
Winnipeg Engagement Ring Journal #6: Princess Cut Rose Gold Engagement Ring
Winnipeg Engagement Ring Journal #5: Marquise Diamond Halo Engagement Ring
Winnipeg Engagement Ring Journal #4: Vintage Engagement Ring With Engraving
Winnipeg Engagement Ring Journal #3: Rose Gold Sidestone Engagement Ring
Winnipeg Engagement Ring Journal #2: Custom Diamond Halo Engagement Ring
Winnipeg Engagement Ring Journal #1: Winding Sidestone Engagement Ring
Winnipeg custom jewellery designer journal: Omori Triple Axel Ring
Winnipeg Custom Jewellery Journal: Custom Designed Jade Pendant