At Omori Diamonds inc., we specialize in creating beautiful custom jewellery, diamond rings and custom engagement rings in Winnipeg. Book a free appointment and meet directly with our custom jewellery designer to create a unique and beautiful engagement ring "just-for-her".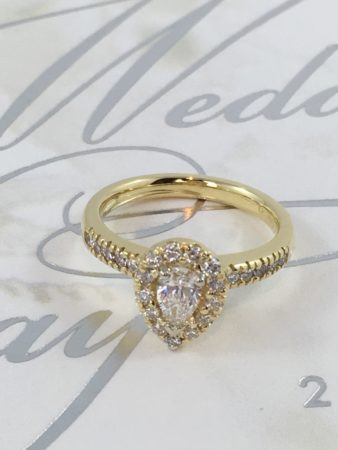 Hello, and welcome to the Omori Diamonds inc., Winnipeg Engagement Rings journal. In todays entry, we are going to be showing you a lovely custom, pear shaped diamond engagement ring that we created a while back. Like, many of our engagement rings, this design was crafted from the ground up, using the most advanced custom design techniques available. Keep reading to learn more!
The Custom Engagement Ring Design Process…
We began the process by discussing ideas with our client. He showed us a number of images of designs he loved, to be used as inspiration. We also discussed the in's and out's of selecting a perfect pear shaped diamond.
Learn more about pear shaped diamonds here
Computerized Custom Design Images…
After looking at some of the images our client showed us of his favourite designs, we began creating some CAD (computer aided design) images for him to view and approve. Computer aided design is a very important tool when designing custom jewellery, as it allows our clients to see multi-angle representations of what their custom engagement ring will look like when it's finished.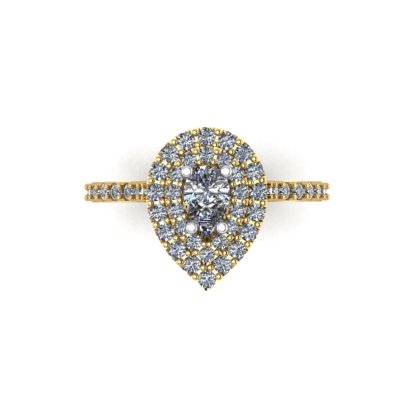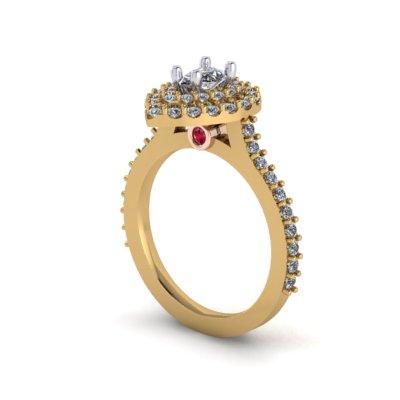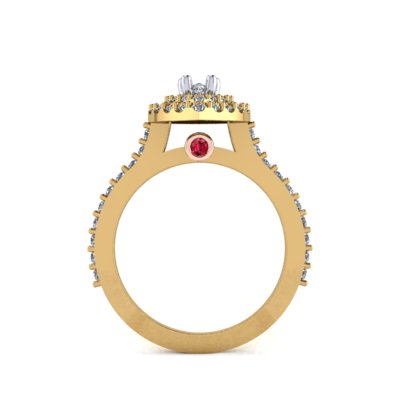 As you can see from the above design images, the CAD rendered pictures give an extremely accurate representation of the final engagement ring design.
The Wax Carving 
Once the client had viewed and approved the design images, our team then went on to create the design in wax. This once again, provides an accurate model of the engagement ring. The wax model is also what is used when the design is finally cast in gold.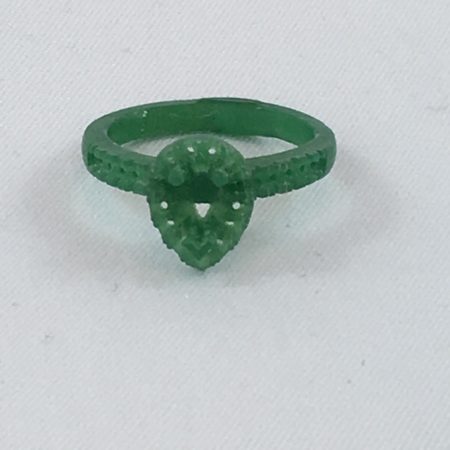 Casting The Engagement Ring…
Once the wax was created, our team then went on to one of the last steps in the custom engagement ring design process. The design was then cast in yellow gold.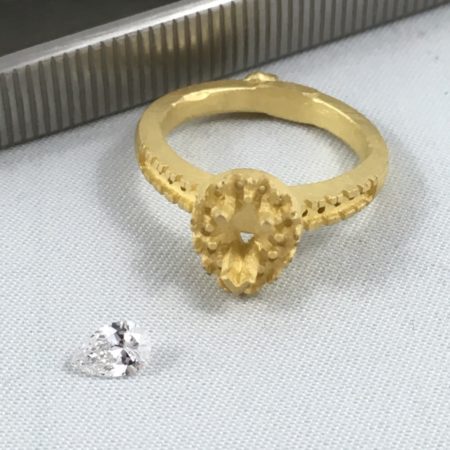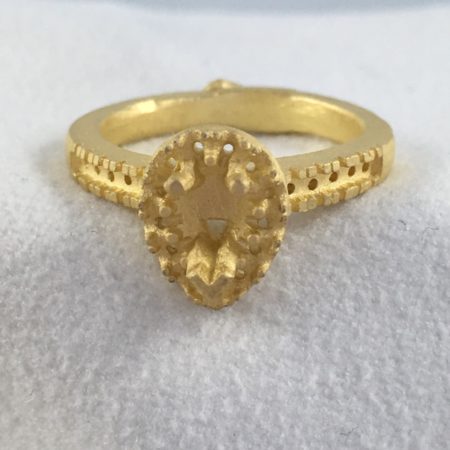 Finishing the design…
With the engagement ring design cast, we then went on to complete the design. Our master goldsmith polished the gold and set both the small diamonds, and the large pear shaped diamond. With the engagement ring complete, we called our client to come and pick up his custom design. Needless to say, he was very happy. View more images of this custom engagement ring design below.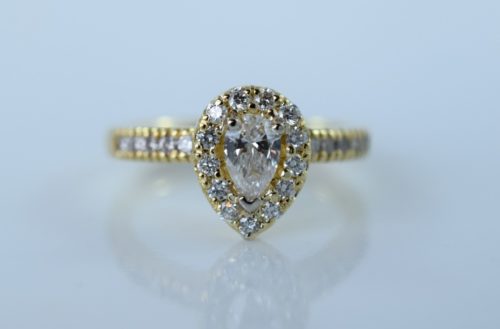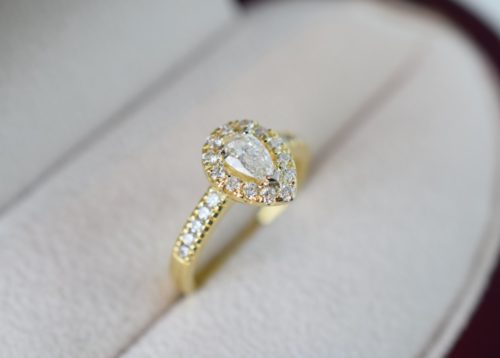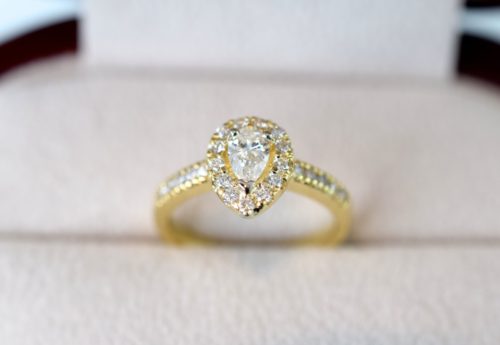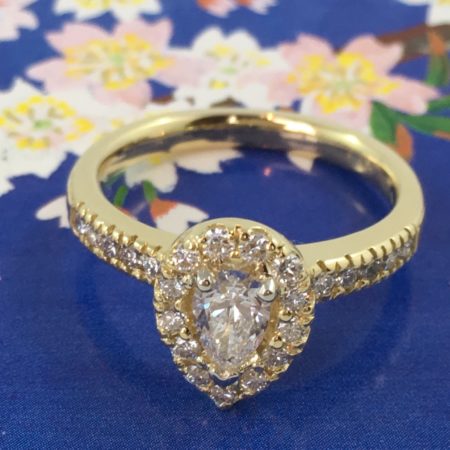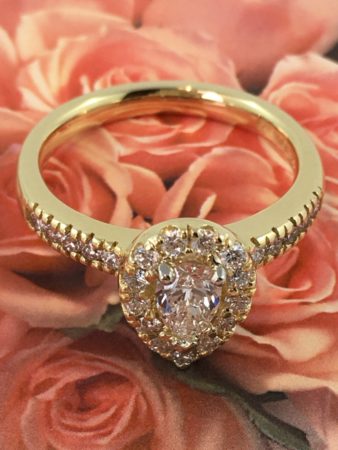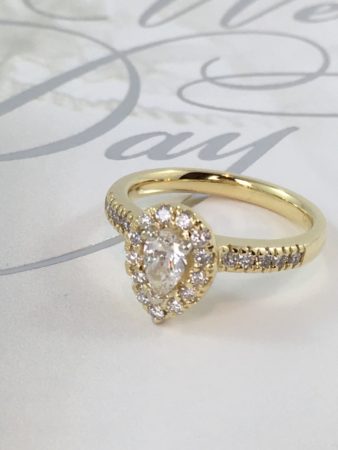 FREE CUSTOM ENGAGEMENT RING DESIGN CONSULTATION IN WINNIPEG
Are you ready to design a custom diamond engagement ring from scratch? Book a free ring design consultation with Omori Diamonds inc. now!
CHECK OUT PAST ENTRIES OF THE WINNIPEG ENGAGEMENT RINGS JOURNAL:
Winnipeg Engagement Ring Journal 13: Pear Shaped Diamond Engagement Ring w/ Rose Gold
Winnipeg Engagement Ring Journal 12: Custom Floral Sapphire Engagement Ring
Winnipeg Engagement Ring Journal 11: Unique Custom Rudy and Diamond Ring
Winnipeg Engagement Ring Journal 10: Yellow Gold Vintage Engagement Ring
Winnipeg Engagement Ring Journal 9: Spiral Solitaire Engagement Ring and Wedding Ring
Winnipeg Engagement Ring Journal 8: Vintage Sapphire Engagement Ring
Winnipeg Engagement Ring Journal 7: Platinum Princess Cut Diamond Engagement Ring
Winnipeg Engagement Ring Journal 6: Princess Cut Rose Gold Engagement Ring
Winnipeg Engagement Ring Journal 5: Marquise Diamond Halo Engagement Ring
Winnipeg Engagement Ring Journal 4: Vintage Engagement Ring With Engraving
Winnipeg Engagement Ring Journal 3: Rose Gold Sidestone Engagement Ring
Winnipeg Engagement Ring Journal 2: Custom Diamond Halo Engagement Ring
Winnipeg Engagement Ring Journal 1: Winding Sidestone Engagement Ring
Winnipeg custom jewellery designer journal: Omori Triple Axel Ring
Winnipeg Custom Jewellery Journal: Custom Designed Jade Pendant
SaveSave
SaveSave
SaveSave
SaveSave
SaveSave
SaveSave