At Omori Diamonds inc., we specialize in creating beautiful custom jewellery, diamond rings and custom engagement rings in Winnipeg. Book a free appointment and meet directly with our custom jewellery designer to create a unique and beautiful engagement ring "just-for-her".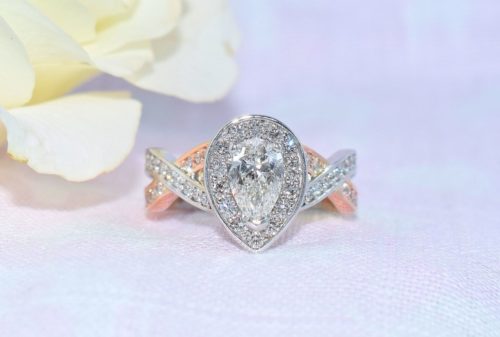 Welcome once again to our Winnipeg Engagement Ring Journal. Today we would like to show you a lovely custom engagement ring that we created for a special couple. This design features a bright and beautiful pear shaped diamond, which is set in an elegant criss-cross white and rose gold setting. Now let's take a moment to look at the design process that went into creating this custom design.
Beginning the design…
The client requested that we create a custom engagement ring and sent us some wonderful images to use as inspiration. After discussing various style options, it was decided that his fiancé would love the ring to feature a pear shaped diamond.
A little bit about pear shaped diamonds…

Pear shaped diamonds make for an excellent choice for a unique engagement ring due to their striking shape. The pear shape combines the rounded edges of the classic brilliant cut (round diamond), with the tapered point of the marquise diamond shape.
One important thing to keep in mind when considering a pear shaped diamond, is to take into account the diamond's symmetry. The point of the diamond should line up with the apex of the round side and the round side should appear proportional and not too narrow or squat. There are times when diamond cutters may attempt to add weight to the diamond by leaving too much of the rough stone towards the point making the diamond look too squared off and squatty.
At Omori Diamonds inc., we always make sure to scrutinize all aspects of a diamond's quality gradings including it's proportions, and ratios in order to ensure that the diamond has been cut in such a way that the maximum amount of light is reflected back out the top, resulting in the greatest possible sparkle.
Learn more about diamonds HERE
Onto the design…
After discussing design ideas, we began by creating some 3D CAD (computer aided design) renderings of the ring for our client to view. This stage allows clients to see their engagement ring design from a variety of angles and suggest any changes to their design. As you can see, the CAD images are extremely accurate representations of the finished design.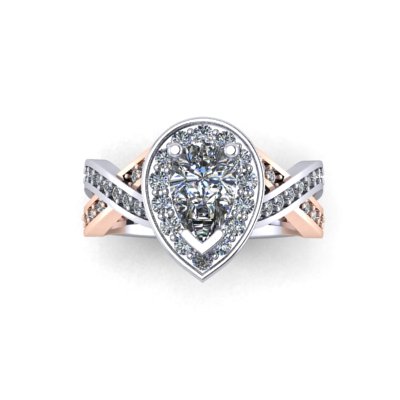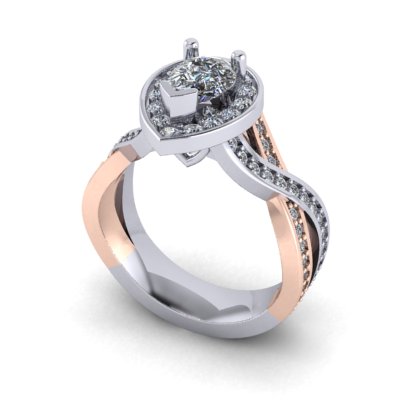 The "heart on the bridge"
Another unique aspect of this custom engagement ring design is what we like to call the "heart on the bridge". This is a feature we have been adding to a number of our designs, which involves a diamond (or in this case a Garnet) which has been cut to the shape of a heart, placed in the bridge of the ring. This acts as a romantic secret reminder to the person wearing the ring of their love.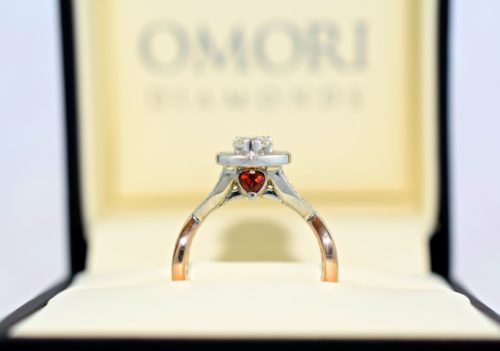 Want to see more of the "heart on the bridge" feature? Check out this article on our custom ruby and platinum anniversary ring. 
Finalizing the design
After the client approved the CAD images, we then showed them a wax model to review so that they could see a physical representation of their engagement ring design. Once this was approved we had the design cast and finalized. Our master goldsmith then set the diamonds and polished the design. We are very proud to say that our client and his fiancé loved their custom Omori engagement ring design!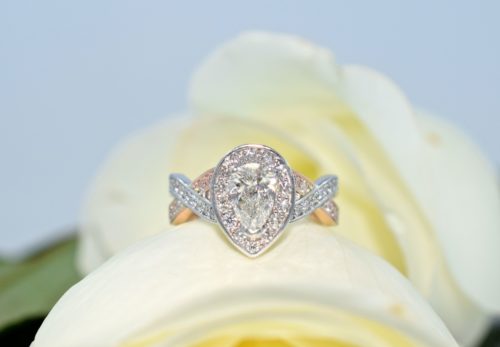 SaveSave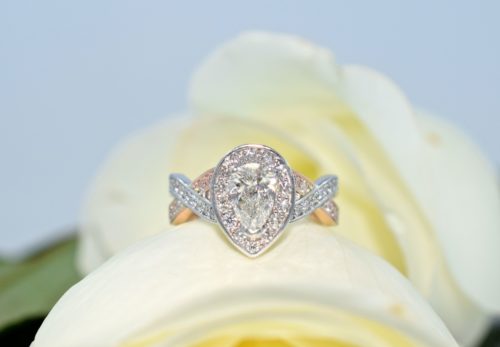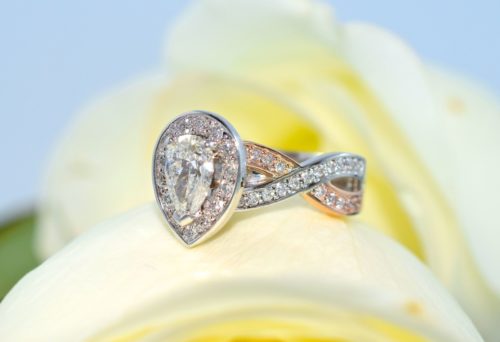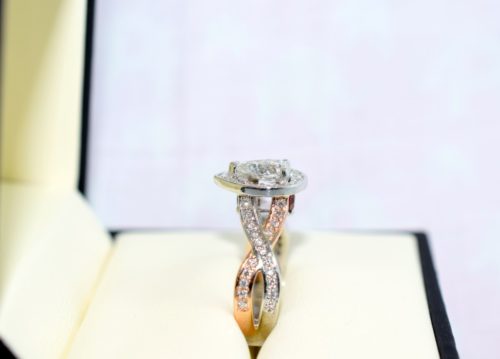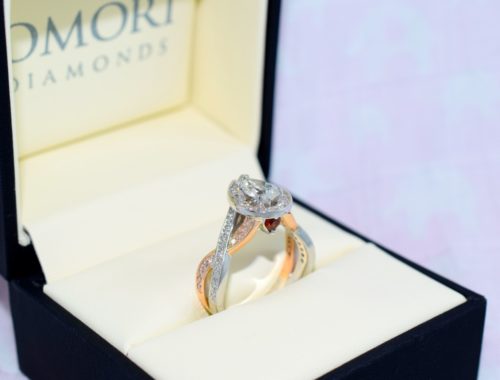 Want to see more of this pear shaped diamond engagement ring with rose gold?: view the video HERE
Learn more about Custom Engagement Rings
FREE CUSTOM ENGAGEMENT RING DESIGN CONSULTATION IN WINNIPEG
Are you ready to design a custom diamond engagement ring from scratch? Book a free ring design consultation with Omori Diamonds inc. now!
CHECK OUT PAST ENTRIES OF THE WINNIPEG ENGAGEMENT RING JOURNAL:
Winnipeg Engagement Ring Journal 12: Custom Floral Sapphire Engagement Ring
Winnipeg Engagement Ring Journal 11: Unique Custom Rudy and Diamond Ring
Winnipeg Engagement Ring Journal 10: Yellow Gold Vintage Engagement Ring
Winnipeg Engagement Ring Journal 9: Spiral Solitaire Engagement Ring and Wedding Ring
Winnipeg Engagement Ring Journal 8: Vintage Sapphire Engagement Ring
Winnipeg Engagement Ring Journal 7: Platinum Princess Cut Diamond Engagement Ring
Winnipeg Engagement Ring Journal 6: Princess Cut Rose Gold Engagement Ring
Winnipeg Engagement Ring Journal 5: Marquise Diamond Halo Engagement Ring
Winnipeg Engagement Ring Journal 4: Vintage Engagement Ring With Engraving
Winnipeg Engagement Ring Journal 3: Rose Gold Sidestone Engagement Ring
Winnipeg Engagement Ring Journal 2: Custom Diamond Halo Engagement Ring
Winnipeg Engagement Ring Journal 1: Winding Sidestone Engagement Ring
Winnipeg custom jewellery designer journal: Omori Triple Axel Ring
Winnipeg Custom Jewellery Journal: Custom Designed Jade Pendant
SaveSave
SaveSave
SaveSaveSaveSave
SaveSave
SaveSaveSaveSaveSaveSave
SaveSave